Update 04/12/18: Rockwell recently released version 10 of FactoryTalk View which among other things is said to have the ability to restore old 32bit, pre-6.1 .APA Application Archive files directly on a 64bit Operating Systems without the need to export and import the tag database.
---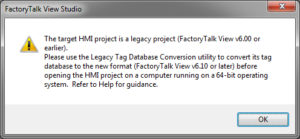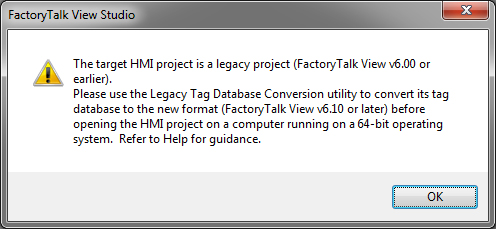 So you just got a new laptop with Windows 7 64 pre-installed? Welcome to the wonderful world of 64 bit computing!
By the way, and I hate to be the bearer of bad news, but you can't open any of your old FactoryTalk View APA files in your new 64 bit OS. Well, not without exporting the project database on 32 bit OS first.
Note: You may also be interested in our new article, "Easy Way To Migrate FactoryTalk View APA's to Windows 7 64"
Why can't I open my FactoryTalk View APA files on Windows 7 64 bit?
Since the early nineties, Rockwell had used a Watcom database product in its HMI's and SCADA packages. Unfortunately, as the story goes, Watcom doesn't provide a way to access the data in this database product on 64 bit Windows operating systems
So while new versions of ViewStudio (6.1+) have migrated to Microsoft SQL Server Express, there's no way to import data from older projects using the Watcom database while actually running Windows 7 64 bit.
How to migrate FactoryTalk View projects to Windows 7 64 bit
So what do you do if you have dozens of FactoryTalk View projects that you need to migrate to Windows 7 64 bit? Well, if you still have access to a 32 bit Windows OS with ViewStudio installed, the work around is pretty easy.
UPDATE: If you don't have access to a PC running Windows XP, but do have a PC running Windows 7 Pro, check out our article on Windows XP Mode
Step 1) Download the FactoryTalk View legacy migration tool HERE.

Step 2) Install and run the tool on the 32 bit OS which contains you projects, then choose export: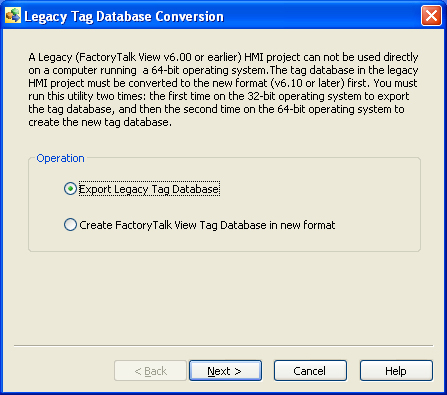 Step 3) Select the product, in this example Machine Edition, and check "Search sub-folders" as shown: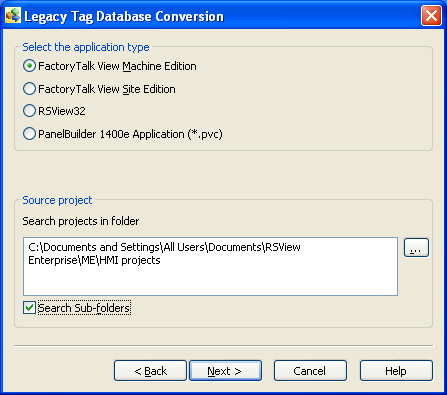 Step 4) Select the project(s) for which you wish to export the database(s)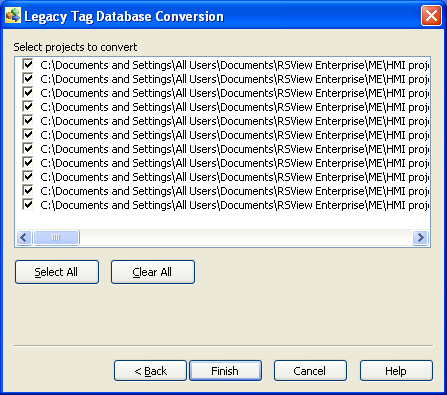 Step 5) Once the Database(s) have been exported, create an APA (application archive) for your project(s) using the Application Manager.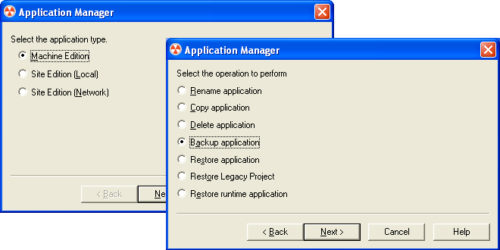 Step 6) Copy the APA file(s) to your Windows 7 64 bit machine, and restore it/them using the Application Manager.
NOTE: Do not rename your project when restoring it – I have found that the utility will not find your project if you rename it during the APA restoration.
Step 7) Run the FactoryTalk View legacy migration tool and select create as shown: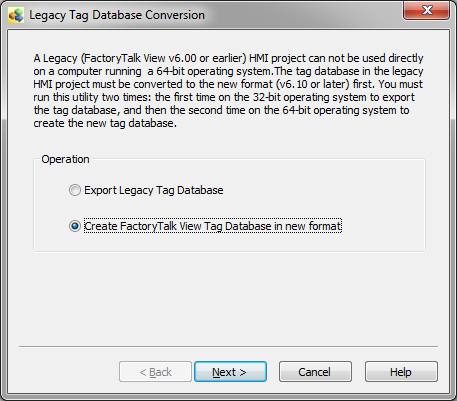 Step 8) Select the application(s) and press finish: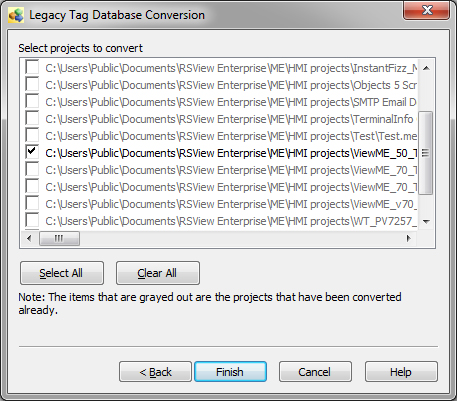 Step 9) Confirm the application(s) have converted successfully

Step 10) Confirm the conversion has worked by opening your newly converted project(s) in FactoryTalk View.
---
I hope you've found the above article about migrating old FactoryTalk View projects from 32 to 64 bit helpful. If you have any comments, questions, or corrections, please don't hesitate to leave them by filling in the "post a comment or question" link below.
Sincerely,
Shawn Tierney
Automation Instructor and Blogger (post views: 50,030 views)
Enjoy the benefits of membership! Patreon.com/automation
Check out my affordable courses: TheAutomationSchool.com
Ask me questions by clicking here to go to the comments link
Have an industrial automation news tip? Share it with us here
Latest posts by Shawn Tierney
(see all)
Click HERE to scroll down to view or leave comments
Forum Comments:
---
I also needed to upgrade a FactoryTalk version 6.0 application from a 32 bit Windows 7 machine to FactoryTalk version 8.0 on a 64 bit machine. I found it easier to do the following:
- Installed FTV ME version 6.1 on the 32 bit machine.
- Opened the application in version 6.1 which converted to the new DB format.
- Made an application backup with Application Manager on the 32 bit machine.
- Took the backup to the 64 bit machine.
- Restored the application with Application Manager in version 8.0.
- Opened the application with FTV ME 8.0 which converted it succesfully.
Whew, done...