---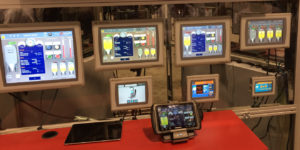 With Rockwell's release of the PanelView Plus 7 Standard last month, I've begun to receive "migration" inquires from PanelView Plus 6 users.
NOTE: You can learn about the new PanelView Plus 7 Performance models in this article.
However, unlike the PanelView Plus 6 which replaced the original PanelView Plus, the PanelView Plus 7 is a new line with unique features which must be considered before a decision is made to migrate to it.
With that in mind, below I list my top five questions to clients considering moving to the PanelView Plus 7:
Five questions to consider before migrating to the PanelView Plus 7:
1) Does your HMI need to communicate to multiple PLC's?
The "standard" in the PanelView Plus 7's name means the same thing "compact" meant when added to the PanelView Plus 6.
And just like the PanelView Plus and Plus 6 Compact, the PanelView Plus 7 Standard is limited to communications with one PLC, 25 graphic displays, and 200 alarms.
So, unless your HMI needs already fit within the PanelView Plus Compact limitations, the PanelView Plus 7 Standard is not for you.
2) Do you need serial communications?
Reminiscent of the paint choices available for the Model T, with the PanelView Plus 7 Standard you can have any communications network you want as long as it's Ethernet.
So if your HMI needs to communicate to serial devices, like the popular MicroLogix 1200, the Micro830, or the innumerable number of Modbus RTU devices out there, the PVP7 is also not for you.
3) Do you need to re-use an existing cutout?
One of the design decisions I love about the PanelView Plus and PanelView Plus 6 was the cutout compatibility with most legacy PanelView products. However, this also limited the available form factors the PanelView Plus could come in.
Take a look at the PanelView Plus or Plus 6 400 and 600. You can't really describe them as "small" HMIs.
That's where the PanelView Plus 7 Standard breaks new ground for the PanelView Plus series. With a cutout of 4.61×3.62, the PVP7's four inch touchscreen cuts the previously smallest PVP cutout by nearly 50%.
4) Do you need a keypad?
Today most every HMI ships with a touchscreen interface, and that may be why it's the only option available on the PanelView Plus 7.
So for those out there who require a keypad, the PanelView Plus 6 is currently is your only keypad interface option in the PanelView family.
5) Is resolution important?
Having grown up in an era where fifty inch "big screen" TV's had a resolution less than 640×480, I often don't have issues fitting everything I want on a ten inch PanelView Plus 6 sporting the same resolution.
That said, we now live in a time where ten inch iPad Air 2's are selling for $400 and have a display resolution of 2048×1536.
The PanelView Plus 7 Standard begins the move towards more modern resolutions by upgrading the six inch model to 640×480 (from the previous model's 320×280) and the ten inch model to 800×600 (from the previous versions 640×480.)
---
I hope this article discussing if the PanelView Plus 7 is right for your application was helpful.
If you have any questions, comments, or suggestions, please don't hesitate to leave them with us by filling in the "post a comment or question" link below.
Until next time, Peace ✌️ 
Shawn M Tierney
Technology Enthusiast & Content Creator
Have a question? Join my community of automation professionals and take part in the discussion! You'll also find my PLC, HMI, and SCADA courses at TheAutomationSchool.com.
If you found this content helpful, consider buying me a coffee here.
Latest posts by Shawn Tierney
(see all)
December 5 News: 50kg Robot, Ex Tablet, IOLink, Ethernet-APL, MQTT QOS, Logix/View Docs & more (N150)

- December 5, 2023

November 30 News: TIA Portal v19, Productivity Suite 4.1, Industrial Strip Light, OPC Pub/Sub & more (N149)

- November 30, 2023

MOXA's New Industrial Computers (P181)

- November 29, 2023