---
Update 04/12/18: Rockwell recently released version 10 of FactoryTalk View which among other things is said to have the ability to restore old 32bit, pre-6.1 .APA Application Archive files directly on a 64bit Operating Systems without the need to first open those projects in View Studio on a 32bit operating System.
---
Last May in this article I covered the procedure for migrating FactoryTalk View Studio projects to Windows 7 Profession 64 bit by using Rockwell's legacy tag database conversion utility.
In today's article we'll discuss an easier way to migrate your old 32bit APA's that also doesn't require running that conversion utility.
The easy way to migrate old ViewStudio APA project files
So you have a pile of old APA files you need to migrate for use with View Studio 6.1 – 8.0 running on Windows 7 Pro 64 bit?
If that's the case, following the below steps will allow you to migrate all your APA files without having to import or export anything.
---
Need help migrating your View Studio projects? You can hire me to do it for you – to learn more, click here.
---
Step 1) If you don't have access to a Windows XP 32bit or Windows 7 32bit PC, then install Windows XP Mode onto your Windows 7 64 bit PC (more info in this article)
Until a wizard from Rockwell figures out how to open old 32bit Watcom tag databases on Windows 7 64 bit, we're going to need access to a 32bit OS to convert pre 6.1 ViewStudio applications for use on 64 bit operating systems.
However, you don't actually need a PC running Windows XP or Windows 7 32 bit because Windows 7 Professional includes an XP emulator with these two advantages:
– Free for Windows 7 Pro users.
While other free virtualization software does exist, to use those packages you'd still need to come up with a Windows XP or Windows 7 32bit license.
That just simply isn't needed when using Windows XP mode with Wndows 7.
– Software installed on Windows XP Mode can share your existing FactoryTalk View Studio license
If you only have one license for FactoryTalk View Studio, and it's already activated on your new Windows 7 Pro 64 bit PC, you may find it easier to use XP mode and let it share the FTA license installed on your host versus swapping the license back and forth between an old and new PC.
Step 2) Install FactoryTalk View Studio 6.1 (or greater)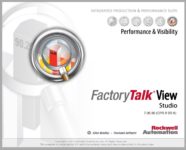 Even though View Studio versions 6.1 supports Windows 7 64 bit, it also supports Windows XP 32bit and Windows 7 32bit.
So in this step you need to install View Studio 6.1 on your WinXP 32bit or Win7 32bit PC, in Windows XP Mode on your Win7 64bit PC.
Step 3) Use the FTView Application Manager that comes with View 6.1 to restore your 32bit projects
Now that you have View Studio 6.1 installed on a 32bit system, your next step is to use the FTView Application Manager to restore all your 32bit APA's in Win7 32bit or WinXP.
To make it easy to do so, Windows XP Mode automatically creates "shares" to all your "host's" drives in "My Computer," so you should have no problem accessing your old APA files while in XP Mode.
Step 4) Open each application in View Studio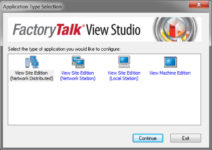 The nice thing about running View Studio 6.1 on Windows XP 32bit or Windows 7 32bit is, when you open an older project the software automatically imports the legacy database for you.
This little known feature eliminates any need to run the legacy database conversion utility.
So in summary, the only thing you need to do to convert a 32bit View Studio project to 64 bit, is to open them with View Studio 6.1 or higher on Windows XP 32bit or Windows 7 32bit.
Step 5) Re-create APA project archive files for each project, and copy them back to your host
Now that you've opened and closed all your 32bit projects, you're ready to archive them back to an APA so you can copy them to your Windows 7 64bit system.
Do this by simply running the FTView Application Manager and making an APA archive file for each project. Then open "My Computer" and copy your new APA files to your Windows 7 64bit system.
---
I hope this article about an easy way to convert your 32bit View Studio projects was helpful.
If you have any comments, questions, or suggestions, please don't hesitate to leave them with us by filling out the "post a comment or question" link below.
Until next time, Peace ✌️ 
Shawn M Tierney
Technology Enthusiast & Content Creator
Have a question? Join my community of automation professionals and take part in the discussion! You'll also find my PLC, HMI, and SCADA courses at TheAutomationSchool.com.
Latest posts by Shawn Tierney
(see all)