If you have a FactoryTalk View Machine Edition (ViewME) or Site Edition (ViewSE) Application on your PC, it's very important to back it up to an Application Archive (.apa) file whenever you make any changes to it.
The reason is, the Application Archive is the ONLY guaranteed way to be able to fully restore any version of a FactoryTalk View application.
Background:
While there are ways to restore a project from a .MER runtime file, depending on the version of the application (1) it can be quite tedious, (2) may not restore the entire project, and (3) if password protected it can only be restored if you know the password.
Note: For more about restoring a FactoryTalk View Machine Edition Application from a .MER runtime file, see our previous articles below:
That said, if you're trying to restore a 32bit version of an Application Archive (pre-6.1) on a 64bit OS, you can also run into issues unless you're using ViewStudio version 10.
Note: To learn more about issues restoring 32bit Applications on 64bit Operating Systems prior to version 10, check out our previous articles below:
How To Backup FactoryTalk View Machine and Site Edition Applications
Step 1) Open Rockwell's FactoryTalk View "Application Manager"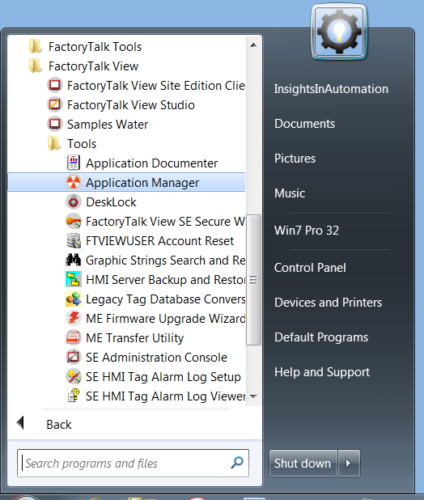 Step 2) Choose the application type, and click on Next. In this example we'll choose Machine Edition: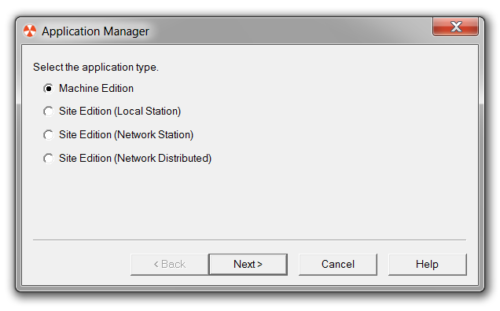 Step 3) Now choose "Backup application" and select Next: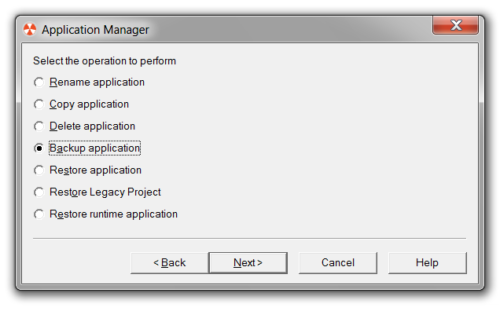 Step 4) In this step you're shown a list of all the applications that have either been created or restored on your PC. Select the application you wish to backup, and then select Next: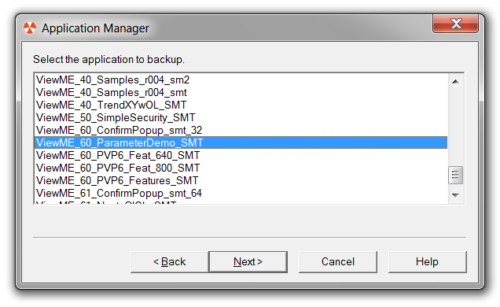 NOTE: You will not see any application that you have manually copied from another PC.
Step 5) On this screen you can choose to rename the application. But I've run into issues restoring renamed applications, so I strongly suggest not doing so here.
You can also select where you'd like to store the archive, and in newer versions of the Application Manager you can choose to encrypt the file and add a password. In most cases you will not want to encrypt the file nor add a password.
In our example we are going to choose not to add a password, and also not to encrypt the file, and then we'll select Finish: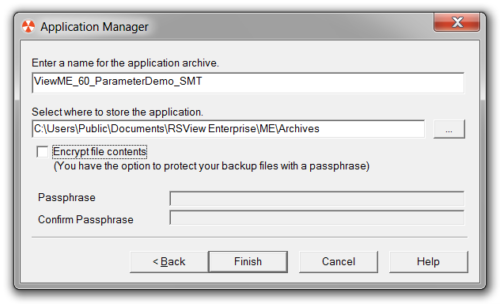 NOTE: If you encrypt the file and then later forget the password, there is no way to restore the application.
Step 6) Once finished, older versions off the Application Manager will close when done creating the Application Archive (.apa) file, while newer versions will return to the starting page: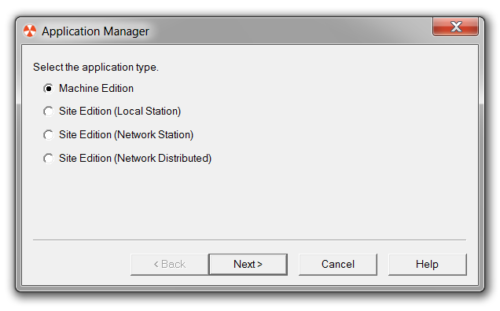 ---
If you found this article helpful, please consider sharing it on social media sites like LinkedIn, Facebook and Twitter!
And if you'd like to share your thoughts, opinions, or questions on this article you can do so by clicking on the "post a comment or question" link below.
Until next time, Peace ✌️ 
Shawn M Tierney
Technology Enthusiast & Content Creator
Have a question? Join my community of automation professionals and take part in the discussion! You'll also find my PLC, HMI, and SCADA courses at TheAutomationSchool.com.