---
Welcome to The Automation Blog's
"Flashback Friday!"
Today I'm highlighting my somewhat famous twelve year old RSView32 Juice Bottling Demo.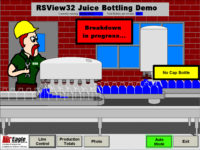 The year was 2002, and a prospective client was interested in exploring the use of Metrics (formerly Plant Metrics) to monitor scrap and breakdowns on his juice bottling line.
At the time the only bottling demo I had access to was an awesome but unsupported RSTools demo based on Microsoft Visual Basic.
So realizing I would have to create my own demo from scratch, I hit the internet to research visuals for a bottling line filler and capper.
What I eventually came up with was this RSView32 Bottling Demo which I'm highlighting today.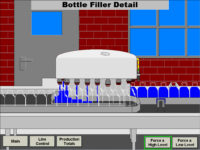 Now some may ask why I used RSView32 for this demo, and not the new and supposedly improved ViewStudio Enterprise and ViewSE.
Well, when RSView first launched in the mid nineties, it suffered from being quite lethargic "on run of the mill" computers of the time.
However, as computers rapidly grew in speed through the late 90's, RSView32 became capable of such fast updates that building complex animations actually became quite fun (I'll share my RSView32 version of Space Invaders in a future episode.)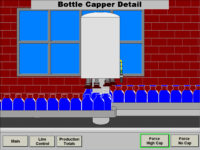 And like RSView, when RSViewSE first launched in the early 2000's it struggled to output even a couple of updates per second on the average PC.
So when I went to create this project in 2002, RSView32's lighting fast animations won out over the newer but slower RSViewSE.
The first version of this demo was posted on my original website back on October 13th, 2002, and you can now find that article and the demo HERE on The Automation Blog:
As always, if you have any comments, questions, or suggestions, please feel free to share them with us by submitting the "post a comment or question" link below.
Until next time, Peace ✌️ 
Shawn M Tierney
Technology Enthusiast & Content Creator
Have a question? Join my community of automation professionals and take part in the discussion! You'll also find my PLC, HMI, and SCADA courses at TheAutomationSchool.com.
Latest posts by Shawn Tierney
(see all)