---
Welcome to The Automation Blog's
"Flashback Friday!"
Today I'm highlighting my twelve year old RSView32 demo showcasing how to query an Access database.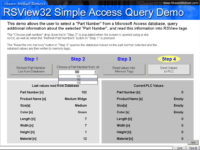 Back in 2003 I had a client who wanted to query a database and put the resulting values on the screen for an operator to select from.
The result was this demo which first queried for part numbers, and then displayed them in a list box.
Once the operator selected a part number he would then press a button to query for the part number's details and save them to tag values.
Posted on my original website back on June 14th, 2003, you can now find the original article right here on The Automation Blog using the below link:
If you have any questions, comments, or suggestions, please don't hesitate to share them with us by using the "post a comment or question" link below.
Sincerely,
Shawn Tierney
Automation Instructor and Blogger

Enjoy the benifits of membership! Insider news, rewards, & more: Patreon.com/automation
If you enjoyed my article, you may like my courses at TheAutomationSchool.com
Have a question on this topic? Click here to scroll down to the comment link
Have a news tip? Share it with us here
Shawn began sharing automation news and know-how online in 1996 when he launched his first BBS. Then in 1999 he moved to the internet launching ShawnMichael.com, which he later renamed ShawnMTierney.com. In 2013 he moved his automation efforts to a new website, TheAutomationBlog.com, which has since become the most popular independent industrial automation blog on the web.
Latest posts by Shawn Tierney (see all)
Click HERE to scroll down to view or leave comments