---
Welcome to The Automation Blog's
"Flashback Friday!"
Today I'm highlighting my twelve year old RSView32 demo showcasing how to query an Access database.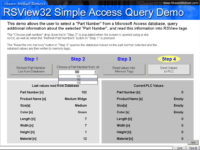 Back in 2003 I had a client who wanted to query a database and put the resulting values on the screen for an operator to select from.
The result was this demo which first queried for part numbers, and then displayed them in a list box.
Once the operator selected a part number he would then press a button to query for the part number's details and save them to tag values.
Posted on my original website back on June 14th, 2003, you can now find the original article right here on The Automation Blog using the below link:
If you have any questions, comments, or suggestions, please don't hesitate to share them with us by using the "post a comment or question" link below.

Until next time, Peace ✌️ 
Shawn M Tierney
Technology Enthusiast & Content Creator
Have a question? Join my community of automation professionals and take part in the discussion! You'll also find my PLC, HMI, and SCADA courses at TheAutomationSchool.com.
If you found this content helpful, consider buying me a coffee here.
Latest posts by Shawn Tierney
(see all)
December 5 News: 50kg Robot, Ex Tablet, IOLink, Ethernet-APL, MQTT QOS, Logix/View Docs & more (N150)

- December 5, 2023

November 30 News: TIA Portal v19, Productivity Suite 4.1, Industrial Strip Light, OPC Pub/Sub & more (N149)

- November 30, 2023

MOXA's New Industrial Computers (P181)

- November 29, 2023