---
UPDATE:
To see this same procedure for a PanelView Plus 7 click
HERE
.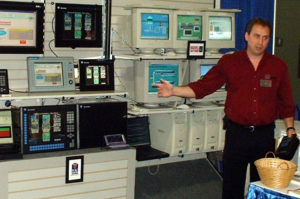 In today's article we'll discuss how you can remotely monitor and control your Allen-Bradley PanelView Plus using VNC (Virtual Network Computing.)
The ability to use handheld devices with HMI or SCADA systems has been around for a long time. In fact, in the picture to the right you can see me back in 2002 with a Windows CE based HP Jornada Pocket PC on display (on kiosk behind me) running RSView32 Active Display Client via Terminal Services.
While Terminal Services, now known as Remote Desktop Services, is still a valid solution for Server based applications, today smaller systems often use Virtual Network Computing (aka VNC) to enable remote monitoring and control. Note: You can find more detailed information about VNC at this Wikipedia page.
In fact, Rockwell has been providing a VNC server for certain versions of it's PanelView products for some time now. And with it enabled you can monitor and control your PanelView Plus remotely from any VNC client.
Before we go into the details of setting up VNC on the PVPlus, lets first be clear which PanelView Plus models have the ability to be a VNC server:
PanelView Plus support for VNC:
The VersaView CE, later renamed the PanelView Plus CE, was the first PanelView Plus product that allowed access to the Windows CE desktop, and one of the CE Applications Rockwell tested and made freely available was VNC Server software.
With the PanelView Plus 6, all models allow access to the Windows CE desktop and they all come with several applications preinstalled, including VNC server software.
Note: Prior to the release of the PanelView Plus line and Machine Edition 3.0, Rockwell had a 6181 Industrial "Windows CE" PC they promoted as an HMI. This product came with a ViewME runtime installed and also supported being used as a VNC server. You can see it pictured above – it's the HMI with the gray bezel on the left.
Setting up the PanelView Plus 6 to be a VNC server:
Now that we've run through the PanelView Plus models which support VNC, lets walk through how to set it up on a PVPlus 6:
1) From the PVPlus 6 Configuration Mode screen select Exit, or F8: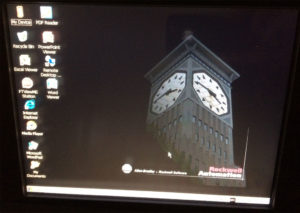 2) Enter in the password required to exit to the desktop (the default is "password.")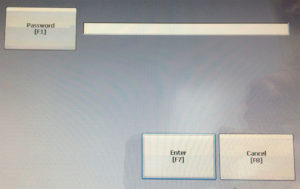 3) Once at the desktop, select "Start, Settings, Control Panel:"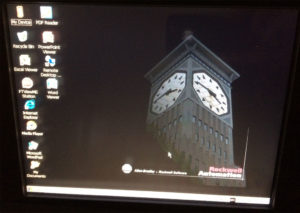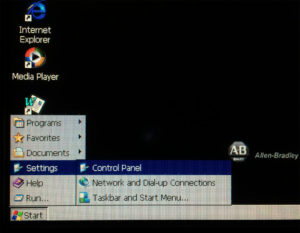 4) Now open the "Services" applet: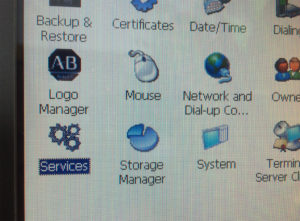 5) Select "VNC Server" to turn it on.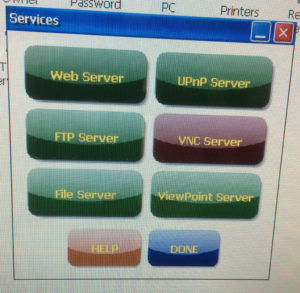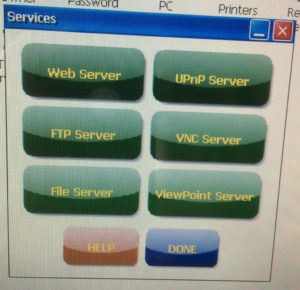 6) Close the "Services" applet and open the "Sever Config" applet: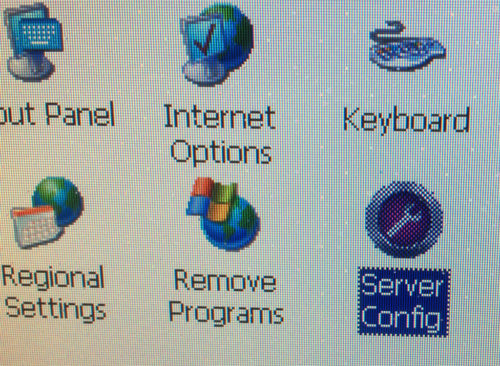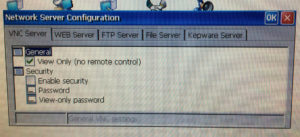 7) Here on the VNC tab we'll uncheck the "View Only" mode, check "Enable Security," and finally select "Password" and type in a remote control password of our choosing: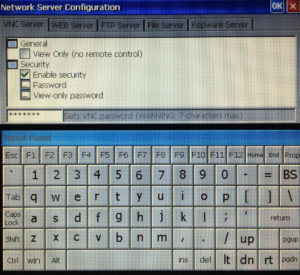 8) At this point we're finished with the server config so we click on OK to close the dialog box, and then click on "yes" to the popup: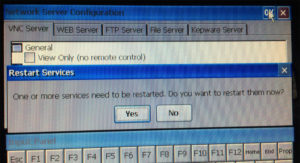 9) We are now done setting up the PanelView Plus 6 as a VNC server. We can either manually restart ViewME Runtime, or we can just reboot to reload our default application.
Part Two: Setting up your Personal Computer to connect to your PanelView Plus using VNC:
Since the PanelView Plus 6 comes with "TightVNC Server," I've decided to use the TightVNC client for my PC. Here's how I went about getting it and connecting:
1) To start, I visited www.TightVNC.com and downloaded their software: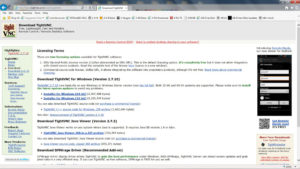 2) Next I did a custom install as I only wanted to install the VNC Viewer (client) on my laptop.
3) Once installed, I ran the TightVNC viewer and entered the IP Address of my PanelView Plus 6, as shown below: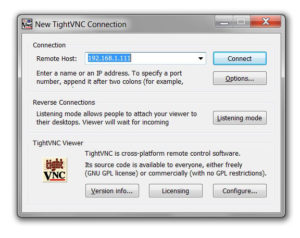 4) Then I clicked on "connect," entered my password, and was greeted with a window representing my PanelView Plus 6: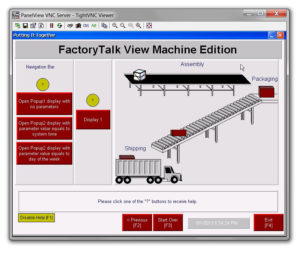 5) Since I had enabled "control," I was able to "remotely control" my PanelView Plus 6 by navigating screens, change values, and pretty much doing anything I could do from in front of the PVPlus 6. And everything I did in the TightVNC viewer on my PC was mimicked on the PanelView Plus 6's display.
Well, I hope the above procedure on how to remotely control your PanelView Plus with your PC using VNC was helpful. Later in the week I'll show you how to monitor and control your PanelView Plus 6 remotely using a free VNC client app on your Apple iPad and iPhone – here's a preview: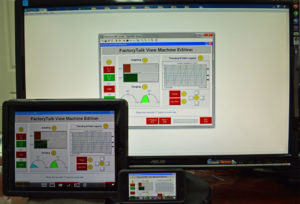 In the mean time, if you have any questions or comments please click on the "post a comment or question" link below.
Until next time, Peace ✌️ 
Shawn M Tierney
Technology Enthusiast & Content Creator
Have a question? Join my community of automation professionals and take part in the discussion! You'll also find my PLC, HMI, and SCADA courses at TheAutomationSchool.com.
If you found this content helpful, consider buying me a coffee here.
Latest posts by Shawn Tierney
(see all)
December 7 News: ABB, Sparkplug, Cybersecurity, Robots, Cobots, Omlox, Ethernet/IP & more (N151)

- December 7, 2023

Auvesy-MDT Octoplant: Automated Backups, Disaster Recovery, and More (P182)

- December 6, 2023