---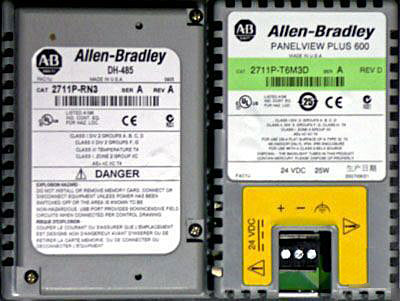 Most of the original PanelView Plus 400 and 600 models accepted an optional communications module, and the following were available:
2711P-RN3 DH-485 communication module

2711P-RN8 DH+ communication module

2711P-RN15C ControlNet communication module

2711P-RN22C RS-232 isolated communication module
However, with the release of the new PanelView Plus 6 400 and 600, we lose the option of adding ANY communication modules (even the mounting holes and nuts for the comm modules have been removed.)
This is not the case with the larger PVPlus 6 products – on those systems we can still use the add on 2711P-RN6 to get DH-485. But what if you need to replace a 550 or 600 legacy DH-485 PanelView?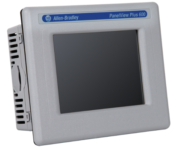 Its still possible, but not nearly as clean and neat a solution. The PanelView Plus 6 400 and 600 still support the DH-485 protocol on it's built-in RS-232 DB9 serial port, so what also is needed is an RS-232 to RS485 converter.
One option is to use the din-rail mount 1761-NET-AIC. This 24vdc powered device is a pure RS-232 to RS485 converter, one I've used not only for DH-485 applications, but also for ASCII, Modbus, and PC applications as well.
UPDATE: I've added a three part video series HERE showing how to setup a PanelView Plus on DH-485 using it's serial port.
Besides the 24vdc power, you'll also need to know which cables to purchase. The 1761-NET-AIC has three ports: the 6 position terminal block is the RS-485 port, and the 8 pin mini din along with the DB9 are RS-232.
If you are connecting to a daisy chain DH-485 network then no cable is needed on that side – just wire the daisy chain into the TB and you're good to go. However, if you need to connect to an RJ-45 DH-485 connector, like that found on the front of many SLC-500's, well you'll want a 6-pin Phoenix to RJ45 cable, either the 1761-CBL-AS03 (3 m / 10 ft) or the 1761-CBL-AS09 (9 m / 30 ft.)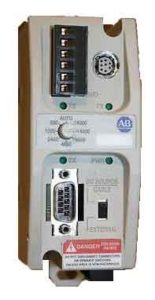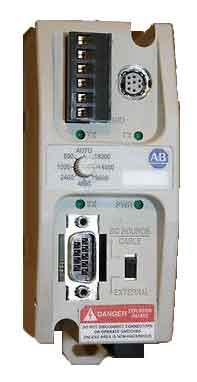 To connect to the PVPlus 6 you'll want to use one of the two serial ports. It doesn't really matter which port you use, just chose the your less likely to program through.
Just keep in mind the PVPlus is a DCE device, meaning the cables you program your PLC via it's DTE serial port will not work (without a null modem adapter.)
So to connect from the PVPlus 9-pin D-shell to the 1761-NET-AIC 8-pin mini DIN port you can use either the 2711-NC21 cable (5 m / 16.4 ft) or the 2711-NC22 cable (10 m / 32.7 ft.)
To connect from the PVPlus 9-pin D-shell to the 1761-NET-AIC 9-pin D-shell you would use either the 2711-NC13 cable (5 m / 16.4 ft) or the 2711-NC14 cable (10 m / 32.7 ft,) or any standard female 9-pin D-shell to female 9-pin D-shell "straight through" (DTE to DCE) RS-232 cable.
With the hardware sorted out you just need to know which driver to use in RSLinx Enterprise.
For this application you would chose the Serial DH-485 driver (same driver you would use for the 2711P-RN3) accepting the default port, but choosing the correct node address for the PVPlus, along with the corrent baud rate for the network you're connecting to.
Hopefully you'll find these details on how to use the new PanelView Plus 6 400 and 600 on DH-485 helpful.
If you've implement the above, or plan to, we'd like to hear about your experience – just click on the "post a comment or question" link below.
Until next time, Peace ✌️ 
Shawn M Tierney
Technology Enthusiast & Content Creator
Have a question? Join my community of automation professionals and take part in the discussion! You'll also find my PLC, HMI, and SCADA courses at TheAutomationSchool.com.
If you found this content helpful, consider buying me a coffee here.
Latest posts by Shawn Tierney
(see all)
December 7 News: ABB, Sparkplug, Cybersecurity, Robots, Cobots, Omlox, Ethernet/IP & more (N151)

- December 7, 2023

Auvesy-MDT Octoplant: Automated Backups, Disaster Recovery, and More (P182)

- December 6, 2023