---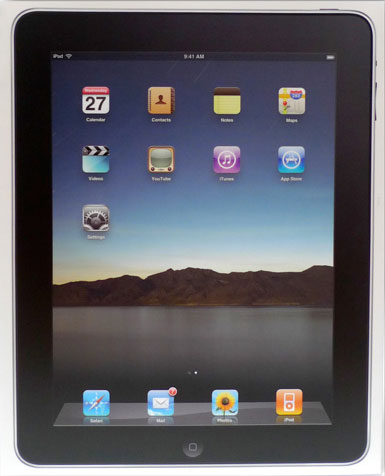 Last week I had the opportunity to show a client how to use his Apple iPad and iPhone to remotely control his PanelView Plus 6. Afterwards, I thought it would make an excellent blog post.
The first step is to setup your PanelView Plus as a VNC server, and we covered how to do this in this blog post earlier in the week. So today we'll walk you through connecting to your PanelView Plus running as a VNC server using your Apple iPad or iPhone as a VNC client.
Note: If you didn't read the previous article in this series you may not be aware that this procedure works with any PanelView Plus with the Windows CE desktop, like the VersaView CE (later renamed the PanelView Plus CE,) PanelView Plus 6, and PanelView Plus 7.
Setting up your Apple iPad or iPhone to remotely monitor and control your PanelView Plus:
On your Apple device you're going to need a "VNC Client." Fortunately for us, Rockwell tested and recommends a free app we can download from the Apple app store. Below are the steps to download and setup this app:
1) On your Apple iPad (or iPhone,) open the Apple App Store and search for "Mocha VNC Lite:"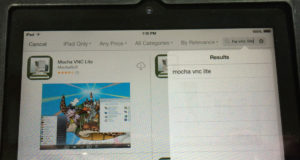 2) Download and install this app: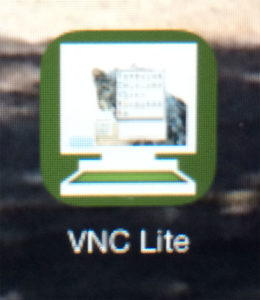 3) Open the "Mocha VNC Lite" app and select "New" to edit a new configuration.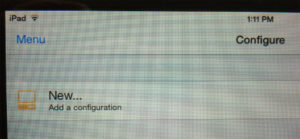 4) Enter the IP address of a PanelView Plus that is running VNC server software (as described in  this blog post.) Also add your VNC password and a name for your configuration, as shown below: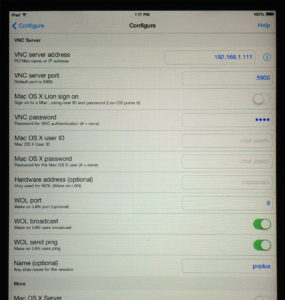 Note: It's best if your Apple device is on the same subnet as your PVPlus. If not, you'll need to be sure your router is correctly routing between the two subnets.
5) Press the "Back" button on the top left of the app to return to the menu, and then select connect.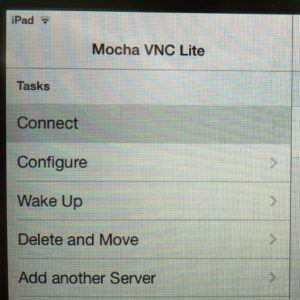 6) Select your new setup and connect. After a few moments you should see your PVPlus screen appear on your Apple device. Pictured below is my Apple iPad 2 using the Mocha VNC Lite app to connect to a PanelView Plus 6 running VNC server software: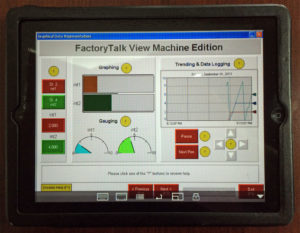 7) I ran through the above steps a second time on my iPhone 5s, and the result can be seen below: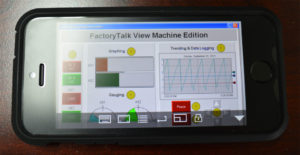 8) Here I'm showing both my iPad 2 and iPhone 5s connected simultaneously (along with my PC) to a single PanelView Plus 6 running VNC server software: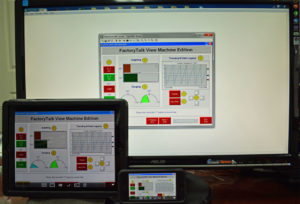 I hope the above procedure on how to connect your Apple iPad or iPhone to your PanelView Plus using VNC was helpful. If you have any questions or comments please click on the "post a comment or question" link below.
Until next time, Peace ✌️ 
Shawn M Tierney
Technology Enthusiast & Content Creator
Have a question? Join my community of automation professionals and take part in the discussion! You'll also find my PLC, HMI, and SCADA courses at TheAutomationSchool.com.
Latest posts by Shawn Tierney
(see all)