---
One of my students recently asked how he could use Symbol Factory images as actual push buttons in his FactoryTalk ViewStudio Machine Edition project destined to run on his PanelView Plus.
That question in mind, in today's article I'll run through all the steps required to add Symbol Factory images to View ME Push Button objects.
---
Step 1) Select a "Push Button" Object from the "Objects" menu and place it on your Graphic Display

Step 2) Under the "General" tab of the Push Button's properties, I recommend setting the "Border Style" to "None" and the "Back Style" to "Transparent."

Step 3) Next on the "States" tab, with "State0" selected click on the ellipsis (…) to the right of the "Image:" field in the "Image Settings" area:

Step 4) The "Image Browser" allows you to add images from your hard drive by choosing "Add from File…," but in our case we want to use an image from Symbol Factory so we'll choose "Launch Library"

Step 5) Now in the Symbol Factory app, find the image you want to use for your button's "State0" and select it, and then click on "Copy."
NOTE: In the picture below I'm showing the image I selected for "State0"

Step 6) Now back in the image browser click on "Paste from Library" and the below popup will appear. Use it to provide a name for the image you selected and is about to be imported into your ViewStudio Project, and then click on "OK"

Step 7) Now in the image browser click on "OK"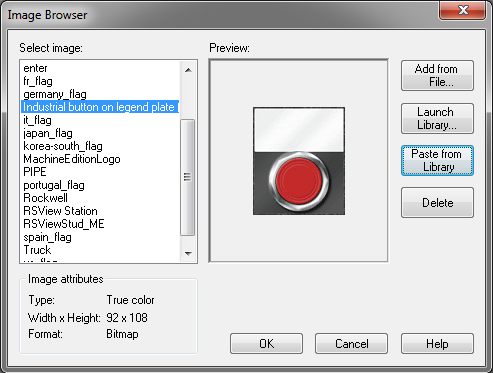 Step 8) Back in the "Push Button Properties" window you'll see the image name you chose now listed in the "Image:" field. Now, click on "State1" and repeat steps 3 through 6 to assign that state an images as well.

Step 9) Finally, add your tag under the connection tab as you would normally and click on "OK" to save your work. The results of each state should look similar to the below image:

Questions, comments or suggestions? Feel free to leave them here by clicking on the "Leave a comment" link at the very bottom of this page.
Until next time, Peace ✌️ 
Shawn M Tierney
Technology Enthusiast & Content Creator
Have a question? Join my community of automation professionals and take part in the discussion! You'll also find my PLC, HMI, and SCADA courses at TheAutomationSchool.com.
Latest posts by Shawn Tierney
(see all)