---
Update:
Check out our most recent article on this subject
HERE
.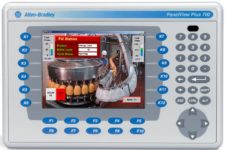 The ability to transfer Rockwell Software's FactoryTalk View Machine Edition runtime files (.mer) to the PanelView Plus and PanelView Plus 6 using standard USB Memory Stick (aka USB flash drive, USB thumb drive) is a handy feature, if you know how to do it.
In most cases, you'd typically download the runtime file (.mer) directly to the PVPlus via Ethernet, however there are some occasions when this won't be practical:
When the PVPlus isn't networked
When the PVPlus doesn't have an IP address assigned
When the PVPlus doesn't have an Ethernet Port (some 400 and 600 models)
When there's no easy way to get your PC near the PVPlus to connect to it
When you have an old pre-6 version of ViewStudio (and the Transfer Utility,) but a new PVPlus 6 (the PVP6 does support older v3.1-v5.1 .mer's, however the old Transfer Utility doesn't support the new PVP6)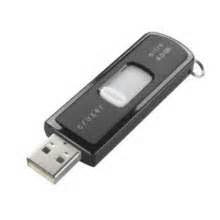 In these cases, using a USB memory stick to transfer your program from your development PC to the PanelView Plus can be the quickest and easiest, if not the only way to get your file on the unit.
The trick is, the PVPlus and PVPlus 6 only look in one folder on the USB stick for .mer files, and unless your .mer is located in this location the PanelView Plus won't find it:
Rockwell Software\RSViewME\Runtime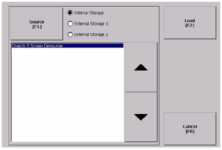 But before you go manually creating these folders you should know of a neat little trick to have them created for you automatically.
If you insert your USB memory stick into your PanelView Plus, then browse the USB memory stick, if the PanelView doesn't find the default directory on the USB stick it create it for you.
To do this, start by plugging your USB memory stick into your PanelView Plus.
Next, from the configuration menu select "Load Application" and change the source to "External Storage 1" which represents your USB memory stick (assuming no other removable memory was installed prior to your inserting of the USB memory stick.)
After a few seconds, change the source back to internal storage and back out of the load menu.
Click here for a list of currently available USB Memory Sticks and Flash Drives
Now remove your USB Memory Stick from the PanelView and plug it into your PC.
Then browse it with Windows Explorer and you should find the required folders have been created for you.
At this point you can copy your .mer file(s) to the memory stick into the Rockwell SoftwareRSViewMERuntime directory.
Then safely eject it from your PC, and plug it back into the PanelView Plus.
Now, back on the PVPlus, navigate to the File Manager screen under Terminal Settings.
Then copy your .mer runtime application to the internal storage of the PanelView Plus.
Load the application, and set it's defaults, and in most cases you'll also want to go back into terminal settings and setup the startup options as well.
I hope the above information on how to use a USB memory stick to transfer runtime files to your PanelView Plus was helpful.
If you have any comments, questions, or suggestions, please feel free to share them with us by using the "post a comment or question" link below.
Until next time, Peace ✌️ 
Shawn M Tierney
Technology Enthusiast & Content Creator
Have a question? Join my community of automation professionals and take part in the discussion! You'll also find my PLC, HMI, and SCADA courses at TheAutomationSchool.com.
If you found this content helpful, consider buying me a coffee here.
Latest posts by Shawn Tierney
(see all)
December 7 News: ABB, Sparkplug, Cybersecurity, Robots, Cobots, Omlox, Ethernet/IP & more (N151)

- December 7, 2023

Auvesy-MDT Octoplant: Automated Backups, Disaster Recovery, and More (P182)

- December 6, 2023