---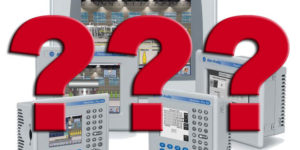 Frustratingly, I can not find ANYTHING about a possible "PanelView Plus 7" published publically by Rockwell Automation.
I'm frustrated not only because I'm a big PanelView Plus fan, but also because the rumors state it's suppose to be releasing around the first of the year.
Yeah, I know: Once bitten twice shy, right? But while the PanelView 5000 was publically "previewed" extremely early in it's development cycle, from what I'm hearing the PVPlus 7 development is all done.
So, why the hush hush?
Edit 08-29-14: With the release of ViewStudio 8.0 we finally have a public acknowledgement that the PanelView Plus 7 is coming. The release notes confirm that the PVPlus 7 will come in a standard and enhanced versions, and will support new resolutions including widescreen aspect ratios.
Rumors and Speculation
Not finding any public information available, all I can share with your are the rumors and speculation I've heard outside of official channels, and not covered by non-disclosures:
The PanelView Plus 7 will program with ViewStudio version 8.
No, you read that right. While the PanelView Plus 6 required a minimum of ViewStudio version 6, the PVPlus 7 is said to require v8. This actually seems credible to me, as the last version of ViewStudio was version 7, and it came out several months ago.
It will be backward compatible with runtime files (.mer) back to version 3.2
This is very good news. Just like the PVPlus 6, the rumor is the PVPlus 7 will also support old .mer files.
It will be based on the PanelView 5000 hardware and have higher resolution that the same size PVPlus 6.
What? Um, ok it would be pretty cool if the engineers at Rockwell were able to get View Machine Edition to work on the same hardware designed for the PanelView 5000. In fact, I think this is pretty plausible as the hardware seemed quite stable when I used it at RSTechED back in 2012.
It will only support Ethernet and Serial communications
Hmm. Kind of a bummer, but it's understandable they aren't adding support for Data Highway which hails from the 1980's.
It will begin shipping in the December 14 / January 15 time frame.
Ok, this one has me concerned. While that is the same release timeframe I've heard for the next ViewStudio, since we have no public information on the PVPlus 7 it's kind of hard to believe this is accurate…
It will be launched at Automation Fair 2014
Well, if everything else above is true, then this would make a lot of sense. At this point, barring any public announcement from Rockwell, I guess we'll just have to wait and see.
That is, unless you heard something about the PanelView Plus 7? If you have, I'd love to hear what you heard – just reply to this blog post by filling in the "post a comment or question" link below.
Until next time, Peace ✌️ 
Shawn M Tierney
Technology Enthusiast & Content Creator
Have a question? Join my community of automation professionals and take part in the discussion! You'll also find my PLC, HMI, and SCADA courses at TheAutomationSchool.com.