In Today's article I discuss the new "Tag Database Not Found" error you get when you try to open a project created in v10 of FactoryTalk View Studio Machine Edition.
I was recently given a version 8 .MER runtime file which I wanted to take a look at in FactoryTalk View Studio Machine Edition version 9.
I first used the Application Manager to restore the .MER to a application, and then proceeded to open the project in View Studio.
Towards the end of opening the application, I received the error, "Tag Database not Found," as shown below: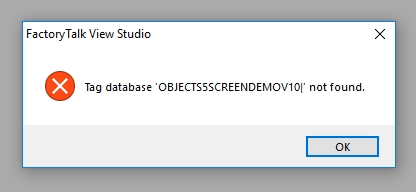 Turns out that while the .MER was compiled for a v8 PanelView Plus, the version of ViewStudio used was v10.
And when you create a .MER file with v10, you are warned that to restore and open the project in a previous version of View Studio you'll need to install the latest patch roll-up for that previous version:

For more information, as well as a link to the patch, click HERE.
---
To watch a video demonstration of the above, check out Episode 46 of The Automation Minute Season 4 below:
---
If you found this article helpful, please share it with your colleagues on LinkedIn, Facebook, Twitter or Goggle Plus!
And if you know anyone who would benefit from Allen-Bradley PLC, HMI, or SCADA training, please let them know about my affordable courses over at TheAutomation School.
You can also share your own thoughts and opinions on this subject by clicking on the "post a comment or question" link below.
Sincerely,
Shawn Tierney
Automation Instructor and Blogger

Enjoy the benifits of membership! Insider news, rewards, & more: Patreon.com/automation
If you enjoyed my article, you may like my courses at TheAutomationSchool.com
Have a question on this topic? Click here to scroll down to the comment link
Have a news tip? Share it with us here
Shawn began sharing automation news and know-how online in 1996 when he launched his first BBS. Then in 1999 he moved to the internet launching ShawnMichael.com, which he later renamed ShawnMTierney.com. In 2013 he moved his automation efforts to a new website, TheAutomationBlog.com, which has since become the most popular independent industrial automation blog on the web.
Latest posts by Shawn Tierney (see all)
Click HERE to scroll down to view or leave comments