---
Currently featured on AB.com, the new Compact GuardLogix 5370 is now available and in factory stock.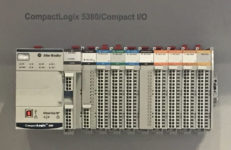 These new "safety" programmable controllers are essentially a "modern" version of Rockwell's Compact Guardlogix line, now based on their popular 5370 architecture.
Users who migrate to these new models gain a USB port, SD Card slot (SD card included,) Dual Ethernet Ports (with DLR Support) and an embedded energy storage device (no battery needed,) all of which is also found in the standard 5370 CompactLogix processors.
These are also the first Compact GuardLogix processors which support Studio 5000 Logix Designer, currently with firmware available for version 28.
However, when migrating from the original Compact Guardlogix (L43S, L45s,) users will no longer have a built-in DB9 Serial Port, Keyed Run Switch, CompactFlash memory card slot, or support for RSLogix 5000.
More details about these three new models can be found in the below table:
| PN# | ESP* | Availabiliy** | Stnd Mem | Safe Mem | Max Local IO | Max Eth. Nodes |
| --- | --- | --- | --- | --- | --- | --- |
| 1769-L30ERMS | $3,609 | Fact. Stock | 1mb | .5mb | 8 | 16 |
| 1769-L33ERMS | $4,415 | Fact. Stock | 2mb | 1mb | 16 | 32 |
| 1769-L36ERMS | $5,357 | Fact. Stock | 3mb | 1.5mb | 30 | 48 |
Note: ESP* represents an "estimated street price" and may not represent the price your company will pay.
Note: Availability** represents the vendor's stated availability of the products at the time this article was written.
For more details about Rockwell's new Compact GuardLogix, check out the below documentation:
Credit Due: Special thanks to our reader Jeff S. for sending in a tip about this product's pending release, as well as the availability of its documentation in Rockwell's Literature Library. Thanks Jeff!
---
Until next time, Peace ✌️ 
Shawn M Tierney
Technology Enthusiast & Content Creator
Have a question? Join my community of automation professionals and take part in the discussion! You'll also find my PLC, HMI, and SCADA courses at TheAutomationSchool.com.
Latest posts by Shawn Tierney
(see all)