---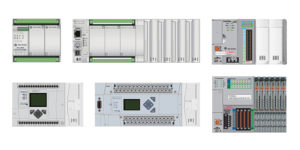 Today, Ethernet is the network of choice for automation systems.
In years past, Ethernet was an expensive and costly add-on. However, more and more small programmable controllers are now coming with Ethernet as standard.
Below we'll cover what is available today for small Ethernet Programmable Controllers from Allen-Bradley.
---
Micro820 and 850

If you're new to programmable controllers, or just new to Allen-Bradley, the Micro800 family is a pretty good choice.
Programming Micro800's with the free CCW software feels more like programming other vendor's PLCs than previous A-B PLC's. This fact is a plus for those who have used other PLC's, but it's a minus to those who are familiar with the RSLogix interface.
The Micro820 is the newest and smallest of the Micro800 family to have Ethernet. This small 20 I/O PLC starts at $249 list, which is a very attractive price point. For more about the Micro820, check out our previous blog posts about it HERE and HERE, and our podcast about it HERE.

The Micro850 is the largest and most expandable PLC in the Micro800 line. It comes in two I/O sizes, 24 and 48. The 24 point I/O model starts at a list price of $429, while the 48 point model starts at $629 list.
---
MicroLogix 1100 and 1400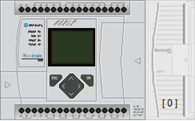 If you're an existing user of the PLC-5 or SLC-500, then you're going to feel right at home programming a MicroLogix. In fact, unless your RSLogix 500software is ancient, it supports the entire MicroLogix line out of the box. You can also buy a "MicroLogix only" version of RSLogix for $150 which will program all the MicroLogix PLCs.
The MicroLogix 1100 was the first MicroLogix to include Ethernet, as well as a small LCD display. It was also the first MicroLogix to support online editing too, a huge advancement for the MicroLogix line. However, this MicroLogix only comes in 16 I/O versions, and starts at $648 list.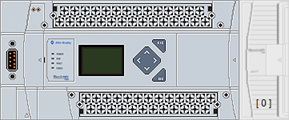 The MicroLogix 1400 is the newest MicroLogix, and is loaded with extra features. In additional to all the feature of the 1100, it also has a backlit LCD, the ability to set the IP address from the front of the unit, and supports Modus TCP as well as Ethernet/IP. The MicroLogix 1400 has 32 total I/O (some models also include additional analog I/O) and starts at a list price of $855.
---
CompactLogix 5370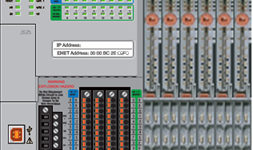 The new line of CompactLogix 5370 processors are a very good choice for newer plants which have standardized on RSLogix 5000.
While the CompactLogix hardware has less features than the larger ControlLogix, it does support all the same programming languages and instructions.
The "L1" processor has 16 I/O built-in, and can be expanded with a few 1734 Point I/O modules locally. It also has the ability to control a few racks of remote Ethernet/IP I/O, and starts at a list price of $1,460.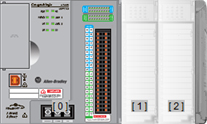 The "L2" processor also has 16 I/O built-in, but it takes 1769 Compact I/O expansion modules locally. It has the ability to control several racks of remote Ethernet/IP I/O, and starts at a list price of $1,900.
---
A word about list prices.
While Rockwell authorized resellers are free to set their own sale prices, some precedence's do exist. For one, as the list prices mentioned above can be found on Rockwell's own website, most distributors won't quote you prices above list.
Note: You can also find the above prices and all the pictures in this article in Rockwell's free, "Integrated Architecture Builder" (IAB) tool. For more information about IAB, see our blog articles HERE and HERE.
If a Rockwell distributor does quote you a price above list, they should expect the same reaction you would have if your local department store tried to charge you more than the price found on a product's label. For most, this would mean leaving the product behind and finding a new store.
---
I hope you found the above article detailing small A-B programmable controllers with Ethernet helpful. If you have any comments, questions, or corrections please don't hesitate to leave them by filling in the "post a comment or question" link below.
Until next time, Peace ✌️ 
Shawn M Tierney
Technology Enthusiast & Content Creator
Have a question? Join my community of automation professionals and take part in the discussion! You'll also find my PLC, HMI, and SCADA courses at TheAutomationSchool.com.
If you found this content helpful, consider buying me a coffee here.
Latest posts by Shawn Tierney
(see all)