---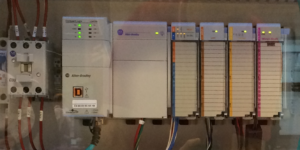 I've been teaching Logix and View introductory classes the last few days, and have to say I've been a little surprised how many people are not familiar with Rockwell's current generation of CompactLogix.
With that in mind, in today's article I'll cover the seven things you need to know about this line of small Logix processors:
NOTE: To find out seven more things you should know about the current generation of CompactLogix, check out our additional article HERE.
Seven things you need to know about the current generation of CompactLogix
1) Now referred to as the 5370 family of CompactLogix processors
While the ControlLogix has had a 5000 designation from the very beginning, this latest batch of CompactLogix processors is the first to receive this number.
So while the current generation of ControlLogix processors, the 1756-L7x, are referred to as 5570, the current generation of CompactLogix controllers are referred to as 5370.
2) Only supported in version 20 and up
If you plan on using the current generation of CompactLogix, you'll need to choose a RSLogix 5000 / Studio 5000 version of 20 or higher.
3) USB port replaces DB9 Serial Port
Gone is the old DB9 serial port, replaced with a standard USB port that current versions of RSLinx find and configure automatically.
This virtually eliminates the need to configure RSLinx, and BOOT-P is no longer needed as you can set the Ethernet's port address by browsing to it through the USB port.
4) No more battery, replaced with capacitor
Gone is the expensive battery use for memory retention, as it has been replaced with a capacitor.
Now when the processor is powered off, the capacitor powers the transfer of the program from high-speed volatile memory to internal non-volatile memory
5) SD Card used for non-volatile memory, 1gb included in box
Gone also are the days when you had to order removable non-volatile memory separately.
Today's CompactLogix comes with a 1gb industrial SD card for use as non-volatile memory, and with room to spare for all your project files.
6) Additional memory for new features
While we haven't seen much done with this yet, since version 21 it has been used to store all your offline documentation on board the controller.
Future plans for this memory include a Controller based datalogging. However, no word lately on what version will include it (my guess is v26.)
7) Multi-core on the inside
Features of the future, like the previously mentioned controller based datalogging, may require more processing power than a single core can provide.
So by including a multi-core processor in the current generation of CompactLogix controllers Rockwell has paved the way for some pretty interesting options in the future.
---
I hope this article about the 5370 CompactLogix was helpful!
If you have any questions, suggestions, comments, or corrections please don't hesitate to leave them with us by using the "post a comment or question" link below,
Until next time, Peace ✌️ 
Shawn M Tierney
Technology Enthusiast & Content Creator
Have a question? Join my community of automation professionals and take part in the discussion! You'll also find my PLC, HMI, and SCADA courses at TheAutomationSchool.com.
If you found this content helpful, consider buying me a coffee here.
Latest posts by Shawn Tierney
(see all)