---
The CompactLogix family of Programmable Automation Controllers has been popular with Small Machine Builders and System Integrators for many years.
The most obvious reason for its popularity is that it's smaller and less expensive then Rockwell's ControlLogix line, while still using the same instruction set and programming software.
The First Generation of CompactLogix Controllers: You can have any communications port you want, as long as it's serial.
The first CompactLogix controller to be released was the 1769-L20 in late 2000.
At the time it was dubbed the CompactLogix 5320, and was joined in 2001 by the 1769-L30 controller, also known as the CompactLogix 5330.
While initially there was a lot of interest in these controllers, the number of actual applications suited to their reduce memory and "serial only" communication ports was limited.
The Details:
The 1769-L20 controller had 64K of memory, a single Serial Port, and supported up to 8 I/O modules across a maximum of two I/O banks connected via a single expansion cable.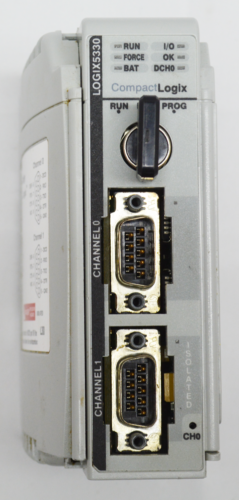 The 1769-L30 controller had 256K of memory, two serial ports, and supported up to 16 I/O modules across a maximum of three I/O banks connected by up to two expansion cables.
In both cases, the controller needed to be the "left most" device in the first I/O bank, and the controller also needed to be within four modules of power supply.
The L20 and L30 did use the same 1769 I/O Modules, Cables, and Power Supplies as the MicroLogix 1500's expansion I/O.
And like MicroLogix 1500 systems that included 1769 expansion I/O, every CompactLogix system had to end with either a Right or Left End Cap.
At the time, Rockwell promoted these controllers as being expandable with Ethernet, DeviceNet, or DH-485 communications by way of a 1761-NET-ENI, DNI, or AIC serial network interface.
While these controllers did natively support the DH-485 protocol, adding an L20 or L30 to Ethernet or DeviceNet using a serial network interface did not enable full native network support.
The built-in RS-232 programming port(s) also supported DF1 Full-Duplex, DF1 Half-Duplex, and ASCII, in addition to the above mentioned DH-485 support.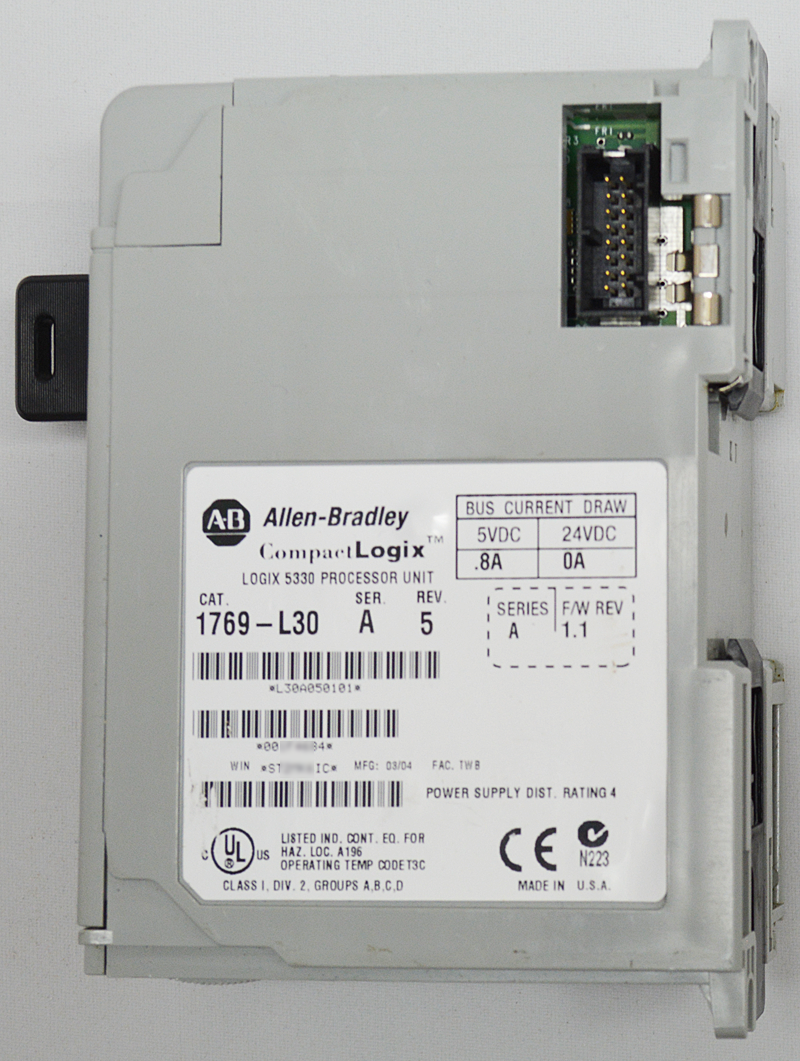 Similar, but also very different: The Default Comms Button
Similar to some of the MicroLogix controllers, the L20 and L30 both included a "default communications" button.
Pressing this button would return Channel 0 to the default settings shown below:
Source ID / Node Address: 0
Baud Rate" 19.2K
Data Bits: 8
Parity: None
Stop Bits: 1
Error Detection: BCC
Protocol: DF1 point-to-point (Full Duplex)
Control Lines: No handshaking
But unlike MicroLogix controllers with this feature, the L20 and L30's "default communications" button did not toggle between User and Default Settings.
Instead, when the L20 and L30's "default communications" button was pressed (and the Green "DCH0" LED came on,) any Channel 0 User Settings were replaced with the Default Settings.
This meant that the only way to return the controller to the original User Settings was to either (1) download the original program, or (2) make the changes online using RSLogix 5000.
The actual "default communications" button is accessed via a "pin hole" located on the bottom right front of the controllers, and to press it you'll need a non-conductive, pin sized object.
Both controllers did thankfully use the same Key, Battery and Serial Programming Cable (1747-CP3, or 1756-CP3) as the popular SLC-500 series.
To access the battery compartment, users simply slid the left side of the controller forward, revealing the battery connector and clip on the controller's circuit board.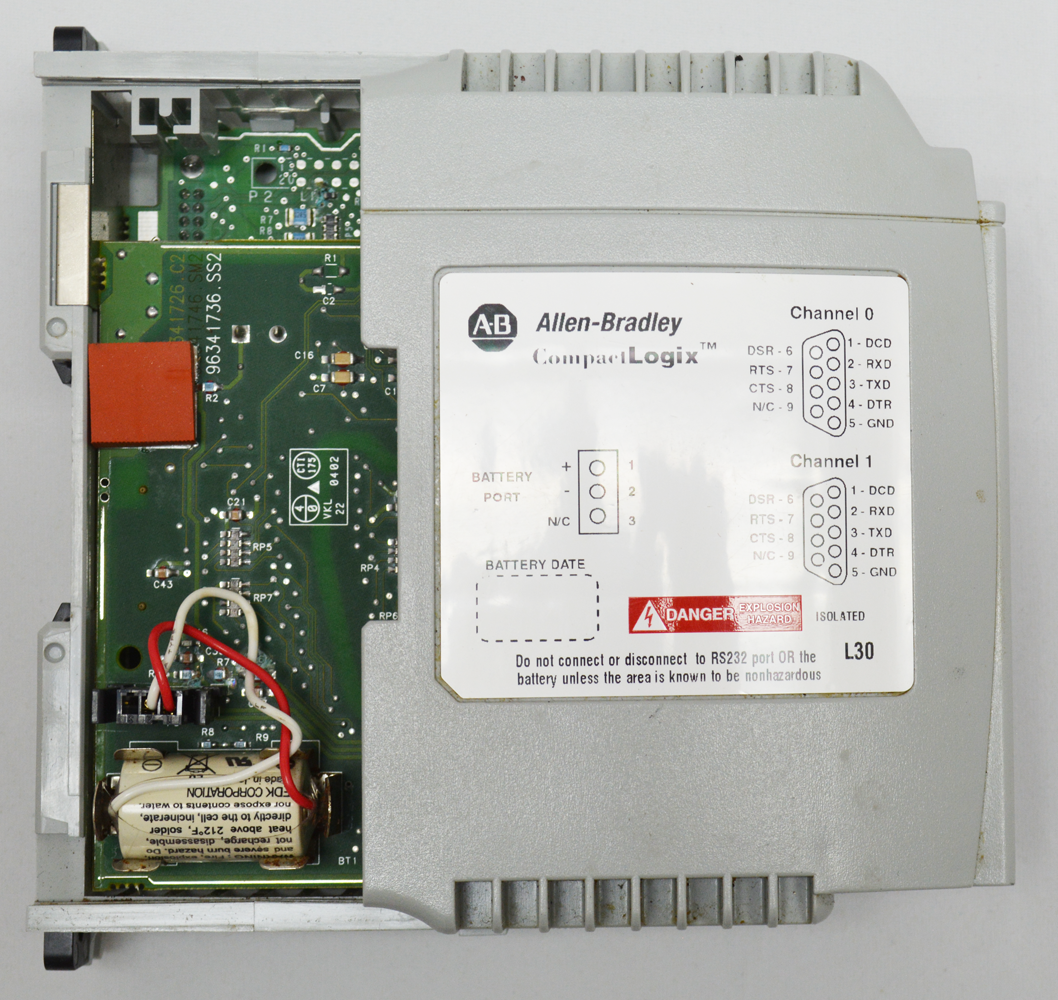 While the L20 and L30 did not have a Memory Card Slot like most future CompactLogix models did, they are unique among CompactLogix controllers for having built-in non-volatile memory.
Using RSLogix 5000, programs could be saved to (or loaded from) the on-board non-volatile memory, as well as set to load automatically on power-up or when the battery backed (volatile) memory was corrupt.
In the end, even though the first generation of CompactLogix controllers had its share of limitations, it did pave the way for the next generation of CompactLogix controllers, including the very popular 1769-L32E and 1769-L35E.
---
So, do you ever use the first gen L20 or L30?
And if you did, what did you think of them at the time?
You can share your thoughts and opinions with us by clicking on the comment link below my signature.
Until next time, Peace ✌️ 
Shawn M Tierney
Technology Enthusiast & Content Creator
Have a question? Join my community of automation professionals and take part in the discussion! You'll also find my PLC, HMI, and SCADA courses at TheAutomationSchool.com.
If you found this content helpful, consider buying me a coffee here.
Latest posts by Shawn Tierney
(see all)
December 5 News: 50kg Robot, Ex Tablet, IOLink, Ethernet-APL, MQTT QOS, Logix/View Docs & more (N150)

- December 5, 2023

November 30 News: TIA Portal v19, Productivity Suite 4.1, Industrial Strip Light, OPC Pub/Sub & more (N149)

- November 30, 2023

MOXA's New Industrial Computers (P181)

- November 29, 2023