---
When importing a PanelView RIO project, there's one crucial step you don't want to miss!
Over the years I've received many calls from clients struggling with the conversion of Remote I/O (RIO) PanelViews.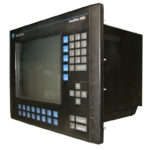 Most found it easy enough to import their old PanelView projects into FactoryTalk View Studio. But when came to setting up the communications, many ran into a dead end.
At first glance, it would seem that the manufacturer had left the task of recreating the RIO configuration to the user.
But while the conversion process doesn't recreate the RSLinx Enterprise configuration for you, it does create a configuration file you can import into RSLinx Enterprise.
Unfortunately, the manufacturer gives the user no indication that this import file is being created. This leaves many attempting to recreate from scratch what they could easily import.
With that in mind, today I'll show you the simple steps to take to import your PanelView RIO communications configuration into FactoryTalk ViewStudio and RSLinx Enterprise.
Importing a PanelView RIO configuration into RSLinx Enterprise
Prep: First you need to import your legacy PanelView project into View Studio. For step-by-step instructions on how to do this see the below article:
Step 1: Open your imported PanelView project in FactoryTalk View Studio and double click on RSLinx Enterprise Communications Setup:

Step 2: When prompted, choose "Create a new configuration:"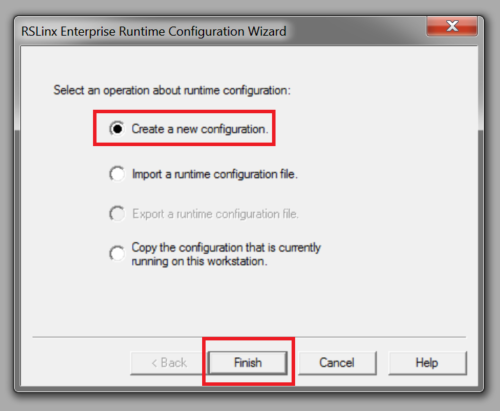 Step 3: When RSLinx Enterprise opens, you'll notice that no "shortcuts" exist. Before we create a shortcut we must first verify that name of the shortcut the import utility assigned to our imported tags.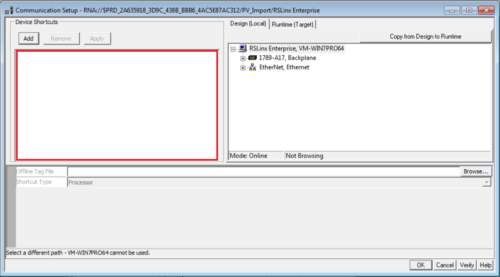 Step 4: Open the "HMI Tag Database" and select a device tag as shown below: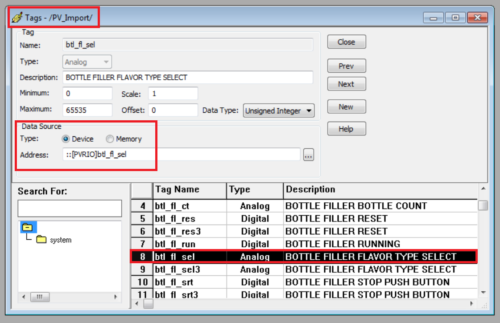 Step 5: Review the address field for your device tag. You should find all the imported PanelView RIO tags have been assigned a shortcut name of "PVRIO."

Step 6: Close the HMI Tag Database and return to RSLinx Enterprise. Now click on the "Add" shortcut button: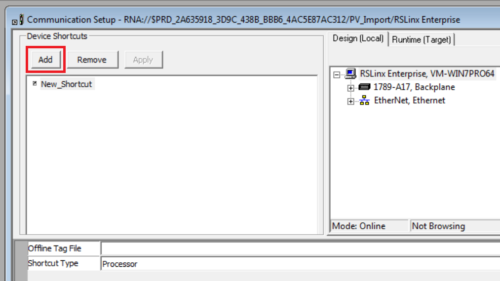 Step 7: Name your new shortcut "PVRIO"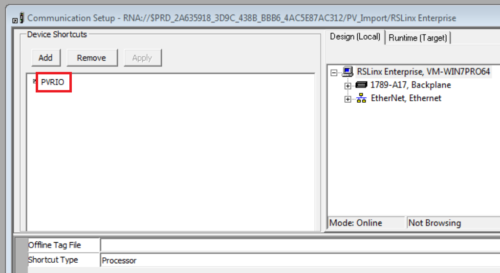 Step 8: Now select the Runtime (Target) tab. In this tab, right click on "RSLinx Enterprise" and select "Add Driver"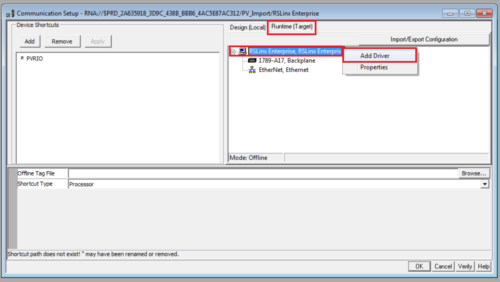 Step 9: Select the Remote I/O hardware for your system. The most common RIO option is the 2711P-RN6 used with legacy PanelView Plus models.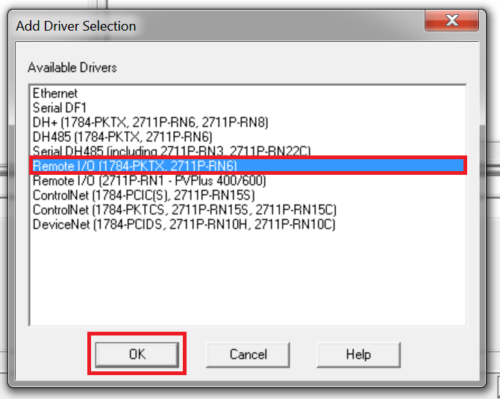 NOTE: For a complete list of PanelView Plus models which are still available and support RIO check out the below article:
Step 10: Change the "Baud Rate" to match your RIO network speed, and leave "Jumper ID" at zero.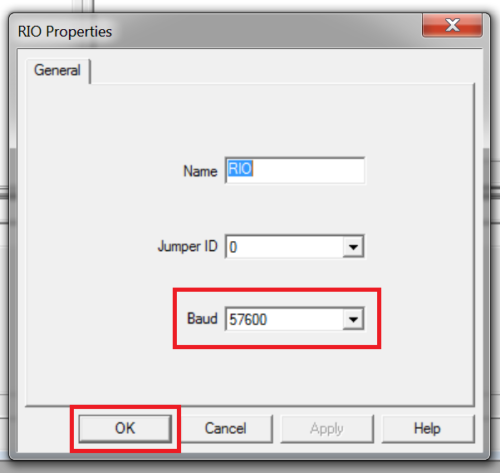 Step 11: Expand the new "Remote I/O, RIO" entry by clicking on the plus sign. Then right click on "RIOdata" and select "Configure RIO"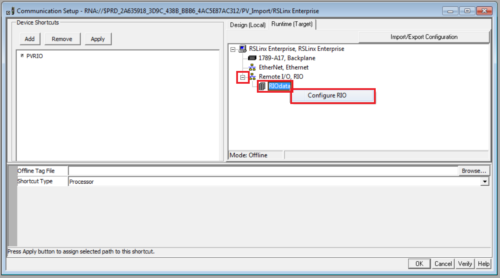 Step 12: Right click on "RIO" and select "Import"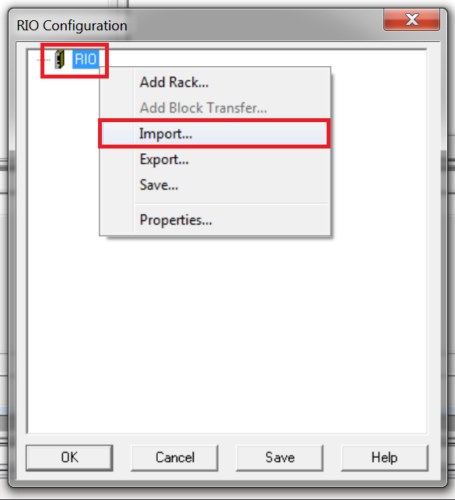 Step 13: Browse to the "HMI Projects" folder, and then to the folder of your imported PanelView project. In this folder you will find a "PV Rio.XML" file which was created when you initially imported your PanelView RIO project into ViewStudio. Select this file and press open: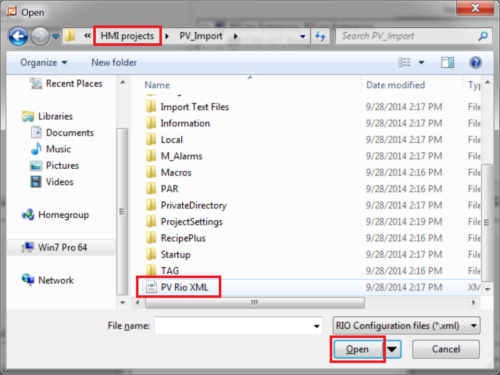 Step 14: Once done, you should see something like the below configuration. Press "Save" and "OK."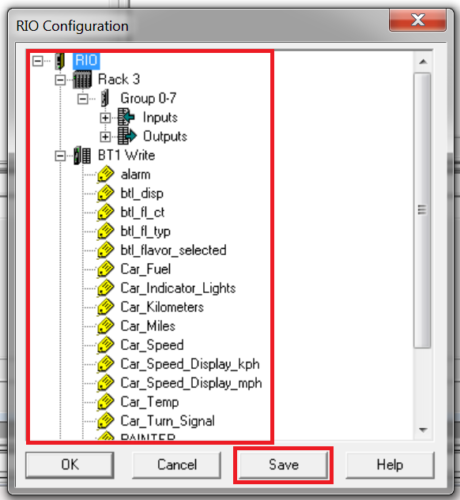 Step 15: The last step is to assign your "PVRIO" shortcut to "RIOdata." You do this by selecting the "PVRIO" shortcut, then "RIOdata," and then by pressing "Apply," and "OK."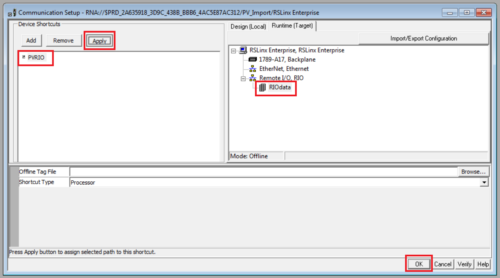 Note: For more information about migrating old PanelView projects to FactoryTalk View, please reference the below migration guides (as of the publication of this blog these guides have not been updated with information about Bit Array support discussed in this article:)
---
I hope the above step-by-step procedure on how to import legacy PanelView RIO Communication Configurations into FactoryTalk ViewStudio and RSLinx Enterprise was helpful.
If you have any comment. questions, suggestions, or corrections please don't hesitate to share them by using the "post a comment or question" link below.
Until next time, Peace ✌️ 
Shawn M Tierney
Technology Enthusiast & Content Creator
Have a question? Join my community of automation professionals and take part in the discussion! You'll also find my PLC, HMI, and SCADA courses at TheAutomationSchool.com.