This PanelBuilder project is the "compilation" of 3 Rockwell projects and my own "Providence Beer" application. 
The Rockwell applications include the standard PanelView product and features demo, as well as the factory's slot machine and black jack apps
Note: The demo appears to cheat at Black Jack.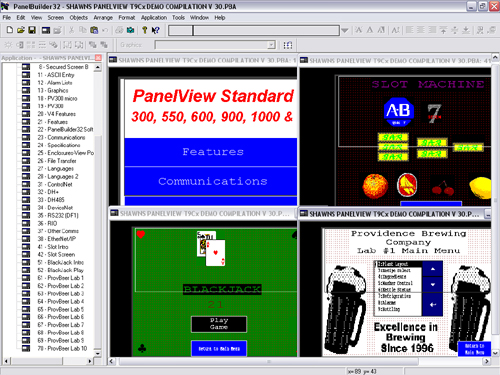 Requirements:
PanelBuilder32 Version: 3.80
Additional Requirements: None
File Size: 296 kb
Uploaded on: 03/16/04
Modified By: Shawn Michael Tierney
Download Link: Shawn's PanelView Demo Compilation.zip
Note: The accompanying RSLogix 500 file can be found here
Sincerely,
Shawn Tierney
Automation Instructor and Blogger

Enjoy the benifits of membership! Insider news, rewards, & more: Patreon.com/automation
If you enjoyed my article, you may like my courses at TheAutomationSchool.com
Have a question on this topic? Click here to scroll down to the comment link
Have a news tip? Share it with us here
Shawn began sharing automation news and know-how online in 1996 when he launched his first BBS. Then in 1999 he moved to the internet launching ShawnMichael.com, which he later renamed ShawnMTierney.com. In 2013 he moved his automation efforts to a new website, TheAutomationBlog.com, which has since become the most popular independent industrial automation blog on the web.
Latest posts by Shawn Tierney (see all)
Click HERE to scroll down to view or leave comments
Note: This article was previously posted on the author's original websites, www.ShawnMichael.com and www.ShawnMTierney.com
Forum Comments:
---