No one is perfect, but locking bug fixes, wiring diagrams and product drivers behind a paywall is not good for customer relations.
I'm a huge Rockwell fan, but sadly my attempts to get them to stop requiring a support contract to access product bug fixes, drivers, and wiring diagrams hasn't gone anywhere.
The latest example is a new issue that users who download the free PanelView Plus version 10 firmware run into if they have an older version of FactoryTalk View installed.
According to a trusted and experienced user, if you download and install version 10 firmware on a system that has FactoryTalk View Studio version 9 or earlier, it "breaks" (Rockwell's term) the pre-v10 Firmware Upgrade Wizard currently installed.
The error that comes up is said to be, "The program can't start because the HelpWrapper.dll is missing"
The good news is, Rockwell is aware of this and has already published a fix in their answer ID 1071864.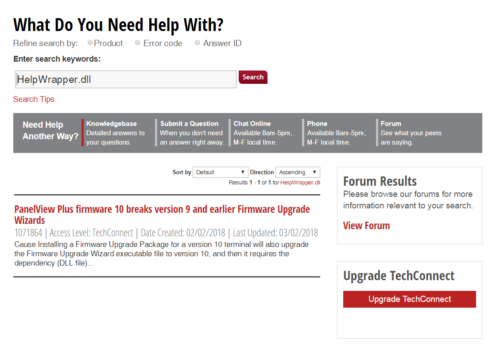 The bad news is, as of today that Tech Note (along with hundreds of other bug fixes) requires you to have a support contract.
In case someone out there is in a jam and can't access that paywall "locked" tech note, here's how you go about fixing the issue:
First, search for and delete the new Firmware Upgrade Wizard executable that the v10 firmware installed on your system.
You'll find it with the rest of the FactoryTalk View executables in the "\Rockwell Software\RSView Enterprise" folder under "Program Files" or "Program Files (x86)"
You can also find it by searching your computer for "FirmwareUpgrade.exe"
Next, re-install the prior version of the Firmware upgrade Wizard you previously had installed, and you should be back up and running!
Note: If you don't have your ViewStudio install files or disc, you can thankfully grab the Machine Edition Firmware Upgrade Wizard for free from Rockwell's own website.
To do so, start by searching for "FactoryTalk View Machine Edition" here.
From the search results select the Machine Edition product.
Then select downloads, and in the popup you'll see the free link to download the Firmware Upgrade Wizard: (you must be logged into Rockwell's website, but that is also free.)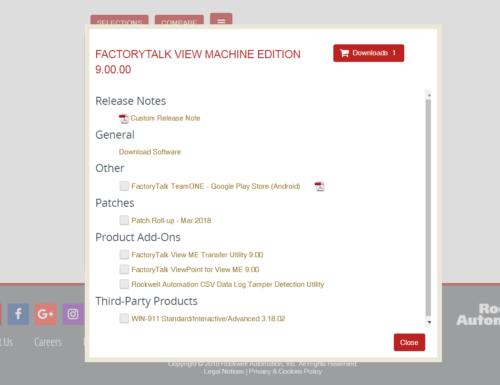 ---
So what do you think?
If you buy a software package and it doesn't work, should tech notes about how to fix bugs be free?
Or when you buy a product should the Windows drivers for said product be free, or require a support contract?
Or how about wiring diagrams needed to wire a product but omitted from the manual… should they be locked behind a paywall?
Please share your thoughts, opinions, or questions by clicking on the "post a comment or question" link below.
Sincerely,
Shawn Tierney
Automation Instructor and Blogger (post views: 4,490 views)
Enjoy the benefits of membership! Patreon.com/automation
Check out my affordable courses: TheAutomationSchool.com
Ask me questions by clicking here to go to the comments link
Have an industrial automation news tip? Share it with us here
Latest posts by Shawn Tierney
(see all)
Click HERE to scroll down to view or leave comments
Forum Comments:
---
Sadly, a week later Rockwell's half page of text explaning how to "fix" the issue is still "locked" behind the "paywall" requiring a support contract.
Does anyone else think it's odd that Rockwell gives the Firmware away for free, as well as gives the Update Wizard software away for free, but won't let you see the half page of text about how the Firmware can break the Software (including how to fix it,) without a Support Contract?

I ran across this issue, and first of all I want to thank you for posting your findings.
Rockwell differentiates between "Everyone" and "TechConnect" by defining their answers as "Public" or "Contract Level". Sadly the public answers are so vague they leave you scrolling all the way to the bottom to find a article title that matches specifically what your issues is. When you click it, you are immediately prompted for a techconnect login. It's the best bait and switch ever! The only feature TechConnect has that I even find very useful is their Chat feature. This allows for more multitasking than just having a phone glued to your face for an hour.
Alternatively, I know other major Controls companies such as Siemens provide FREE! Technical support, and do not lock you out of documentation. They have a vast forum with moderators that reply very promptly. You can call in to their helpline for free, and get up to an hour at a time to get assistance. If you go over the hour. Just hang up and call back, same ticket number and all, not a problem. If you do buy a support contract they are available for as long as you need.
Overall, I find more benefits in visiting theautomationforums.com than to be let down time and time again clicking through rockwell's customer support.

Good afternoon dlevine6487,
Thanks for letting us know this article helped!
And I will continue to encourage Rockwell to make Tech Notes for solving issues with free downloads free to everyone!
At some point common sense has to win out!
Sincerely,
Shawn Tierney,
Instructor, TheAutomationSchool.com

Thank you very much, Shawn! You saved my day!
I don't like their paywall either. I signed up once for a year but just to find out that they still could screw things up even you pay the money. I was having an issue with their VFD and the first lady I talked to wasn't competent enough to know what the problem was, yet she insisted to have me followed her instructions, ignoring my suspicions all along. It ended up damaged my mechanical system. After it was repaired, I called again. This time a gentleman answered and he found and solved the problem right away.
Ever since I discontinued the subscription, and rely on their distributor for tech support. But this time even the distributor couldn't solve the problem until I got here. So thank you again. The sad thing, as for Rockwell, I don't know if they even care...

Thanks !
Yeah, most of the time local A-B Distributors can be a huge help, and this article in fact was based on an issue a friend of mine (who's still a distributor specialist) ran into, so I researched it after a student ran into it and published what I found on the blog.
I'll also likely let my "Self Assist" TC expire this summer too since software updates come out so slowly and with few features so I can just wait a couple of years to get more updates.
PS - I really wish they would release $2500 toolkits for those of us who are not OEMs 🙁 I don't need tech support, and don't need all Rockwell's expensive MES level software like Historian, Metrics, Transaction Manager, etc, so it makes no sense to spend $4500 a year 🙁

I don't see a download link for the Firmware Upgrade Wizard. What am I missing?