Mitsubishi's lines of programmable controllers include the iQ-F and iQ-R PLCs which in my option are both powerhouses of flexibility, compact size, and reliability.
In today's article I introduce you to the newer models of the iQ-F line, as well as to iQ-R processors and components.
Note: For our interview with Mitsubishi about their PLCs, click here for part 1 on the iQ-F, and here for part 2 on the iQ-R.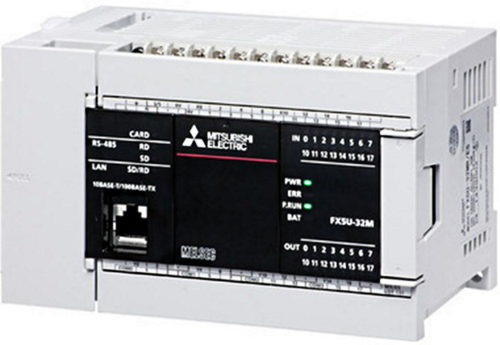 Starting with the iQ-F, the main processor designation is the FX5. This is considered a brick-style CPU, and includes both the FX5U and FX5UC models.
This is a newer series which is programmed and configured using the GX Works3 version of the software, and both models would fall into the Compact Micro PLC category.
The footprint of the FX5UC is the most impressive, with a profile rivaling the dimensions of a standard credit card.
Being compact is only one benefit, as these models allow for additional I/O, communication, and special function modules to be added easily.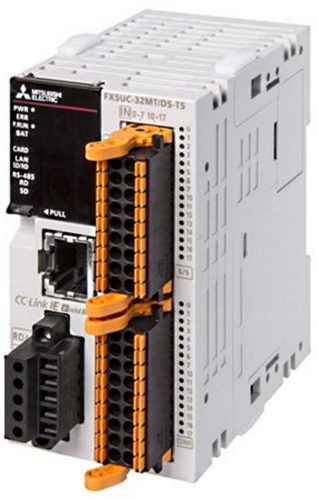 Either of the main CPU modules can connect to several I/O modules, analog control modules, communications such as RS-232, 485, or 422, as well as a simple motion positioning module for closing the loop in motion control.
Some key benefits to the iQ-F are 34ns execution time, larger memory capacity, and embedded Ethernet port.  The FX5U also has added analog as part of its built-in I/O while the FX5UC does not.
Now there are some restrictions and other differences between the two brick CPUs. While both the compact FX5 and its bigger brother can handle the connection of a simple motion module, when you look at the analog card specifications you must have an additional component in between the FX5UC and the FX5-4AD (analog input card).
For this connection, you must use either an F-Series conversion unit (FX5-CNV-IFC) or a power supply unit (FX5-C1PS-5V).
Both FX5 models do have built-in communications as well as multiple add-on modules to expand their abilities.  These range from serial communications expansion boards (front mount on FX5U only) to serial expansion adapters, CC-Link, IE Field, ethernet, ethernet I/P, ASLINK, and Profibus options that will work with either model style.
Other variables for these brick-style PLCs include an assortment of options including SD cards, terminal connection type, and terminal connection options.
The FX5UC also has the option of terminal style or push-in termination at the PLC designated in the part number when ordering.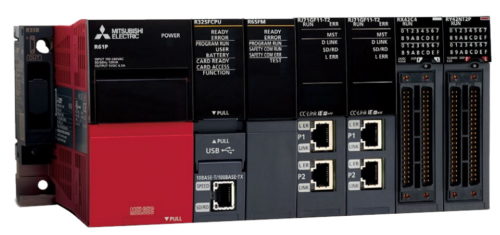 The iQ-R series on the other hand is a rack base system which like similar systems from other vendors requires a "base unit" (rack), CPU, power supply, and I/O and/or extension communication modules.
This CPU has much more processing power as well as communications and motion control ability to be used, as Mitsubishi puts it, "for the next-generation automation environments".
For comparison's sake, the iQ-R has an execution speed of 0.98ns compared to the FX5 at 34ns.  This system can also have multiple (up to four) CPU units in a single base unit.  This is possible using the high-speed bus for synchronizing data communication between the CPUs.
One key benefit of the iQ-R over the iQ-F is the fact that you can integrate safety right into the CPU using their safety controllers.  It is a standard iQ-R controller that has safety features built right in that comply with international safety standards.
The iQ-R system also has a much broader range of options, including power supplies, controllers, I/O modules, and communication modules.
It's a more advanced automation controller when compared to the iQ-F, but as with any product, you'll have to choose the right model base on the needs of your application and your budget.
As far as pricing, a basic FX5U or FX5UC unit lists for around $980.  When looking at the basic setup that might be comparable in the iQ-R selections, you would be looking at a total list of around $4,425 (power supply, CPU, base, and I/O including analog in and out).  You can add another $525 if you are planning on using high-speed inputs (the FX5U has high speed input ability built-in.)
When it comes to motion control applications, if the system requires more than a couple axis of motion the iQ-R would be the best choice when choosing between the FX5 and the R series.
The iQ-R system has 2, 4, 8, and 16 axis motion modules in its arsenal.  To add to this, the R-series also has multi-channel high-speed counting modules as well as a high-speed data logging module.
And if you need to use the PLC's data logging feature, the FX5 is also much more limited when comparing the frequency of collection of the data as well as the output capabilities.
The FX5 logs must be written to the SD card, while the iQ-R can write to the SD card, or an FTP destination (via CSV file), or even can be set up to email the log file.
As we've seen above, some of the feature differences between the iQ-F and iQ-R are significant, and if you'd like to learn more about them check out our previous interview with Mitsubishi which you can find here for the iQ-F, and here for the iQ-R.
The good news is, whichever model you choose Mitsubishi does a nice job of tying them together with a common programming package which helps a great deal when setting up communications, processor configurations, and I/O parameters regardless of which CPU you choose.
Written by Paul Hunt
Senior Automation Engineer and Freelance Writer


Have a question? Join our community of pros to take part in the discussion! You'll also find all of our automation courses at TheAutomationSchool.com.
Sponsor and Advertise: Get your product or service in front of our 75K followers while also supporting independent automation journalism by sponsoring or advertising with us! Learn more in our Media Guide here, or contact us using this form.