In the early years of the PanelView Plus, user management was limited to logging in, logging out, and changing one's own password.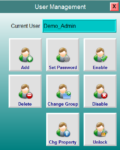 For many companies who required operators to log in before using HMIs, this limitation often lead to the expense of contracting OEMs or Integrators to make simple User, Group, and Password edits to their HMI applications.
Fortunately, in version 8 of FactoryTalk View Machine Edition Rockwell added the following new runtime user management options:
---
Add User/Group:
Delete User/Group: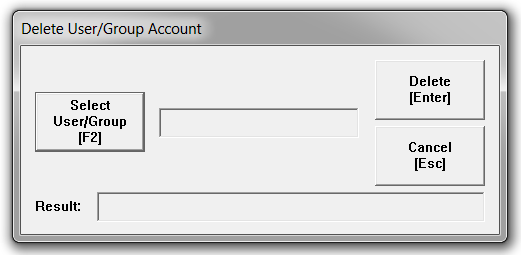 Change User Properties:
Modify Group Membership:
Unlock User:
Enable User:
Disable User: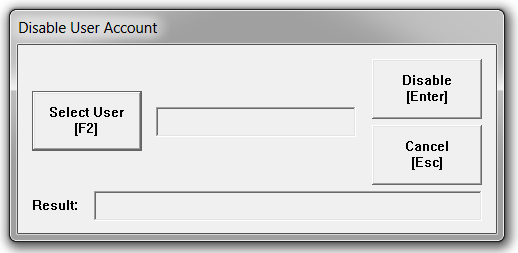 ---
How To Add User and Group Management to your FactoryTalk View Machine Edition 8+ application:
To make use of these new features in FactoryTalk View Studio Machine Edition 8 or greater, first insure you already have the users and groups created under runtime security:
Next, create a graphic display that, only those who will manage the HMI's users and groups, are allowed to access:
Now add the User Management Objects to the display that you want your User Managers to have access to:
Finally, add a "goto" display button to one of your existing displays to display your new user management display.
You may also want to add visibility to your "goto" button, so only your User Managers can see the "goto" button. In this example the user managers have security code "M":
Finally, create a new runtime matching the version and firmware of your existing PanelView Plus or Machine Edition runtime, then download and run it on your HMI:
Note: For an an example of the above, check out the free demo application, "User Mgmt Demo," which comes with FactoryTalk View Studio 8+: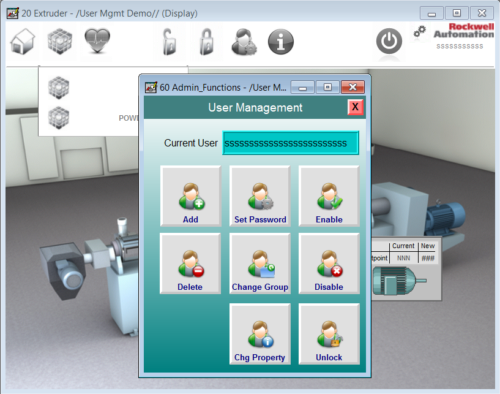 ---
If you'd like to listen to a discussion of the above, check out Episode 33 of The Automation Minute below:
---
You can share your questions, thoughts, and opinions on this article by clicking on the "post a comment or question" link below.
Until next time, Peace ✌️ 
Shawn M Tierney
Technology Enthusiast & Content Creator
Have a question? Join my community of automation professionals and take part in the discussion! You'll also find my PLC, HMI, and SCADA courses at TheAutomationSchool.com.