---
Last week a client told me it was taking him up to four hours to flash the firmware on his PanelView Plus 6. In fact, it takes so long he avoids doing it whenever possible.


I honestly hadn't flashed my PVPlus 6 in quite some time, so I downloaded the latest version of 6.1 firmware from Rockwell's website and began flashing my unit. After over thirty minutes I was only at 14%, and I calculated I had nearly 3.5 hours left!
Having proved my client right, I proceeded to work on a hunch that the length of the flash was mostly do to the time it took to copy the flash file across the network. This I figured was not only the least efficient way to copy the file, but also exasperated by the fact that the client and I were both performing the firmware flash from within a virtual machine.
So playing a hunch I tried flashing my PanelView Plus 6 again, but this time using the option to create a "firmware flash card." I didn't have an SD card on me at that time, so I opted to use my USB memory stick instead.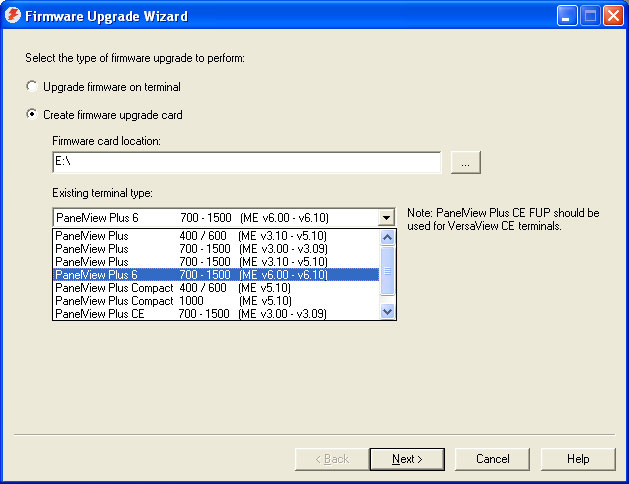 I knew from past experience that the "target" of the PanelView Plus firmware utility wouldn't be formatted. The utility just copies an AutoRun.exe file to the root of the memory device, and creates an Update folder to hold the update files. And the best part is the process to setup the memory card to flash the PVPlus takes under a minute.

Once you've finished preparing your memory card or USB drive, you just plug it into your PVPlus. After doing so, the autorun.exe will launch and you'll be presented with an upgrade screen. And once you start the upgrade process, you can sit back and allow it to do it's thing.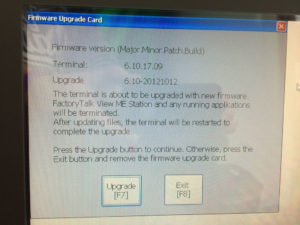 NOTE: While upgrading my PVPlus didn't erase my .MER files, sometimes the process will. So, as a standard operating procedure you should always backup any device you're about to firmware flash.
While I confirmed upgrading the PanelView Plus 6's firmware over Ethernet can take hours, both times I ran the firmware upgrade using my USB memory stick the process took under 5 minutes. This is a huge improvement, so much so that I can see going back to flashing my PVPlus over the network.
Hopefully this information about how you can quickly flash your PanelView Plus 6 will be helpful too you, and save you some time in the coming year.
If it does help and you would like to thank us, please take a moment to visit our Support page for some ideas on how you can.
And for those who prefer step-by-step instructions, stay tuned to our next blog which will detail each step in the process.
Until next time, Peace ✌️ 
Shawn M Tierney
Technology Enthusiast & Content Creator
Have a question? Join my community of automation professionals and take part in the discussion! You'll also find my PLC, HMI, and SCADA courses at TheAutomationSchool.com.
If you found this content helpful, consider buying me a coffee here.
Latest posts by Shawn Tierney
(see all)