---
In today's article I walk you through how to flash a CompactLogix processor's firmware over Ethernet using RSLinx and ControlFlash.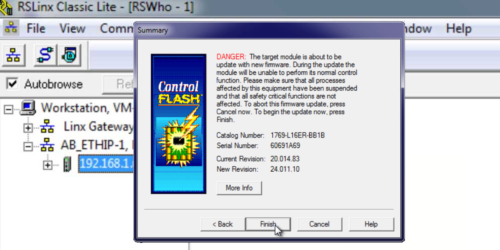 ---
Step 1) Open ControlFlash
When you install RSLogix 5000 or Studio 5000, a firmware flashing program called ControlFlash is also installed.
To start the process of flashing your CompactLogix, launch ControlFlash:
NOTE: If you attempt to download a program to a processor with firmware that differs from your program, RSLogix 5000 and Studio 5000 will often give you the option of launching ControlFlash to flash the processor right from the download window.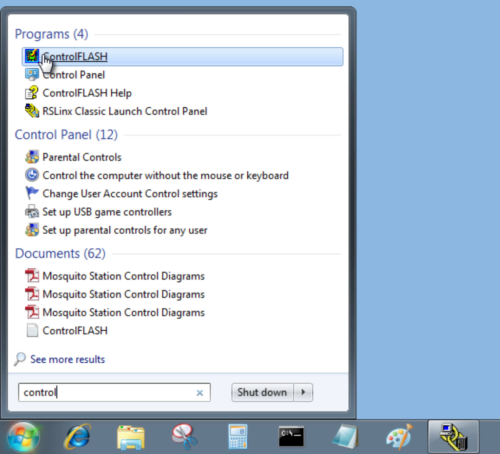 ---
Step 2) Choose FactoryTalk Directory
After launching newer versions of ControlFlash, you'll be asked to choose a FactoryTalk Directory.
In most cases you'll only have a local directory by default, so choosing the local directory is typically the best choice: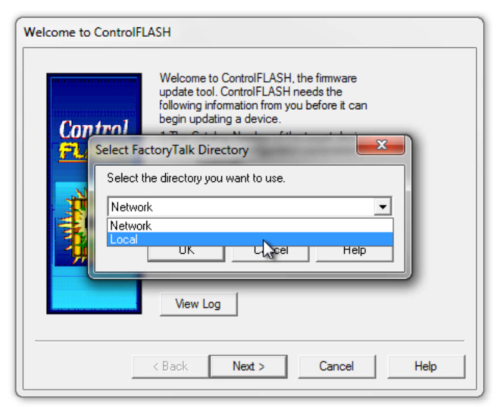 ---
Step 3) Gather information required
On the ControlFlash welcome screen you're informed that to use ControlFlash you will need the following information:
The catalog number of your processor
The firmware files for the version you wish to flash your process to
And a valid connection to the processor through RSLinx
Once you are done reviewing this information, click on next.
NOTE: When you install RSLogix 5000 / Studio 5000 you're given the option of installing firmware, and additional firmware is available online at www.ab.com.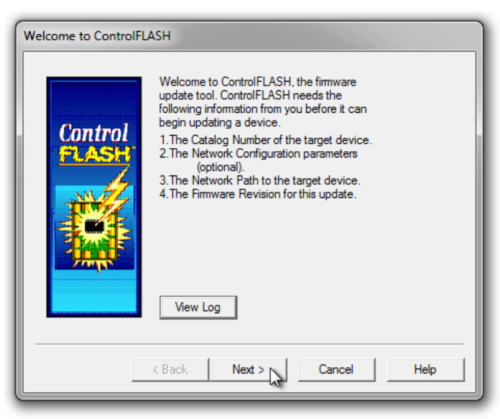 ---
Step 4) Choose your processor
In this next step you select your device from the list, and click on Next: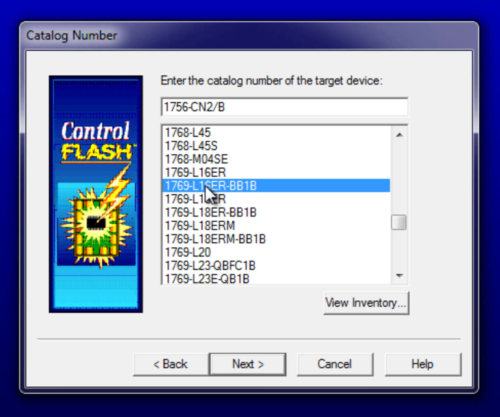 ---
Step 5) Select your processor in RSLinx's RSWho
Next you're asked to browse RSLinx for your processor, select it, and then click on OK.
In this example we are using Ethernet to connect to our 5370 CompactLogix L16.
NOTE: To learn how to configure the CompactLogix's Ethernet address see our previous articles below:
NOTE: It is recommended to disconnect the processor from all other networks or network devices while flashing it from your PC. This is done to avoid the firmware flash stalling, which in the past has occasionally lead to a bricked (i.e. useless) programmable controller.
NOTE: I recommend using a dedicated Ethernet switch between your PC and CompactLogix. While a direct connection often works, sometimes the rebooting of the processor during the firmware update and resulting momentary disabling the PC Ethernet port by Windows, leads to firmware update timeouts and sometimes to a bricked programmable controller.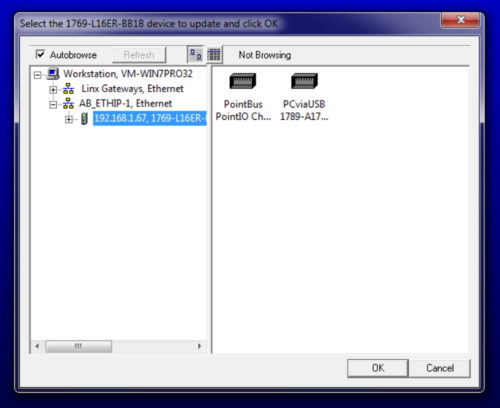 ---
Step 6) Choose firmware version
Now you can choose from the available firmware versions installed on your PC that are also compatible with the processor you selected.
Once you have chosen the firmware, click on next.
NOTE: To see a full listing of compatible firmware versions for your processor, open RSLogix 5000 / Studio 5000 and select "Release Notes" under the "Help" menu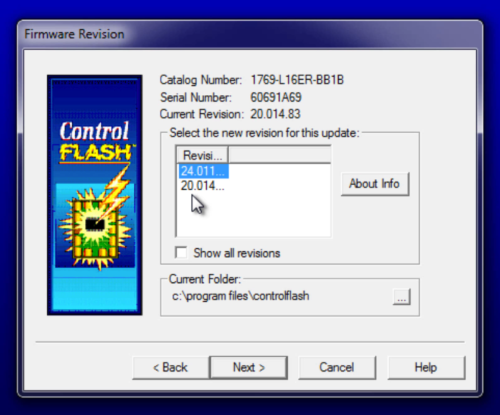 ---
Step 7) Review warnings and summary information
On the summary screen, review the notice and other detailed information.
When you're ready to proceed, click on Finish.
NOTE: When you flash a processor's firmware your are also erasing it's memory, and therefore it obviously won't be able to run any programs.
NOTE: It's also very important that the firmware flashing process is not interrupted, because if it is it may no longer work.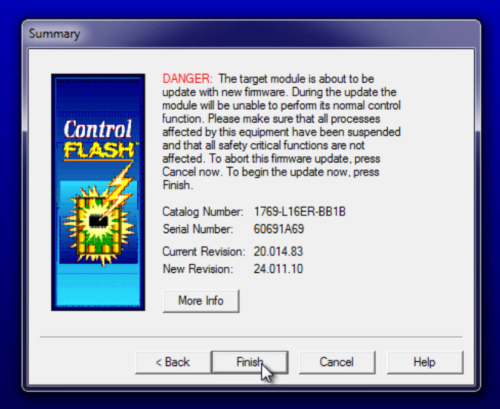 ---
Step 8) Confirm Flash Update
If you are sure you would like to proceed with the firmware flash, click on Yes: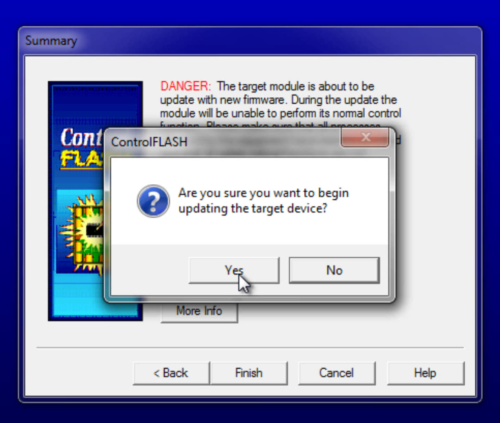 ---
Step 9) Notice about Non-Volatile memory
You'll now receive a notice about non-volatile memory. To continue, click on OK.
NOTE: If you have a CompactFlash or SD memory card installed in your controller which is set to "load" on power-up, note that it will overwrite the firmware your are attempting to download.
So in most cases you will want to remove any non-volatile memory prior to flashing your processor, and once you are done and download your program you'll want to transfer the updated firmware and program to your non-volatile memory.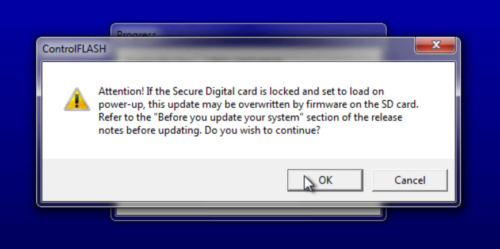 ---
Step 10) Click "OK" when finished
When the firmware update completes, click on Finish to complete the process.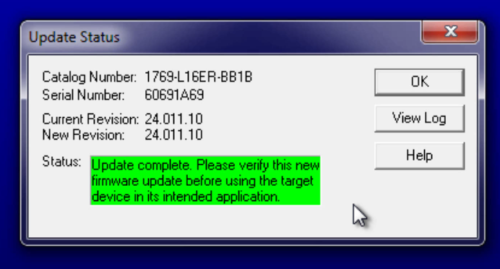 ---
NOTE: Watch me run through the above steps in today's episode of The Automation Minute!
---
I hope the above article on how to flash a CompactLogix processor's firmware over Ethernet was helpful.
If you have any questions or comments, please feel free to share them with us by clicking on the "post a comment or question" link below.
Until next time, Peace ✌️ 
Shawn M Tierney
Technology Enthusiast & Content Creator
Have a question? Join my community of automation professionals and take part in the discussion! You'll also find my PLC, HMI, and SCADA courses at TheAutomationSchool.com.
Latest posts by Shawn Tierney
(see all)