---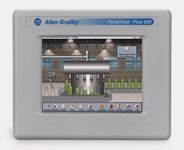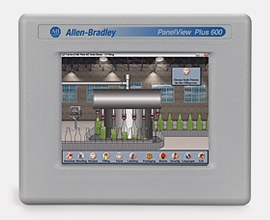 When looking to upgrade older PanelView 550 or 600 models, it's common to consider the PanelView Plus 600 as a suitable replacement. For starters, most of the new PVPlus models will fit in the older PanelView cutouts. And, Panelbuilder32 programs import into View Studio mostly intact.
Note: For more information about migrating PanelView 550's, see this blog article HERE.
However, with the PanelView Plus 600 being phased out, and replaced with the PanelView Plus 6 600, we lose many of the legacy connectivity options. The new PanelView Plus 6, 600 and 400, with all there new bells and whistles, no longer support optional communications module.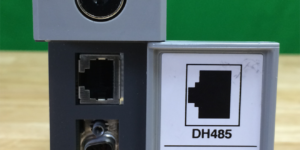 When it comes to the SLC-5/03, it's common to find the PanelView 550 or 600 models connected it's channel 1, DH-485 port. To connect a new PanelView Plus 6 600 to the same DH-485 port would now require a 1761-NET-AIC, a PLC cable, a serial cable, and a 24vdc power source to power the AIC. All of this is just to convert the PVPlus 6's RS-232 port to RS-485.
Note: For more information about using DH-485 with thenew PVPlus 6, see this blog article HERE.
However, if your SLC-5/03's channel 0 serial port is unused, it's often much easier just to connect your PanelView Plus 6 600 to it by means of a low cost "off the shelf" serial cable.
To setup RSLinx for this configuration, here's what the steps you'll take:
1) First, open FactoryTalk View Studio, then your project, and then RSLinx Enterprise – Communications Setup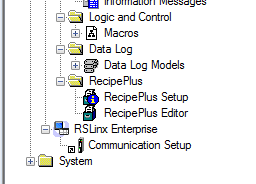 2) Next select the Target tab

3) Now right click on RSLinx Enterprise and select Add Driver

4) Choose Serial DF1 from the list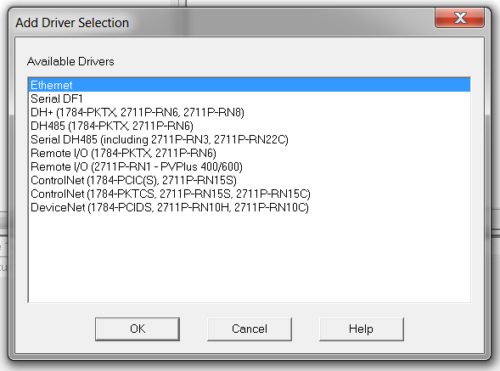 5) I recommend leaving all the defaults on the General tab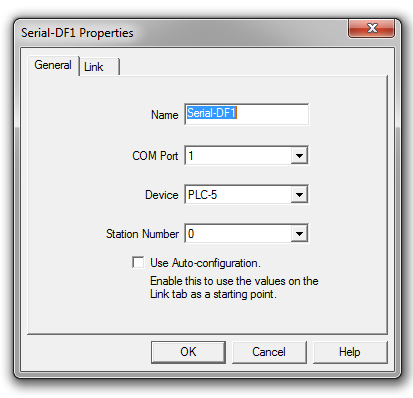 Note: I do not recommend using "Auto Configuration." In my experience, the auto configuration will only run once, and if it doesn't find the PLC in that short period of time it shuts down.
6) On the Link tab, you need to make sure the baud rate, error checking, and other settings match your existing SLC-5/03's channel 0 port.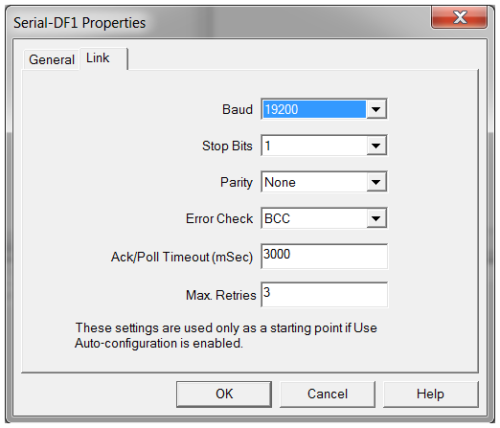 Note: To find out what your existing SLC-5/03 channel 0 setting are, open your .RSS program file in RSLogix 500, and then open the Channel Configuration for Channel 0.
7) Right click on your new Serial DF1 driver, and add your SLC-5/03.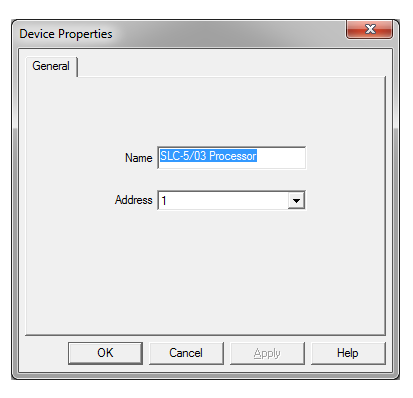 7) Finally, click on your shortcut name (add a shortcut first if this is a new project,) click on your SLC-5/03 in the Target tab, and click Apply and OK.

I hope you've found this article about configuring your PanelView Plus to communicate with your SLC-500 via channel 0 and DF1 serial helpful. If you have any questions, comments, suggestions, or corrections please don't hesitate to leave them by using the "post a comment or question" link below.
Until next time, Peace ✌️ 
Shawn M Tierney
Technology Enthusiast & Content Creator
Have a question? Join my community of automation professionals and take part in the discussion! You'll also find my PLC, HMI, and SCADA courses at TheAutomationSchool.com.
If you found this content helpful, consider buying me a coffee here.
Latest posts by Shawn Tierney
(see all)
December 5 News: 50kg Robot, Ex Tablet, IOLink, Ethernet-APL, MQTT QOS, Logix/View Docs & more (N150)

- December 5, 2023

November 30 News: TIA Portal v19, Productivity Suite 4.1, Industrial Strip Light, OPC Pub/Sub & more (N149)

- November 30, 2023

MOXA's New Industrial Computers (P181)

- November 29, 2023