---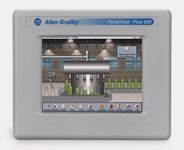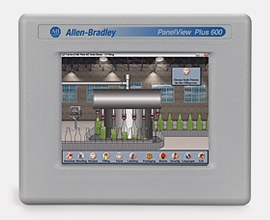 When looking to upgrade older PanelView 550 or 600 models, it's common to consider the PanelView Plus 600 as a suitable replacement. For starters, most of the new PVPlus models will fit in the older PanelView cutouts. And, Panelbuilder32 programs import into View Studio mostly intact.
Note: For more information about migrating PanelView 550's, see this blog article HERE.
However, with the PanelView Plus 600 being phased out, and replaced with the PanelView Plus 6 600, we lose many of the legacy connectivity options. The new PanelView Plus 6, 600 and 400, with all there new bells and whistles, no longer support optional communications module.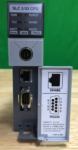 When it comes to the SLC-5/03, it's common to find the PanelView 550 or 600 models connected it's channel 1, DH-485 port. To connect a new PanelView Plus 6 600 to the same DH-485 port would now require a 1761-NET-AIC, a PLC cable, a serial cable, and a 24vdc power source to power the AIC. All of this is just to convert the PVPlus 6's RS-232 port to RS-485.
Note: For more information about using DH-485 with thenew PVPlus 6, see this blog article HERE.
However, if your SLC-5/03's channel 0 serial port is unused, it's often much easier just to connect your PanelView Plus 6 600 to it by means of a low cost "off the shelf" serial cable.
To setup RSLinx for this configuration, here's what the steps you'll take:
1) First, open FactoryTalk View Studio, then your project, and then RSLinx Enterprise – Communications Setup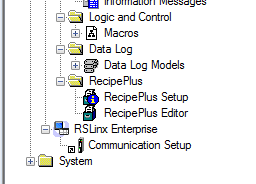 2) Next select the Target tab

3) Now right click on RSLinx Enterprise and select Add Driver

---
[adning id="214167"]
---
4) Choose Serial DF1 from the list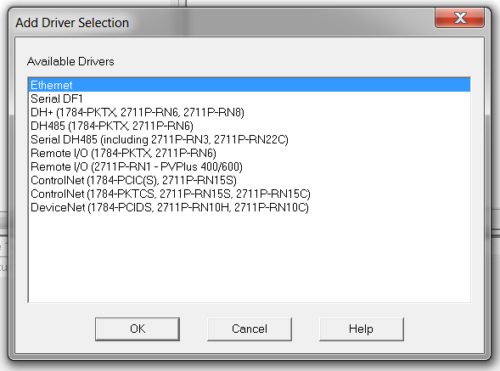 5) I recommend leaving all the defaults on the General tab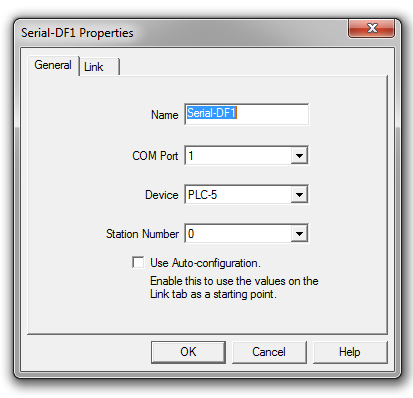 Note: I do not recommend using "Auto Configuration." In my experience, the auto configuration will only run once, and if it doesn't find the PLC in that short period of time it shuts down.
6) On the Link tab, you need to make sure the baud rate, error checking, and other settings match your existing SLC-5/03's channel 0 port.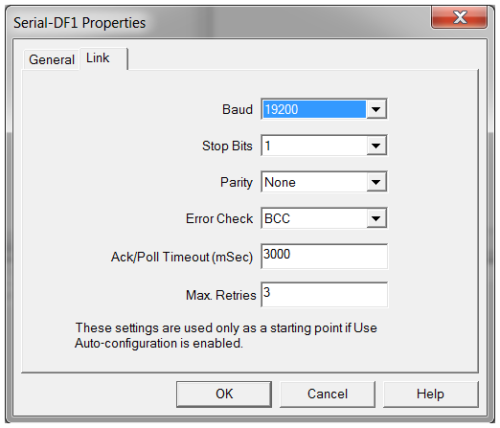 Note: To find out what your existing SLC-5/03 channel 0 setting are, open your .RSS program file in RSLogix 500, and then open the Channel Configuration for Channel 0.
7) Right click on your new Serial DF1 driver, and add your SLC-5/03.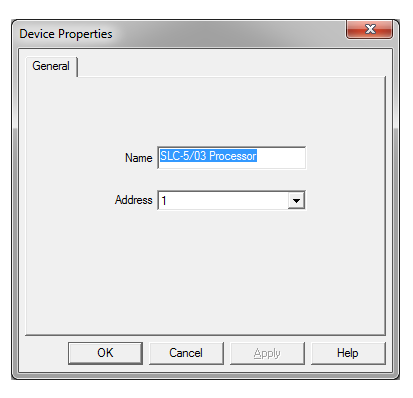 7) Finally, click on your shortcut name (add a shortcut first if this is a new project,) click on your SLC-5/03 in the Target tab, and click Apply and OK.

I hope you've found this article about configuring your PanelView Plus to communicate with your SLC-500 via channel 0 and DF1 serial helpful. If you have any questions, comments, suggestions, or corrections please don't hesitate to leave them by using the "post a comment or question" link below.
Sincerely,
Shawn Tierney
Automation Instructor and Blogger (post views: 19,476 views)
Enjoy the benefits of membership! Patreon.com/automation
Check out my affordable courses: TheAutomationSchool.com
Ask me questions by clicking here to go to the comments link
Have an industrial automation news tip? Share it with us here
Latest posts by Shawn Tierney
(see all)
Click HERE to scroll down to view or leave comments
Forum Comments:
---
hello, I migrated from panel view 550 to panel view plus 6 and everything is ok but I don't know how is the configuration for the communication between panel view and the slc 5/05, the communication is for RS-232.

Dear There,
Sir, I have developed an PVP compact application in FTViewME software.
This application is tested successfully with MicroLogix 1100 PLC (means: I gets response from PLC when I give input from connected development computer).
But when I run this application (.MER file) from PanelView Plus 400, Micrologix is not responding.
I am using serial ports of both devices (plc and HMI)for communication between them.
I am not able to figure out where I am doing mistake.
Although, I copied design time communication settings to runtime in RSLinx enterprise in my project in FTView software.
I will be very grateful to your response to it.
thanking you!

Dear sir,Is it necessary to connect PvP 400 (HMI) to development PC to configure runtime communication?

Good morning vikas,

Hmm, not a lot of info in your post, so I'm going to guess it's the cable.

The cable from your

View Studio PC Serial Port

(DTE) to the

PLC Serial Port

(DTE) needs to be a

Null Modem

cable.

However, the cable from your

PanelView Plus Serial Port

(DCE) to the

PLC Serial Port

(DTE) needs to be a

Straight

through serial cable with 2 wired to 2 and 3 wired to 3.

Details:

For more about DTE and DCE see the below link.

https://en.wikipedia.org/wiki/Serial_port#DTE_and_DCE

A simple way to remember is that PLC's and PC's are DTE, and peripherals are almost always DCE.

That's why going from a PC (DTE) to a Peripheral (DCE) uses a Straight through cable (Pin 2 Transmit to Pin 2 Receive) and why you need to cross the wires (aka null modem cable) to go from PC to PC (or PLC to PC.)

Best of luck!

Shawn Tierney,

Instructor, The Automation School

Dear Sir, good morning!
I got where i was doing mistake.
I was trying to communicate ML 1100 PLC, with the same null modem serial cable, to both development PC and PVP 400 compact terminal.
I don't have straight through serial cable right now.
So, I am trying to use ethernet communication right now.
I want to explain: what i have with me and how i am trying to establish communication.
I have:
1) a Micro Logix 1100 PLC (with ip address assigned as 168.254.59.18)
2) a desktop PC ( with ip address 168.254.59.19)
3) a panel view plus 400 compact HMI (with IP address assigned as 168.254.59.10)
4)an ethernet cable.
Now, my application is tested successfully through development PC via ethernet cable (which is directly connected between PC and PLC).
After this, I copied this application in HMI. And the ethernet cable is connected between HMI and PLC.
Now, when I load and run my application HMI shows various errors as follows:
1.) Timed out reading item b3:0 from micrologix at 168.254.59.18.
2.) Failed to write'0' in concerned tag.
This is all about this!
Now, what maybe the reason of communication failure between HMI and PLC.

Hey vikas,

Are you using a standard Ethernet patch cable?

The nice thing about newer PC's is they support Auto-MDI-X which you can read about using the below link:

https://en.wikipedia.org/wiki/Medium-dependent_interface

Before new laptops with Auto MDI-X support, we use to have to use a "cross over" or "uplink" cable to direct connect one device to another via Ethernet. But if we had a hub or switch in the middle we could use regular patch cables.

If you think about it, it's the same thing as I mention above with serial ports where connecting two PCs together requires a cross over cable, aka null modem cable.

So here's what I think is happening - you're trying to directly connect your PVPlus to your PLC with a patch cable when you really need an uplink cable because.... neither the PLC or the PVPlus support Auto MDI-X.

But since you have a newer laptop, it does support Auto MDI-X so you can connect directly to both devices without issue.

You could also use standard Ethernet patch cables and a switch to get all the devices on the same network at the same time.

Hope this helps!

Shawn Tierney,

Instructor, The Automation School

Dear sir,
Good morning!
I'm feeling excited to inform you that I got succeeded in running my application through PVP compact 400.
Now, my application is correctly communicating to PLC (ML 1100) through PVP via same ethernet cable which I used with development PC and PLC.
I think the issue was data inactivity between PVP and PLC.
This is due to the fact that I was getting same errors in HMI when ethernet cable was disconnected.
Dear sir, thanks again for your kind information and support!