---
A client recently asked how he could save or export a FactoryTalk ViewStudio Machine Edition 7.0 project as a previous, older version.
As FactoryTalk ViewStudio users know, there is no way to perform a "save project as" a previous version in the software. However, the software does allow for saving runtime files (.mer) as previous versions, and some of those files can be imported back into ViewStudio as a project using the Application Manager.
With that in mind, I offered to test out whether or not runtime files created with ViewStudio 7.0 (but saved as previous version .mer's) would be able to be turned back into a ViewStudio projects in those older versions.
To begin, I went through the steps to create a runtime file. As you can see below, the system defaults to v7.0 and all the "conversion to development" options are available: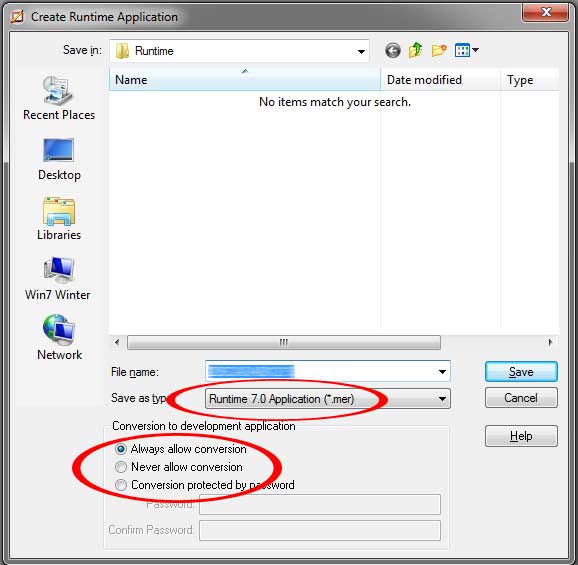 For my first test I would use v7 to save a runtime file as 6.1, the only other version of ViewStudio with the new MS SQL Server Tag Database (for Windows 7 64 bit compatibility.)
As you can see in the below image, just as when v7 was selected, all the "conversion to development" options are still available when v6.1 is chosen: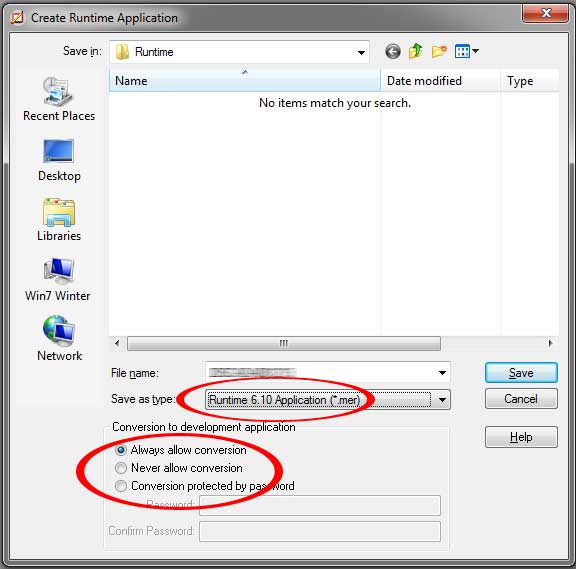 After creating the v6.1 .mer I moved it to my VMware image with ViewStudio v6.1 and used the application manager to restore the project. I then opened it in ViewStudio without issue. Success!
For the next test, I used v7 to save a runtime file for v6.0, but was immediately disappointed as the "conversion to development" options were no longer available as can be seen in the below screenshot: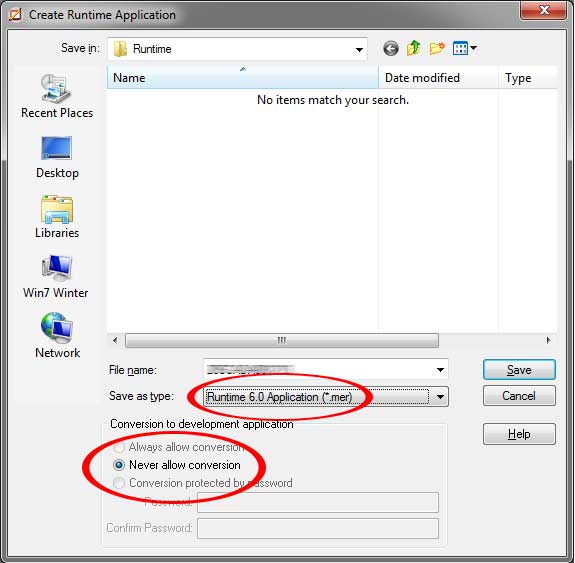 I thought this was quite strange as, if v7 could created the .mer for v6.0, why could it also not include the 6.0 development files as well?
With no built-in means of restoring an application from a v6.0 mer file, the only option left that I could think of was using the old Rockwell Tech Note #8913, "Recovering a Project from the MER File" (requires a support contract.) Unfortunately, at the point in the procedure where you import the .MED file from the temporary "~Mer" folder, I received the following error:

And with that "error message" the writing was on the wall. I imagine that somewhere in the .mer file there is a flag of some sort which, while allowing the .mer file to run on v6 systems, it somehow prevents the project from being imported back into ViewStudio v6.0.
Well, if you have any comments or questions on the above, or if you have other ideas on how to get a v7 project into v6.0, please let us know by using the "post a comment or question" link below.
Until next time, Peace ✌️ 
Shawn M Tierney
Technology Enthusiast & Content Creator
Have a question? Join my community of automation professionals and take part in the discussion! You'll also find my PLC, HMI, and SCADA courses at TheAutomationSchool.com.
Latest posts by Shawn Tierney
(see all)