Daily Industrial Automation News and Tips:
Today we're covering news about Cobot Grippers, PoE Budgets, AS-i Safety, Machine Vision, 3D Printing & Robots, NEC 2023 Changes and more in our Automation This Morning blog for Wednesday, February 22, 2023.
First up in our new products section are new grippers here from SMC designed specifically for cobots.

We also have a new product announcement here on A3's website about a new gripper coming from Flexiv which is based on Geckos.

And over on Flexiv's website here is another new product announcement, this one about their new Force-Controlled Parallel Robot.

From new products to new articles, the first article in this morning's roundup is from Schneider Electric here and covers the basics of what is Industrial Automation.

Next is an article from Antaira here about how to develop a POE Power Budget.

On the Bihl-Wiedemann website here there's a new article about their AS-i to EtherCAT safety gateways.

And on the Electromate website here there's a new article which defines what Motor Dynamics and Motor Dynamism is.

On the Real-Time Automation website here is a new article that take takes a look back at Data Highway.

And on the Cognex website here we have an article on the importance of tracking regulatory compliance of product labels, and how machine vision can help.

And our final article today is from IEEE here, and it discusses a recent presentation by the president of AMD about power consumption challenges designing next gen microprocessors.

Today we also found a new application profile here from Fanuc which covers how one of their customers is using a robot to increase production after their staff leaves for the day.

In our product spotlight today is The Automation School's PanelView Plus online course, PVP Basics. Designed for those who'd like to get up to speed on FactoryTalk View Studio and the PanelView Plus line of HMIs, it comes with lifetime access and support.

New to the Digital Newsstand today we found two newsletters. The first here is from Antaira and focuses on their new NAT Router.

And the other newsletter here is from Maple Systems and focuses on their new, high performance HMI.

In today's downloads we also have two new product updates here from Auvesy-MDT.

In our audio video file of the day we're spotlighting our Automation Tech Tip here on how to get the TIA Portal Free Trial.

And in our what's coming up section today we're highlighting a new episode of The Automation Podcast due out at 3:30pm ET in which Shawn interviews a long -time friend and Rockwell product expert on what new and coming products he's  focusing on for Spring of 2023.
As far as upcoming events, today we're highlighting three new online sessions. The first here is hosted by Universal Robots and covers how manufacturing technology impacts employee retention. The free event is scheduled for February 28, at 11am ET.

The next event here is a two half-day training online event from Beckhoff from 2-28 to 3-01. For more information including cost check out the event using this link.

The final event we're covering today is from Opto22 and HiveMQ and will focus on using MQTT Sparkplug. To learn more, click here.

In our Automation Tech Tip and Q&A today we share our thoughts on why a user is having issues Exporting and Importing Tags to and from CSV files in View Studio (see show video at the end of article to view tech tip.)

And in our "pub crawl" we came across a couple of new publications. First up is a new publication from Leviton here covering the recent changes to the National Electric Code.

The next is from Siemens here and covers everything you need to know to setup communications between S7 PLCs.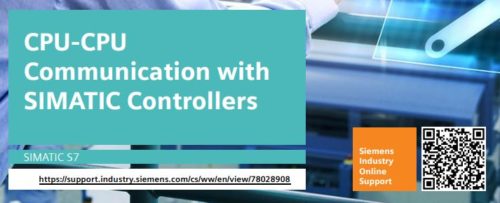 And that wraps up today's edition of Automation This Morning! If you'd like to watch or listen to the companion edition of the Automation Morning Show, you can do so using one of the links at the bottom of this post (the audio and video editions are typically released an hour after this article is published.)
If you think we missed something, or just want to share a news tip, please do so using this link.
Vendors who'd like to sponsor our show can learn about the options we offer, as well as contact us directly, using this link.
---
Watch the show:
---
Podcast (morningshow): Play in new window | Download
---
Automation This Morning and the Automation Morning Show Notes:
Thanks to everyone who read, watched, or listened today!
If you'd like to join our community and support our work, you can do so for the price of a cup of coffee each month at Automation.Locals.com.
Huge thanks to all our supporters there!
---
Vendors: Would you like your product featured in our product spotlight? If you would, contact us directly at: https://theautomationblog.com/contact
Until next time, Peace ✌️ 
Shawn M Tierney
Technology Enthusiast & Content Creator
Have a question? Join my community of automation professionals and take part in the discussion! You'll also find my PLC, HMI, and SCADA courses at TheAutomationSchool.com.