One of my favorite Rockwell Automation trade show sessions has always been "What's New in Logix."
This year, the ROKLive presentation that came closet to that classic presentation was CL03, "What's New and Notable in the Integrated Architecture System," and in today's article I'll highlight the slides that caught my attention:
(Note: To see a complete list of products featured in the presentation, register on Rockwell's ROKLive website and search for CL03.)
---
First up is a slide promoting ControlLogix 5580 Redundancy in version 33 of Studio 5000 Logix Designer.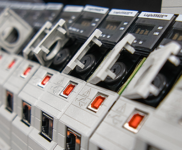 The slide listed it as having the following features in common with 5570 Redundancy:
Dual Chassis Design
Uses same 1756-RM2 redundancy modules
Supports Ethernet based I/O
Transparent switchover
Supports up to seven comm modules
Node count dictated by controller model/size
Additionally, improvements over the 5570 include:
Controller Memory not reduced when using Redundancy
Added support for the 5094 platform
No longer has a separate firmware release (xx.5x) to support redundancy
Supports use of new Process controller (P Controller)
In future releases, Rockwell aims to support the below new features with 5580 Redundancy:
Multiple Controllers
Sequence Manager
5069 I/O
Gigabit Ethernet
CIP Security
Redundant Ethernet Modules in Remote Chassis
---
Next up are three new controllers being release with version 33 of Studio 5000 Logix Designer.
First is the 5580-NSE, which is a "No Stored Energy" version of the 5580 line targeted at Hazardous Zone applications such as refineries and mines.
Then we have the 5580 eXtreme controllers which have an operating range of -25 C to +70 C, and meet ISA Class GX standards.

Finally we have the new "Process Controllers," which come in both a ControlLogix (5580) and CompactLogix (5380) version.
These new controllers support Rockwell's PlantPAx 5.0 release, as well as all the features found in the standard versions of the controllers (non-P versions.)
The advantages of using these controllers include the addition of a "Process Tasking Model," as well as new, native "Process Objects" library built directly into the controllers.

---
Several new Flex 5000 modules were also featured in the presentation, including:
5094-IB32 (32 DC Inputs)
5094-OB32 (32 DC Outputs)
5094-OB8 (8 DC Outputs)
5094-IA16 (16 AC Inputs)
5094-OA16 (16 AC Outputs)
5094-IM8 (8 AC Inputs)
5094-IF8IH (8 Isolated, Channel Configurable, Analog In with Hart)
5094-OF8IH (8 Isolated, Channel Configurable, Analog Out with Hart)
5094-SERIAL (Serial ASCII & Modbus. Available this summer)

---
For OEMs that require both Safety and Motion capabilities, the new SIL 3 variant of the 5380 will likely be of interest.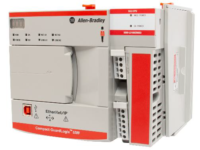 Available this summer, the 5069-L3xxERMS3 models feature scalable safety including SIL CL 3 support up to PLe.
These controllers include dual 1-Gb Ethernet/IP ports which can be configured for dual IPs or DLR.
On the low end, the 5069-L306ERMS3 will come with 300kb of safety memory, and will support 2 axes and 16 nodes.
On the high end, the 5069-L3100ERMS3 will come with 5mb of safety memory, and will support 32 axes and 180 nodes.
---
And last on my list is the new Stratix5800 switch line, which is Rockwell's next generation modular switch.

Each modular Stratix5800 system starts with a Fixed Base which includes 10 gigabit ports, 8 of which are copper, and 2 of which are SFP slots.
These bases can be purchase as either a Fixed Layer 2 switch, a Modular Layer 2 Switch, or a Modular Layer 3 switch.
The Modular Bases can then be expanded using one of several different expansion modules, ranging from 6 to 16 Copper, POE, or Fiber ports.
---
Well, those our my highlights from this year's ROKLive equivalent to the classic "What's new in Logix" presentation.
If you'd like to see the entire presentation, head over to Rockwell's ROKLive webpage and search for presentation CL03 (you may need to register first.)
And if you think I left something out, or would like to share your own thoughts and comments, I invite you to do so by clicking on the "comment" link below my signature.
Until next time, Peace ✌️ 
Shawn M Tierney
Technology Enthusiast & Content Creator
Have a question? Join my community of automation professionals and take part in the discussion! You'll also find my PLC, HMI, and SCADA courses at TheAutomationSchool.com.
Latest posts by Shawn Tierney
(see all)