In September 2020 Rockwell released the latest version of FactoryTalk AssetCentre, version 10.00.00, along side Studio 5000 Logix Designer Version 33.
One reason for the timing of this joint release was for compatibility reasons. If you install Studio 5000 version 33, you also have upgrade your Factory Talk Services Platform to 6.20, and that would have caused conflict with previous versions of AssetCentre.
With that in mind, today I'll review what's new with v10 of AssetCentre.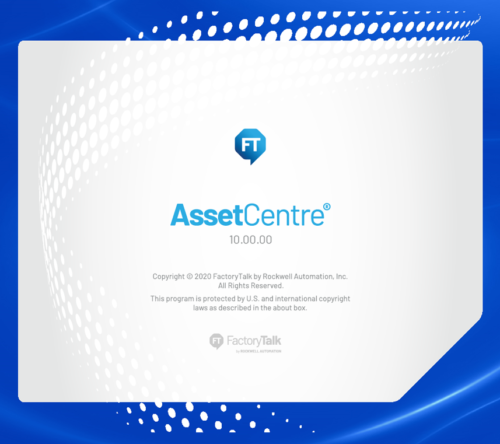 Image by Brandon Cooper – AssetCentre10.0
Operating Systems and SQL
The newest version of AssetCentre Server is designed to run on specific versions of Windows Server 2012, 2016 and 2019, while clients and agent computers can run specific versions of Windows 7, Windows 10 and Server 2012, 2016 and 2019.
The SQL installation has been approved on SQL Server Standard 2012, 2014, 2016, 2017, 2019 as well as 2019 Express Edition. 
Notable New Features
Below is my pick of the most notable new features:
Asset Inventory displays the most current major and minor release for RA devices along with links to the release notes, product notices and safety advisories.
Remote Disaster Recovery Schedules can be run on wide area networks with a minimum of 2048 KB connection
Disaster Recovery Addition for E300 overload data backup and recovery
Automatically analyzes index fragmentation and rebuilds FTAC databases to optimize performance
FTAC logs automatic device descriptive analytics (ADDA) events from FT Alarms and Events and displays them in the Diagnostics and Health Log View
Integration with the ThinManager Client – checkout capability with ThinManager Client
 Notable Enhanced Features
Below is my pick of the most notable enhanced features:
Simplified Installation Process
Log Viewer Displays now up to 5000 log entries of each log type
Larger Systems Capacity – can now support up to 50 agents and 150 clients (that would be a very large system indeed!)
Benefits of AssetCentre
AssetCentre Provides some great benefits, and some of that is simply in the organization of your areas, files and equipment.
The system is very design flexible and you can organize by equipment, area, or any other means that you deem necessary to organize your system.
Backups can be created to backup a certain area at one time of day, and another area at a different time or day.
This screenshot shows how your projects show their backup status after a backup schedule has run in an area.
Another great benefit is the Audit Log of AssetCentre.
Devices that are monitored in AssetCentre have every move captured including rung comments, modifications, check in/checkout status by who, when and where.
This is a valuable feature that can keep and eye on what is taking place in your PLC systems. It also leads to the Backup and Compare Feature that allows you to obtain report on what has been modified on a particular system.
Reference:
 Conclusion
FactoryTalk AssetCentre is a great tool for organization, backup and recovery, auditing and now keeping up with product lifecycle status as well. They have also made great strides in VFD and smart overload backups.
Keep in mind that if you are planning or are already using versions of Studio 5000 greater than version 30, you will probably want to use the latest version of AssetCentre for compatibility reasons.
Written by Brandon Cooper
Senior Controls Engineer and Freelance Writer
Have a question? Join our community of pros to take part in the discussion! You'll also find all of our automation courses at TheAutomationSchool.com.
Sponsor and Advertise: Get your product or service in front of our 75K followers while also supporting independent automation journalism by sponsoring or advertising with us! Learn more in our Media Guide here, or contact us using this form.