On September 30, 2020, Rockwell Automation released Studio 5000 Logix Designer version thirty-three.
As I tend to do with each incoming version, I downloaded the "Release Notes" and Software to check it out.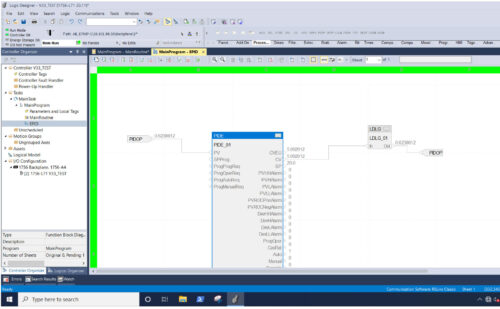 Image by: Brandon Cooper
This always brings back memories of receiving a box of floppy disks from Rockwell so I could install version seven of RSLogix 5000, what seems, only a few years ago.
Hopefully this article will highlight some of the features that may be of use to you if you are planning to use v33 in the near future.
Operating Systems:
Preferred operating systems are Windows 10 Professional (64-bit), Windows Server 2016 Standard (64-bit), and Windows Server 2012 R2 Standard (64-bit).
The software is expected to run and operate correctly (not tested) on other versions of Windows 10, Windows 7, Windows Server 2008 R2, Windows 8, and Windows Server 2012.
Prerequisite Software:
As with other versions, check the software requirements for other Rockwell Software products that will be installed to be sure that those products are compatible with the prerequisite software installations with Studio v33.
I have found in more than one instance where Factory Talk Services Platform v6.20 is not compatible with other earlier software packages, so this is an important consideration before adding this to
Prerequisite Software Includes:
Factory Talk Services Platform v6.20
Factory Talk Activation Manager v4.04
Factory Talk Linx v6.20
RSLinx Classic v4.20
Factory Talk View SE & FLEX Ex communication software are required for full alarming capabilities
Support for Redundancy in 5580 Standard Controllers
This architecture consists of identical controllers and chassis as has been in previous versions.
You can choose to enable redundancy when configuring the project, and you can utilize up to seven communication modules (ControlNet or EtherNet/IP) in each redundant chassis.
As I understand it, with this implementation there is no separate firmware for the controller if redundancy is needed.
Note that with previous versions of ControlLogix redundancy, after a new version of the software release, you still had to wait for the updated redundancy firmware to come out before you could use the feature. This would typically take six additional months, and the redundancy firmware revisions would end in .5 or .6 (Author & Ed.)
Note that there are several features Not supported with redundancy enabled:
License source control
On-board Controller EtherNet/IP port
Event Tasks
Inhibited Tasks
Motion Groups, Axes, and Coordinate Systems
Unicast Connections
Controller Web Page
Version 33 Features & Enhancements:       
P-controllers:
If you are using PlantPAx, then you will see many enhancements in the capabilities of the 5380P and 5580P p-controllers.
Using P-controllers, you will have a Plant Pax tab in the controller properties to configure the PlantPAx Tasking Model and Instruction Usage parameters.
You will also have built-in instructions to monitor and processes digital and analog inputs and outputs for controlling devices.
The instruction usage feature shows a table of each instruction type used that can export to an L5K file in CSV format.
HART Integration
The PAO and PAH instructions provide HART Dynamic Variables such as:
PV
SV
TV
QV
Analog Range
Units of measure
Device Info
Device Status
Diagnostic Messages
Field Device Status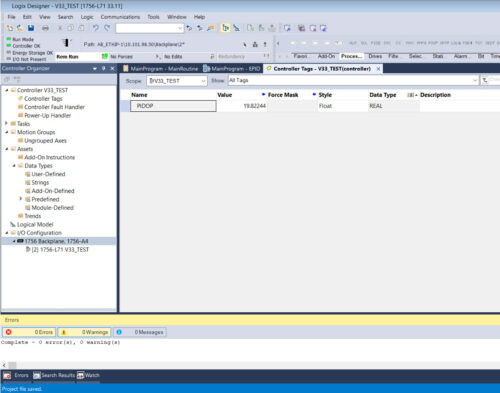 Image by: Brandon Cooper
Automatic Diagnostics
Provide device description conditions and state events to HMIs and other clients with zero programming
System level feature in CompactLogix 5380/5480, ControlLogix 5580, Compact GuardLogix 5380 and GuardLogix 5580
Controller Web Page
Controller web page was designed to track controller, network and backplane performance
Not supported if using redundancy
Extended Properties to Alarm Messages and Add-On Instructions
Extended properties to a message or AOI makes values in the properties available to some Rockwell Automation HMI's.
Extended properties can be added to both instruction-based alarm messages and tag-based alarm messages
Additional Function Block Functions and 64-bit data type instruction support
Sixteen new functions for advanced math instructions, math conversion instructions and trigonometry instructions.
Also extends support for twenty-four more instructions which were introduced in version thirty-two.
New Devices Supported:
The list of newly supported devices is extensive, but here is a very abbreviated list of some devices to take note of:
Stratix 5800 – Gigabit EtherNet Stratix Integration
1756-EN4TR – 10/100/1000 EtherNet, dual port,
Profibus Modules by Prosoft
Flex 5000 I/O Modules
ArmorStart Starters
Kinetix 5300 Drives
Powerflex 755 Drives with embedded EtherNet
Medium voltage Smart Motor Controllers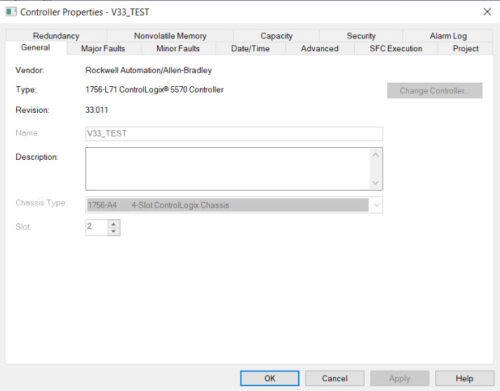 Image by: Brandon Cooper
For full Release Notes, follow this link:
Conclusion
While I couldn't go through everything in this blog, these are the basic features and requirements that stood out to me.
I hope this gives you a heads up as to what awaits you with the newest release.
Written by Brandon Cooper
Senior Controls Engineer and Freelance Writer
Have a question? Join our community of pros to take part in the discussion! You'll also find all of our automation courses at TheAutomationSchool.com.
Sponsor and Advertise: Get your product or service in front of our 75K followers while also supporting independent automation journalism by sponsoring or advertising with us! Learn more in our Media Guide here, or contact us using this form.