It's been just over a year since Rockwell launched Studio 5000 Logix Designer, and it seems I'm getting more questions about it now than ever before.

As of version 21, Studio 5000 Logix Designer is the new name for RSLogix 5000. However, there are some changes above and beyond the product name you should be aware of before upgrading, and I list my top seven below:
---
1) Studio 5000 Logix Designer v21 and greater only support "multi-core" Logix controllers
If you plan to use Studio 5000 Logix Designer v21 or greater, your choice of processors is limited to the latest of the latest. This includes the 5570 and 5580 series represent by the 1756-L7x and L8x ControlLogix processors. It also include the 5370 and 5580 series of CompactLogix processors consisting of the 1769-L1xER, 1769-L2xER, 1769-L3xER, and 5069.
Note: Not all new controllers support all versions back to v21.
---
2) Studio 5000 Logix Designer v21 only supports Windows 7
Still running Windows XP? Well, unless you have Windows 7 (or Windows Server 2008 R2) you won't be running Studio 5000 Logix Designer v21.
Note: Most of the latest versions only support Windows 10. To find out more, look up the Studio 5000 release notes here.
---
3) Studio 5000 Logix Designer v21 comes in two incompatible versions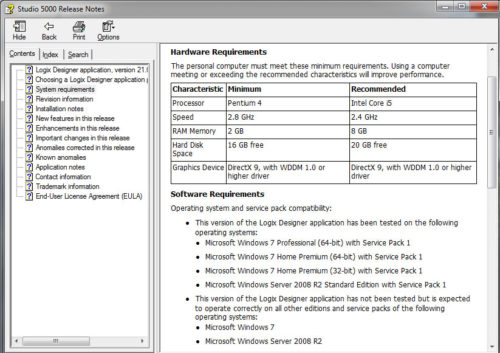 Finally understand the difference between version 20.01 and 20.03? Time for a redux: Version 21 (or more specifically 21.00.03) of Studio 5000 Logix Designer has the same security holes as v20.01, and Rockwell has released a "patched" version 21.03 has the same backward incompatibility issues that 20.03 has.
---
4) Studio 5000 Logix Designer Redundancy Support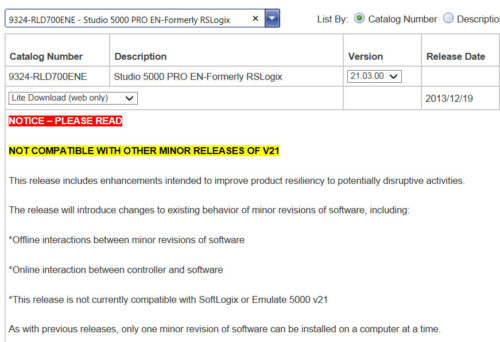 If you're new to ControlLogix redundancy here's a tip: Not every version of RSLogix 5000 or Studio 5000 supports redundancy (even though the check box to enable it is found in every version.) So if you're looking for the latest Logix redundancy version, check out the RSLogix /Studio 5000 release notes here.
---
5) Studio 5000 downloads all comments to the controller
Of all the new features in v21, this is the only one I remember. Since all the new multi-core Logix processors include an additional on-board memory chip, with v21 they also now all support saving routine comments and descriptions into the processor itself.
---
6) Studio 5000 Logix Designer no longer comes with previous versions, but still has the same part number as RSLoix 5000
UPDATE 08/2022: If you need versions prior to 20.05, you now need to purchase the Legacy option with Studio 5000. See Rockwell's online software catalog here (you must be logged in with free account to see prices.)
UPDATE 2017: Rockwell changed all existing Studio 5000 part numbers ending in "ENE" to be digital downloads only. To get a physical disk set you must order the part number ending in "ENM"
UPDATE 2014: A few weeks after this article had been written, and several months after the Previous Versions disc had been removed, Rockwell thankfully started including it once more. You can read the full article here:
So you just got in a new piece of equipment with a 1769-L35E? Well, currently there is no software package you can buy that will include a compatible version of RSLogix 5000. However, you probably won't find out until after you spend hundreds (if not thousands) of dollars on a new copy of Studio 5000.
While my colleagues and I continue to lobby Rockwell to correct what we see as a huge oversight, if you find yourself in this situation don't hesitate to call whoever sold you Studio 5000 and ask them to burn you a copy of the RSLogix 5000 previous versions dvd.
---
7) In the future Studio 5000 will include a "View" Designer
So what was the whole point of renaming and rereleasing RSLogix 5000 as Studio 5000 Logix Designer? Certainly not just to enable the saving of comments into multi-core processors right?
As part of a master plan to add more features into a common design platform, behind the scenes a small group of Rockwell's best and brightest are working on a new editor for a new HMI line. And this new editor, when released, is to be a free addition to Studio 5000.
---
I hope the above article detailing seven thing you should know about v21 was helpful. If you have any thoughts on this topic yourself please don't hesitate to share them by using the "post a comment or question" link below.
Until next time, Peace ✌️ 
Shawn M Tierney
Technology Enthusiast & Content Creator
Have a question? Join my community of automation professionals and take part in the discussion! You'll also find my PLC, HMI, and SCADA courses at TheAutomationSchool.com.
Latest posts by Shawn Tierney
(see all)