---
Rockwell Automation recently released version 26 of it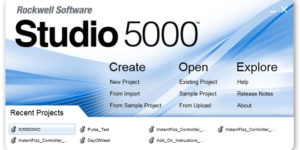 s Studio 5000 Logix Designer software for programming its CompactLogix and ControlLogix PACs.
The download weighs in at 3.20gb, and with a good high speed connection users can expect it to take just under 30 minutes.
The download package includes RSLinx 3.73, as well as FactoryTalk Services Platform 2.73 and FactoryTalk Activation 3.62.11.
What's new in version 26?
Operating system support:
Version 26 supports Windows 7 Pro (64bit) and Home (32bit) with Service Pack 1, Windows Server 2008 R2 Standard with Service Pack 1, Microsoft Windows 8 and 8.1 Professional (64-bit), as well as Windows Server 2012 Standard.
Kinetix 5700 Servo Drive System:
Version 26 also includes added support for the new Kinetix 5700 multi-axis servo system designed for machines with large axis counts and higher power requirements.
More information about the Kinetix 5700 will be available when the user manual, publication 2198-UM002, is released.
License-Based Source Protection:
Finally, version 26 includes support for "Licensed-Based Source Protection."
License-Based Source Protection controls permissions to Use, View, Edit, Copy, Export, and Protect Studio 5000 components.
Once you apply Source Protection, those protected components can only be altered or viewed by someone with a license and permissions required for access.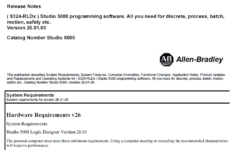 This feature uses technology new to the Studio 5000 product, including the USB "CmStick" that will contain licenses and permissions, as well as the CodeMeter WebAdmin portal which can be access via the icon installed along with Studio 5000 Logix Designer.
For more information on version 26 see the official product release notes available via the link below:
So what happened to version 25?
Great question!
While I can't find it publically documented anywhere, word on the street is version 25 (like version 14) was a single customer release.
Why the public release has to skip a version when a private release is issued I don't know, but for now that's all I've heard about the mysterious version 25.
---
So, what do you think of version 26 so far?
Do you feel like the added features are too few to warrant a major release?
Or, are you of the mind that smaller, more frequent releases are better?
Let us know what you think by filling out the "post a comment or question" link below.
Until next time, Peace ✌️ 
Shawn M Tierney
Technology Enthusiast & Content Creator
Have a question? Join my community of automation professionals and take part in the discussion! You'll also find my PLC, HMI, and SCADA courses at TheAutomationSchool.com.
Latest posts by Shawn Tierney
(see all)