---
Late last week Rockwell Automation released version 27 of it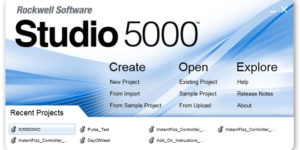 s Studio 5000 Logix Designer software for programming its CompactLogix and ControlLogix PACs.
The download package includes RSLinx 3.74 , as well as FactoryTalk Services Platform 2.74 and FactoryTalk Activation 3.62.11.
The recommended specs for running v27 include an Intel Core i5 processor, 8GB of RAM, and 20GB of Hard disk space.
What's new in version 27?
Operating system support:
According to Rockwell, version 27 supports Windows 7 Pro (64bit) and Home Premium (32bit) with Service Pack 1, Windows Server 2008 R2 Standard with Service Pack 1, Microsoft Windows 8 and 8.1 Professional (64-bit), as well as Windows Server 2012 Standard.
Rockwell also states the product is expected to work on the above operating systems with no service packs installed, but those configurations are not tested.
Strangely, no mention of the recently release Windows 10 is found, so if you get it running on Windows 10 please let us know!
Usability Enhancements to Editors:
Version 27 includes the following usability enhancements:
SFC and FB editors now support Ctrl + Home and Ctrl + End navigation shortcuts.
Data Type editor now supports the ability to copy and paste table content from spreadsheet applications such as Microsoft Excel.
RLL now includes the ability to move the expression entry dialog box for CPT, CMP, FAL, and FSC instructions.
All language editors no longer have the "green color" indication when a routine's parent task or program is inhibited, or when the routine is never called in the program.
New HMI Button Control instructions: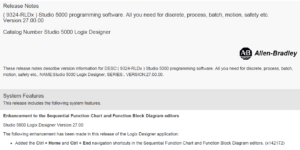 Version 27 also includes support for the HMI Button Control (HMIBC) instructions.
You use the HMIBC instructions alongside the new PanelView 5500 Human Machine Interface (HMI) device to allow high-speed HMI control of machine operations like jogging motors.
It's said the HMIBC instruction also provides built-in comm diagnostics, which permit it to automatically reset if communication to the HMI is lost.
New support for Application Code Manager:
Last we have what is probably the biggest new feature in Studio 5000 Logix Designer: Support for Rockwell's Application Code Manager (ACM).
This new tool is designed to allow much faster application development by providing an integrated code library system where users can store modular code for quick access and integration into their programs.
For more information on version 27 and to see the official product release notes, search Rockwell's "versions" webpage for Studio 5000 Logix Designer, and then select the PDF icon near the version number as seen below:
So where's View Designer?
Great question! While searching for Studio 5000 I found the View Designer software came up as a separate download, and I'll cover it in tomorrow morning's blog.
---
So, what do you think of version 27 so far? Do you feel like the added features are too few to warrant a major release?
Or, are you of the mind that smaller, more frequent releases are better?
Let us know what you think by filling out the "post a comment or question" link below.
I also want to send out a special thanks to Mark E. for letting us know that v27 was now available to download – Thanks Mark!
Until next time, Peace ✌️ 
Shawn M Tierney
Technology Enthusiast & Content Creator
Have a question? Join my community of automation professionals and take part in the discussion! You'll also find my PLC, HMI, and SCADA courses at TheAutomationSchool.com.
If you found this content helpful, consider buying me a coffee here.
Latest posts by Shawn Tierney
(see all)
December 7 News: ABB, Sparkplug, Cybersecurity, Robots, Cobots, Omlox, Ethernet/IP & more (N151)

- December 7, 2023

Auvesy-MDT Octoplant: Automated Backups, Disaster Recovery, and More (P182)

- December 6, 2023