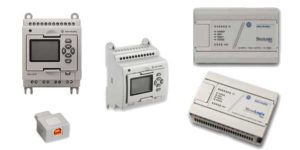 So you're new to the world of PLC's (Programmable Logic Controllers) and are looking to buy a beginner's PLC to work with at home.
I'm going to assume you're on a budget, so getting the most "bang for your buck" will be important. You also may not own a 24vdc power supply, so it's probably going to be convenient if you can purchase a model that plugs directly into a home outlet.
With the above limitations in mind, lets take a look as what I would recommend as a beginner's PLC:
NOTE: Can't decide between learning PLCs or PACs? Check out our companion article HERE.
NOTE: Links to parts and pieces helpful when testing a PLC at home:
Micro800 Family of PLC's from Allen-Bradley.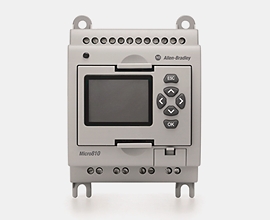 In my opinion, the Micro800 family of Micro PLC's will give you the most value for your money.
It's a new, modern product that's focused on low cost, easy of use, and no prior knowledge of Allen-Bradley PLC's.
However, if you work in an facility with PLC-5 and SLC-500 processors and your goal is to learn how to program those, the Micro800 family may not be for you. Its much less like the PLC-5 and SLC-500 than is the second option I'll list below, the MicroLogix.
But if the newest, most powerful and lowest cost option is what you're looking for, then I believe the Micro810 is the right choice for the following reasons:
The Micro810 starts at $115 (PLC PN# 2080-LC10-12xxx and 2080-USBADAPTER.)
Programs with the FREE CCW programming software (Connected Components Workbench.)
Programs in Ladder, Function Block, and Structure Text languages.
Programs using standard over the counter USB cable.
There are dozens of free "how to program" videos posted by A-B on YouTube, as well as my affordable Micro800 course, Nano Basics.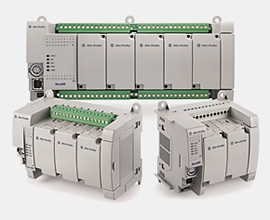 Of all the Micro810 models available, if you don't have a 24vdc power supply you may wish to chose the 2080-LC10-12AWA as it's powered by 120vac, which means you can power it directly from a residential outlet (power cord not included.) It also has 120vac inputs, and four isolated relay outputs which can be used for AC or DC applications.
If you have some additional funds, you could also purchase the 2080-PS120-240VAC ($48) which is a 24vdc power supply that would allow you to use a 24vdc powered Micro810 or expandable Micro830 (starting at $179) or newer Ethernet model the Micro820 (starting at $259.)
For more information please see the following links: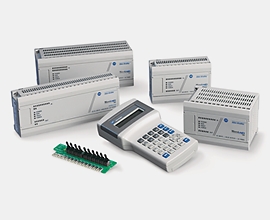 MicroLogix Family of PLC's from Allen-Bradley
If your goal is to learn programming similar to that used in the SLC-500 family and the PLC-5, then the MicroLogix family of processors is the option I would suggest.
I also have an affordable training course for it too, PLC Basics Second Edition.
While the MicroLogix is no the newest Rockwell PLC, it does program nearly identically to the SLC-500 and PLC-5 using RSLogix Micro or RSLogix 500.
Some of the advantages to buying a MicroLogix are listed below:
On the down side, the MicroLogix 1000 requires a serial cable and you'll also likely need a USB to Serial converter cable.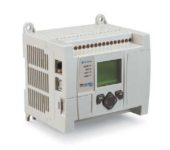 On the other hand, the MicroLogix 1100 has both a serial port and Ethernet port, eliminating the need for a Serial cable and converter.
For more information on the MicroLogix family see the following links:
I hope you've found the above information on my choices for a "beginner's PLC" helpful. If you have any questions, or would like to comment on the above, please feel free to click on the "post a comment or question" link below.
Until next time, Peace ✌️ 
Shawn M Tierney
Technology Enthusiast & Content Creator
Have a question? Join my community of automation professionals and take part in the discussion! You'll also find my PLC, HMI, and SCADA courses at TheAutomationSchool.com.