---
If you are contemplating using a Device Level Ring (DLR) topology in your control system networks, an important device in that network is the EtherNet Tap (ETAP).
If the remote devices in your DLR network will require fiber, the ETAP device will work as a media converter changing your communication media back and forth from multimode fiberoptic to RJ45.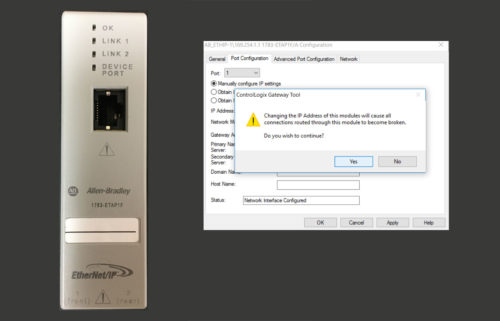 Keep in mind, you may use a Stratix switch to accomplish the same thing, but the cost will be significantly more. The 1783-ETAPxx is also configurable to be a ring supervisor or backup supervisor for the network.
In the following instructions, I will take you through the simple setup of setting the IP address of a 1756-ETAP1F through RSLinx.
Prerequisites:
Apply 24 VDC to the ETAP device
Set the IP address of your laptop to 168.254.1.(Anything other than .1 as this is the default address of the ETAP device)
Connect your laptop ethernet cable to the front (device) port of the ETAP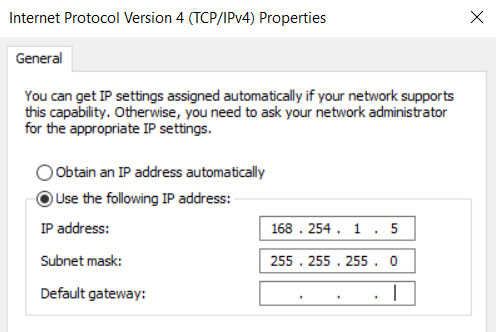 Getting Started with Configuration:
Open RSLinx and browse with the EtherNet IP Driver (RSWho)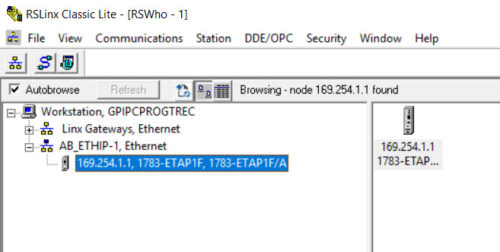 Right-Click on the ETAP device and select "Module Configuration"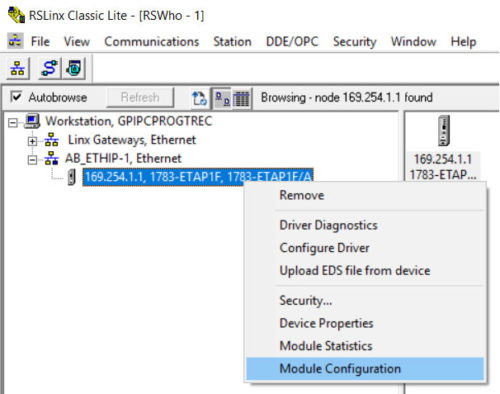 Select the "Port Configuration" tab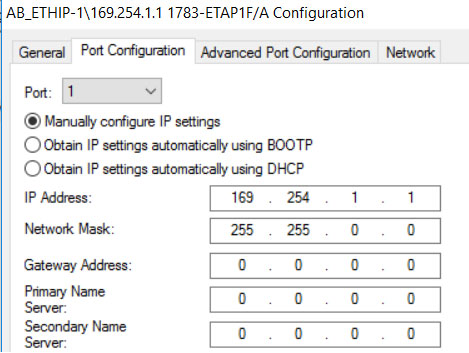 Change the IP Address and Subnet mask to the network scheme of your DLR network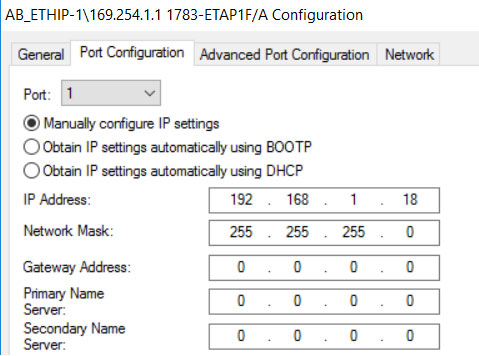 Click "Apply", and when asked "Do you wish to continue?", select "Yes"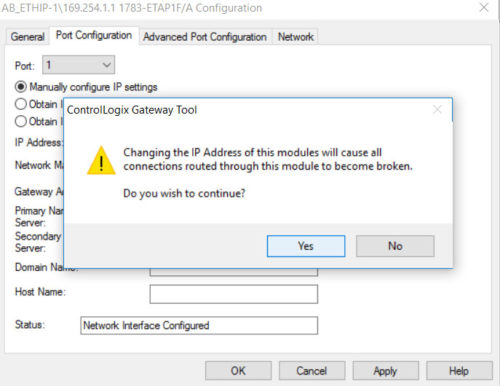 You will now need to change your laptop IP address to the same IP scheme as the new ETAP device IP Address if you wish to reconnect to the ETAP device.
Other considerations:
If you are ordering 1783-ETAPxx devices, don't forget the 24VDC power supplies!
I recommend having separate power supplies for each ETAP device
The 1783-ETAPxx device uses LC Multimode Fiber connectors, so you will need fiber patch cables with LC connections.
Single Mode Fiber is not supported.
In RSLinx, you can also configure the Ring Supervisor or Backup Ring Supervisor mode for the ETAP device and it can be messaged for diagnostic information in your Logix processor code.
Reference: Publication "1783-IN018A-EN-P" from Rockwell Automation for further instructions and information on the 1783-ETAPxx device
Conclusion:
This easy to configure device can be set up in less than five minutes and is a good option for media changes in your control system network.
As previously stated, you may use the Stratix switches for a DLR network and they are the best option in some cases, but for a simple configuration with one or only a couple of remote chassis, this is the most cost-effective option.
My best to you in developing your DLR network.
Written by Brandon Cooper
Senior Controls Engineer and Freelance Writer
Have a question? Join our community of pros to take part in the discussion! You'll also find all of our automation courses at TheAutomationSchool.com.
Sponsor and Advertise: Get your product or service in front of our 75K followers while also supporting independent automation journalism by sponsoring or advertising with us! Learn more in our Media Guide here, or contact us using this form.
Latest posts by Brandon Cooper
(see all)