If you've been installing or maintaining industrial automation products going back to the twentieth century, then there's a good chance that you attended one or more in-person classroom training courses.
Yes, it's true there were other options available back then, including physical books, VHS Video Tapes, and Computer Based Training software. But none of these ever seriously competed for the same market that classroom training had.
Welcome to the Connected Age
Fast forward a few decades and now we live in a world where high speed internet access is widely available, and most of us have multiple "connected" devices within reach 24/7.
Even those of us who are the most conservative about adopting new technology are beginning to see the advantages our connected age has to offer.
At this point in the twenty first century, most of us have already replaced bookcases full of manuals with network folders full of the electronic versions.
Many of us have also put boxes full of CDs and DVDs into storage now that most (if not all) of our media and software is just a few clicks away.
But what about Industrial Automation Training? Can we replace some Classroom Training Courses with Online Courses? And what would be the pros and cons of doing so?
The Cost of Teaching in a Classroom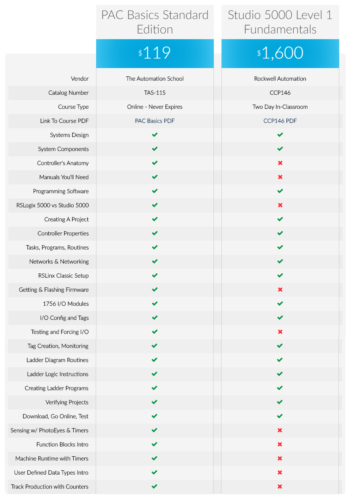 Let's not beat around the bush: Classroom training is expensive anyway you look at it.
To start, the company providing the training has the up-front costs of the curriculum itself, which often has to be created from scratch or significantly customize to fit their needs.
Next, teaching hands-on courses requires purchasing and maintaining several sets of equipment and computers for students to use.
Then there's the cost of employing an experienced instructor, as well as the cost of either (1) a training facility, or (2) travel, shipping, and rental costs of holding courses in remote locations.
With all those expenses you'll be hard pressed to find any classroom training that doesn't cost at least $500 per day, per student.
The Cost of Attending Classroom Training
For many companies it's not the cost of the training itself that's the issue. It's often the time the employee will be out of the facility to attend the training that's a bigger concern.
After decades of rightsizing and lean manufacturing, most facilities are hard pressed to maintain peek performance when employees go on vacation, never-mind giving them additional time off each year to sit through training.
And if the course isn't being held locally, travel and lodging expenses can often cost more than the training itself!
Classroom Training Pros and Cons for Students
While classroom training is expensive, there are many times when the advantages of attending classroom training in person far outweigh the costs.
First is the fact that once you're signed up and committed, you're almost guaranteed to complete the course.
That's different from self-paced training options (like Online Training) where it typically requires a monetary incentive or the focus of a group manager to insure employees complete the courses their company enrolls them in.
Second, by being physically present in a classroom you not only get the opportunity for in-person Q & A with the instructor, but you'll often have the opportunity to get hands-on time with equipment that you might not otherwise have access to.
That said, not everything about classroom training is perfect.
The sad truth is most classroom training courses are designed to progress at pace of the slowest student.
While theoretically this sounds like a good thing, in practice it often means many (if not most) students spend much of the course waiting on slower students to finish their work.
Second, since most industrial automation equipment is relatively expensive, most classrooms assign two students per workstation. This often leads to the students progressing at the pace of the slower student.
Finally, studies show that most students only retain about 30% of what they learned in the classroom, especially if they aren't able to put it to use right away.
The Advantages of Online Training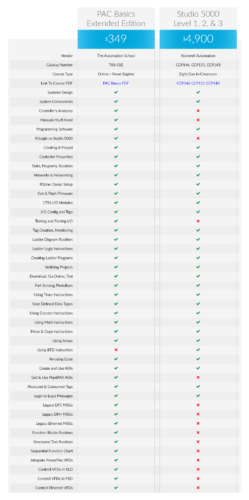 When your training budget won't accommodate the expense of classroom training, or you just can't afford to have your best people out of the facility for days on end, Online Training can be a very attractive option.
And while enrollment costs for Online Courses varies widely based on the topic, on average per seat costs run between $50 to $500 per student per course.
Those prices are a huge savings over Classroom Training, and typically allow companies to enroll entire groups at a lower cost than sending just a single individual to one in-person course.
But those savings shouldn't surprise us, since Online Training courses don't have the expense of a physical classroom filled with PCs loaded with licensed software and connected to expensive hardware.
Additional savings that come from allowing instructors to focus on creating new lessons and courses while students take existing lessons and submit questions electronically.
The Full Cost of Online Training
It should be noted, however, that the total cost of Online Training is often more than the cost of the course itself.
While it's likely your employees already have a company supplied PC with Software Licenses already installed, not all companies have extra Hardware for employees to use with their online courses.
That's not to say every student must complete hands-on exercises to learn the course's content, but studies show that about two thirds of the population learn best by also "doing" what they are learning.
Training equipment costs will vary greatly depending on the topic and equipment the student is learning. It can be as low as $100 to purchase a Small PLC, or as high as $20,000 or more for a high-end "all in one" trainer in a box.
On the upside, once you own the equipment it can be used by multiple employees and is also available if employees want to retake courses in the future.
Online Course Features: What To Look For
If you're considering online training for your employees, first and foremost you'll want to look for courses that don't come with expiration dates or limits on how many times the student can take the course.
The simple fact is, most of us will need to take a refresher from time to time, so being able to jump back into a course and retake lessons as needed is invaluable.
Second, you'll want a course that comes with more than just lessons. As I alluded to earlier, while some people learn best by watching, many more learn better by actually practicing what they see.
So be sure that the online courses you consider not only include exercises for the student to do (many of which will require the equipment we discussed above) but also include the completed exercise files so students who run into issues have something to compare their work to.
In the case of HMI and SCADA courses, you'll also want to insure the instructor includes the PLC code for different controllers so it's more likely the student will have the code for the PLC he's using with the HMI or SCADA system.
And in the event that a student gets completely lost, make sure the course comes with instructor support.
While instructors may not have the time to support students on topics outside of the courses they teach, they should be available electronically if students have questions on their lessons.
Finally, any online courses you consider for your employees should also include tests or quizzes to insure the student is comprehending the lessons he's taking.
That and a progress tracker for supervisors and/or group leaders, so they can verify each students progress though the course (or courses) they are enrolled in.
Classroom vs Online Training Summary
Classroom training definitely has its advantages, but in my experience working in industrial automation industry over the last thirty years has shown me that most of those who'd like to attend these courses won't be able to due to the time and cost required.
If you find yourself in that situation, I highly recommend looking into Online Training Courses like the ones I teach on our sister site, TheAutomationSchool.com.
Until next time, Peace ✌️ 
Shawn M Tierney
Technology Enthusiast & Content Creator
Have a question? Join my community of automation professionals and take part in the discussion! You'll also find my PLC, HMI, and SCADA courses at TheAutomationSchool.com.
If you found this content helpful, consider buying me a coffee here.
Latest posts by Shawn Tierney
(see all)
December 7 News: ABB, Sparkplug, Cybersecurity, Robots, Cobots, Omlox, Ethernet/IP & more (N151)

- December 7, 2023

Auvesy-MDT Octoplant: Automated Backups, Disaster Recovery, and More (P182)

- December 6, 2023