UPDATE 03/13/20: Sadly, due to the Corona Covid-19 Virus Siemens had to cancel the show (most USA trade shows and sporting events scheduled for Mid-March to Mid-April have also been canceled.) Here's looking forward to next year…
This year will be my first time attending the Manufacturing In America event sponsored by Siemens and Electro-Matic.

It's being held at Ford Field in Detroit on March 25 and 26, and features over 100 technical learning seminars and 50 exhibits focused on emerging automation, controls and drives technology.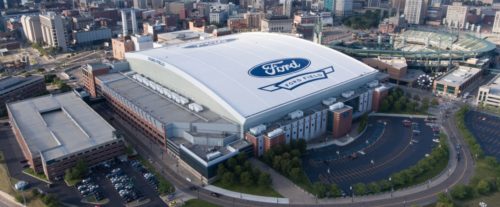 As you might have guessed if you've read my previous articles, I'm naturally drawn to what's new sessions, which as you can see below makes up a lot of what's on my schedule for this year's show.
---
My Picks for Manufacturing In America 2020 Tech Sessions:
CP-1: What's New in Siemens Controls Products
New Safety Relays, Soft Starters, Power Supplies, and Definite Purpose Contactors.
MC-1: What's New in Motion Control Drives and Motors
Upcoming variable speed drives, Motion Control Motors, and Engineering Tools.
FA-2: What's new in Siemens HMI and IPC
The latest HMI and Industrial PC product innovations, and a peek at the roadmap for the upcoming year.
TU-1: IO-Link is Here to Stay and for Good Reason
From buzzword to an industry standard, IO-Link is here to stay – see practical applications along with live demonstrations.
FA-4: How WinCC Unified Impacts the Future of SIMATIC HMI
WinCC Unified is a totally new visualization system – it offers proven engineering in the TIA Portal, the latest web technology, high power reserves for the coming years.
CM-1: Industry 4.0: It's Not Just for Manufacturers!
This session will focus on how artificial intelligence, robotic process automation and data analytics are being used to drive operational efficiency.
MC-3: TIA Selection Tool: Including SIZER Plug-in
TIA Selection Tool has expanded its integration of Siemens products for planning, selection, sizing, engineering, and documentation.
FA-1: The Latest Advancements in SIMATIC PLC, IO and Motion
Join the SIMATIC PLC / IO / Motion team for an overview of the latest and greatest SIMATIC product and technology innovations that directly impact your applications.
---
Well that's it for my Manufacturing In America 2020 Technical Session picks.
If you'd like to learn more about the show you can check out their website here, get the program guide here, and register for the show here.
And if you're going to the show as well and would like to meet-up, please drop me a reply below, or contact me using the link in the menu above 😉
Until next time, Peace ✌️ 
Shawn M Tierney
Technology Enthusiast & Content Creator
Have a question? Join my community of automation professionals and take part in the discussion! You'll also find my PLC, HMI, and SCADA courses at TheAutomationSchool.com.
Latest posts by Shawn Tierney
(see all)