In today's article I'll share the best video tutorials I've found covering how metal stamp presses work, what common functions are automated, and the processes used to make aluminum beverage cans.
---
The Why: New Lessons
So you may be asking why the sudden interest in metal stamping and can making?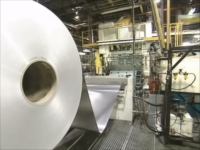 Well, late last year as I began the process of scripting lessons for my new CompactLogix video course, Compact Basics, I wanted to base them on a new control scenario so students who had already taken my ControlLogix course would get to write new programs based on a completely different process.
And thinking ahead to the next course, I also wanted the final program created in Compact Basics to be the code I could also use in the HMI application students would be creating in my next course, PVP (PanelView Plus) Basics, Second Edition.
That, and as I already had a plant full of blow molding machines in my FactoryTalk ViewSE Basics course, I thought it made sense to create the code and graphics for making Aluminum Cans which I could later use in my expanded version of this course.
---
Metal Stamping 101
Even though I've visited dozens of metal stamping facilities, those visits focused on troubleshooting automation and not on learning the metal stamping process.
So in order to create realistic programming scenarios and graphics, I first needed a refresher on the metal stamping and can making process.
That in mind, I turned to the internet and began wading through tons of content until assembling the below examples.
First up we have "Sheet Metal Stamping Presses" from SME.org, which does an excellent job covering the different types of Stamp Press Drives, including Direct, Single Gear Reduction, Double Gear Reduction, and Eccentric Gear systems:
Next is another video from SME, "Sheet Metal Stamping Dies and Processes," that covers Compound and Combination Dies, as well as multi-station systems which either Progressive or Transfer Dies:
Additional examples of stamping machines in action can be seen in the first half of the below video from Wisconsin Metal Parts:
---
Automated Stamping Presses
After watching the above videos, you get a basic idea of how Metal Stamping Machines work, so next is understanding how today's automation products can be used with them.
For that, I turned to a pair of videos from Sutherland Presses.
In the first video we get a tour of their I-Press basic, which has an HMI that displays Stroke Position, Direction, Angle, RPM and Mode.
Navigating to their CAM screen, operators can set parameters to control the operation of the part Ejector, Feed Advance system, Pilot Release, Coil Lube, and Scrap Cutter.
They also include a Monitor or history screen which shows past faults, as well as a counter screen with batch and scrap counters,
In addition to the HMI, the control panel also includes control inputs such as Power and Mode key switches, Start and Stop Buttons, RPM Potentiometer, and Estop.
Towards the end of the video we also get a look at the T stand in front of the press, and even get a walk-through of the steps required to put the system in continuous mode:
Then in a follow-up video we get a tour of the more advanced I-Press Plus system running on an Allen-Bradley PanelView Plus 7:
---
The process of making beverage cans
With a basic understanding of Metal Stamping Presses and how they can be automated, the final step was to understand the process of making aluminum cans.
For that we first turn to a video from "EngineerGuy" Bill Hammack, titled "The Ingenious Design of the Aluminum Beverage Can."
His excellent video addresses why a beverage can is shaped the way it is, as well as explains the steps in the process from the initial "blank" through finished product:
And the last video I'll share is "How it's made – Aluminium cans," which is an entertaining five minute video showing the actual process of "can making" from multiple angles while sharing interesting facts about the process:
After viewing these videos, you should feel fairly well informed about how Metal Stamp Presses and Aluminum Can making works.
If you have your own favorite links about either, I invite you to share them with us by clicking on the Leave a Comment link below.
Until next time, Peace ✌️ 
Shawn M Tierney
Technology Enthusiast & Content Creator
Have a question? Join my community of automation professionals and take part in the discussion! You'll also find my PLC, HMI, and SCADA courses at TheAutomationSchool.com.
Latest posts by Shawn Tierney
(see all)