Update: For the latest procedure see our article HERE.
In today's article we walk you through the steps to import a MicroLogix program into a Micro800 using the Connected Components Workbench (CCW) conversion tool.
---
Part One: Export your MicroLogix Program
Step 1) The first step is to open your MicroLogix 1000 program in RSLogix Micro (or 500) and preform a "Save As"

Step 2) In the "Save As" dialog box you'll want to choose the type of "Library Files (*.SLC)" but don't click on "Save" just yet…

Step 3) You'll also want to select the "Export Database" box, and insure the "Export file type" is set to "Logix." Once done, click on "Save"

Step 4) Now when the "Export SLC Format" window pops up, insure that "Complete Program Save" is selected along with all the "Export Options," then click on "OK."

Step 5) You should now see the "Export Results" window which should look like the below: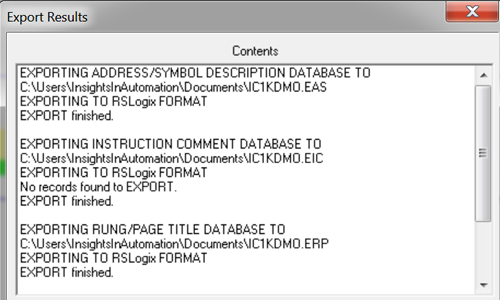 At this point you have exported your MicroLogix 1000 program and you're ready to import it into CCW.
Part two: Import your MicroLogix program into CCW
NOTE: To complete the following steps you'll need CCW v8 and the MicroLogix to Micro800 conversion tool which we discuss how to obtain in this article here.
Step 1) Open CCW, and under the "Tools" menu select "MicroLogix Library Conversion…"

Step 2) In the conversion window select your source project as the files you exported from RSLogix above. Then choose the model number of the Micro800 you would like to convert it to. When all selections have been made, click "OK"
Note: Despite the picture of the MicroLogix 1200, the tool clearly states it only works with MicroLogix 1000 files.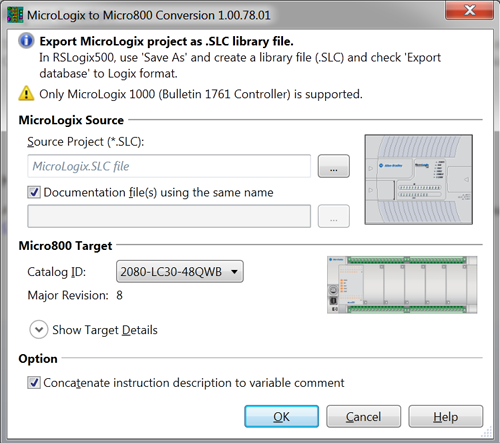 Step 3) After a few moments you should see your new Micro800 open with the imported code. You may also see a window with several warnings. At this point it's recommended you review all the warnings, as well as compare the original file to the new one to insure everything imported correctly:

For more information on converting MicroLogix projects to the Micro800 using CCW, check out our previous articles on the subject below:
---
I hope the above article detailing how to import MicroLogix programs into Micro800s using the CCW conversion tool was helpful.
If you have any comments, questions, or suggestions, please feel free to leave them with us by submitting the "post a comment or question" link below.

Until next time, Peace ✌️ 
Shawn M Tierney
Technology Enthusiast & Content Creator
Have a question? Join my community of automation professionals and take part in the discussion! You'll also find my PLC, HMI, and SCADA courses at TheAutomationSchool.com.
Latest posts by Shawn Tierney
(see all)