---
There are many options for field I/O on the market, between vendors and sometimes even many different I/O options within a single vendor as is the case with Allen Bradley.
With the ControlLogix platform, you can use remote 1756 I/O (ControlLogix Chassis), 1794 I/O (Flex I/O Chassis) or 1734 I/O (Point I/O Chassis).
Each one of the available options can have benefit or meet your needs in a different way, but for this article I will focus on 1734 Point I/O and hopefully share some setup tips if you are planning an installation.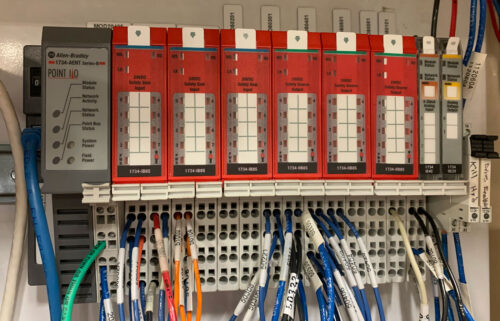 Image by: Brandon Cooper – Point_IO.jpg
Communications Adapters
The Point I/O family can utilize ControlNet, DeviceNet, EtherNet or Profibus communication adapters.
This makes integration to almost any current configuration you may have, although if it were a new installation, I would go with Ethernet as the 1734-AENTR supports DLR (Device Level Ring) Topology.
Cabinet Space
The small footprint of the 1734 I/O chassis and modules is one of the key benefits of selecting Point I/O for your installation as it will fit in small, remote cabinets.
Their modular configuration allows to only implement what you need and add more modules later if needed. A chassis can support up to sixty-three modules, so they are very flexible (although you must still consider module density when counting I/O).
Cost
If you compare say, a 1756-IA16 module cost to a 1734-IA4 module, the cost is about five times the amount. However, if you need sixteen channels and buy four of the 1734 input modules, there is not much difference in the cost, but many other considerations such as prewired cables and IFM's can drive up the 1756 cost more if you are going that route.
All in all, there is not a significant cost difference in the I/O modules if you are looking at cost for your design, but there are so many considerations to consider, it would take a volume to cover them all.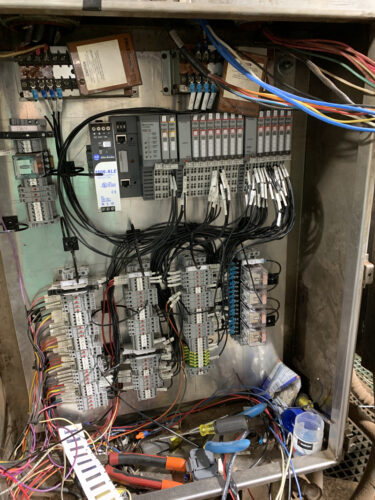 Image by: Brandon Cooper – 1734.jpg
Tips for Setting up Point I/O, Keying Modules
When you are installing 1734 I/O Modules, you will notice that most modules will use the same backplane modules.
They are "keyed" for each different type of module during installation. For instance, a 1734-IA2 module has a key position of 8 and a 1734-IB2 module has a key position of 1. For a complete list, reference: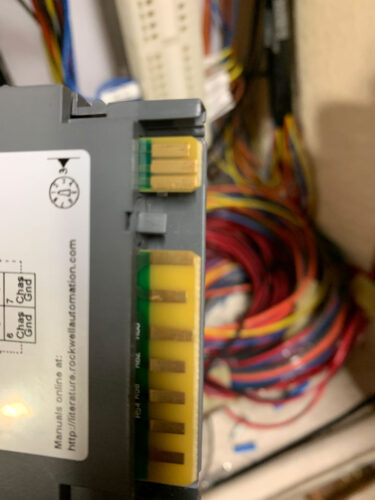 Image by: Brandon Cooper – Module_Key.jpg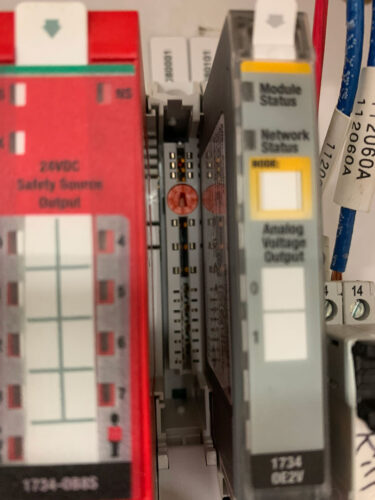 Image by: Brandon Cooper – Backplane_Key.jpg
Setting Chassis Size in AENTR Module
On initial setup of a 1734-AENTR, you will find that all modules in the I/O Chassis will not communicate in the Studio 5000 I/O Tree.
Initially, you will have go to the "Chassis Size" tab as shown below and click the "Set Chassis Size in Module" button to download to the 1734-AENTR module.
Once the chassis size matches the actual, then the I/O modules will be allowed to communicate.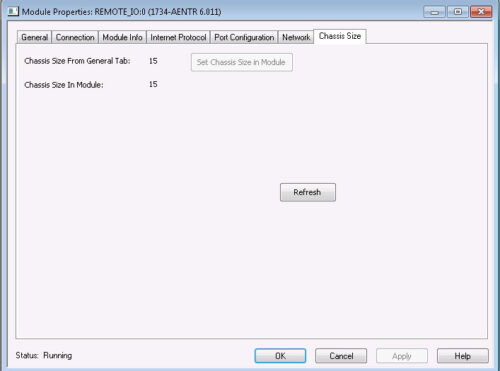 Image by: Brandon Cooper – Chassis_Size.png
Conclusion
My initial interactions with Point I/O have been positive and setup is very straight-forward. Another consideration to remember is to go to Rockwell's PCDC (Product Compatibility and Download Center) and download all needed Add-On Profiles for your project.
Hope you picked up a couple of tips here and my best to you to make 1734 I/O a component of your systems.
Written by Brandon Cooper
Senior Controls Engineer and Freelance Writer
Have a question? Join our community of pros to take part in the discussion! You'll also find all of our automation courses at TheAutomationSchool.com.
Sponsor and Advertise: Get your product or service in front of our 75K followers while also supporting independent automation journalism by sponsoring or advertising with us! Learn more in our Media Guide here, or contact us using this form.