Welcome to part six of the nine part series covering my choices for the top new PLC and HMI products shown at Rockwell's Automation Fair 2017.
Note: While this series covers the products in which I'm most interested, you'll find all the new products listed in Rockwell's guide HERE.
The New Compact GuardLogix with Safety I/O: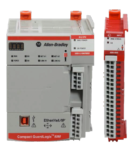 Due out in late February 2018, Rockwell's new Compact GuardLogix with Safety I/O is likely to be a big hit amongst GaurdLogix users.
First off, this new Compact GuardLogix will leverage the popular features of the existing CompactLogix 5380 series, including the new 5069 high-speed I/O, and embedded dual Gigabit Ethernet ports configurable with dual IPs or for DLR.
Add to that the ability to add safety modules locally via the new Compact 5000 Safety I/O line, and you've eliminated the need to use distributed I/O to connect to your safety I/O.
Compact GuardLogix 5380 Models:
5069-L306ER(M)S2 -600 KB Std, 300 KB Sfty; 02 Axes; 16 nodes
5069-L310ER(M)S2 – 01 MB Std, 0.5 MB Sfty; 04 Axes; 24 nodes
5069-L320ER(M)S2 – 02 MB Std, 1 MB Safety; 08 Axes; 40 nodes
5069-L330ER(M)S2 – 03 MB Std, 1.5 MB Sfty; 16 Axes; 50 nodes
5069-L340ER(M)S2 – 04 MB Std, 2 MB Safety; 20 Axes; 55 nodes
5069-L350ER(M)S2 – 05 MB Std, 2.5 MB Sfty; 24 Axes; 60 nodes
5069-L380ER(M)S2 – 08 MB Std, 4 MB Safety; 28 Axes; 70 nodes
5069-L3100ER(M)S2- 10 MB Std, 5 MB Safety; 32 Axes; 80 nodes
So what do you think?
Personally, if the price is inline with Rockwell's other products, I think this line is going to be red hot (no pun intended.)
But what do you think? Do you use any safety PLC's now, and will you consider the 5380 Compact GuardLogix?
If you have more to say beyond your vote, I invite you to share your thoughts by clicking on the "post a comment or question" link below.
Until next time, Peace ✌️ 
Shawn M Tierney
Technology Enthusiast & Content Creator
Have a question? Join my community of automation professionals and take part in the discussion! You'll also find my PLC, HMI, and SCADA courses at TheAutomationSchool.com.
Latest posts by Shawn Tierney
(see all)