---
Connected Components Workbench (CCW) version 9 is out and in today's article we'll take a look at what's new and different in this release:
UPDATE:
My Micro800 training course is now available to order! Learn to setup and program the Allen-Bradley Micro800 family of Nano Programmable Controllers! Learn the details at Nano Basics Course
Micro800 Features
Micro800 Bit Shift array element support
Bit Shift Instructions are supported by Micro820, Micro830, and Micro850 controllers and are used to shift a bit in an array element to the right or left and include the BSL and BSR
Micro800 Module Profile Tool
Used to import additional 2085 Expansion I/O module profiles into Connected Components Workbench projects.
The "Setup Connection Path" dialog is used to setup the online connection path for Micro800 controllers, making it no longer necessary to continually have to select the connection path when downloading or uploading.
Micro800 Upload project without updating controller module config
Micro800 Upload has been updated so it's no longer the same as Discover.
Upload now only uploads the downloaded project, and only requires that the controller catalog in the project matches the online controller.
You can use Upload to upload projects without changing the project's Plug-in and Expansion I/O module config.
Micro800 Eithernet Socket support
The Micro820 and Micro850 controllers now support new Socket Instructions allowing full duplex Ethernet communication with remote devices which do not support Modbus TCP or Ethernet/IP.
The new Socket instructions include: SOCKET_ACCEPT, SOCKET_DELETEALL, SOCKET_READ, SOCKET_CREATE, SOCKET_INFO, SOCKET_WRITE, SOCKET_DELETE, and SOCKET_OPEN.
Micro800 Unused Variable Browser
The new Unused Variable Browser is used to view user-defined variables that are currently unused in a Micro800 controller program.
The toolbar has new icons which include Run Mode Change, Test changes, Accept changes, Discard unaccepted changes, Connect, Disconnect, Connected, Disconnected, Build, Download, and Upload.
PanelView800 Features
PanelView 800 Tag Browser
The Micro800 Cross Reference Browser was enhanced to include PanelView 800 tags which are listed as variables.
PanelView 800 CompactLogix L1 Connectivity
With PanelView 800 firmware release 3.011, support for connectivity to CompactLogix 5370 L1 controllers has been added and can be used by setting the communications configuration protocol to Ethernet | Allen-Bradley CompactLogix.
The Guardmaster 440C-CR30 Safety Relay workspace has several enhancements and requires firmware revision 10 which is included.
Learn about other releases:
Check out our coverage of other releases of CCW below:
Find out more:
For all the details about CCW version 9, search Rockwell's "versions" webpage for Connected Components Workbench, and then select the PDF icon under version 9 to open this versions release notes: (below you can see the link for v10 and 11 release notes:)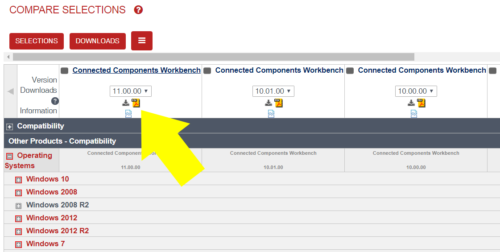 ---
So, what do you think of version 10?
Like the fact that more and more features from RSLogix have been added? Or just happy to now have Windows 10 support?
If you have an opinion, feel free to share it with us using the "post a comment or question" link at the bottom of this page.
Until next time, Peace ✌️ 
Shawn M Tierney
Technology Enthusiast & Content Creator
Have a question? Join my community of automation professionals and take part in the discussion! You'll also find my PLC, HMI, and SCADA courses at TheAutomationSchool.com.
Latest posts by Shawn Tierney
(see all)