IO-Link is an open standard serial communication protocol that allows for the bi-directional exchange of data from sensors and devices that support IO-Link and are connected to a master.
The IO-Link master can transmit this data over various networks, fieldbuses, or backplane buses, making the data accessible for immediate action or long-term analysis via an industrial information system (PLC, HMI, etc).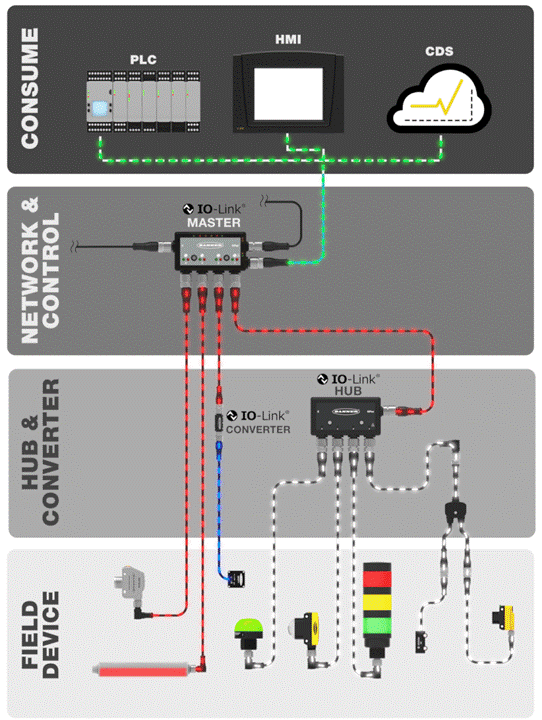 Banner IO-Link products reduce wiring, increase data availability, enable remote configuration and monitoring, simplify device replacement, and provide extended diagnostics."
"Banner is a key member of the IO-Link consortium. In addition to Banner, it is supported by most PLC and Industrial sensor manufacturers. Over 400 members and increasing.
Some advantages of IO-link Are:
---
𝘼𝙙𝙫𝙖𝙣𝙩𝙖𝙜𝙚 #𝟭: Seamless and Simple Device Replacement
With data storage mode (or backup and restore mode), the device configuration is saved on a port of the IO-link master. An operator can replace the sensor and correct device configuration loaded automatically.
---
𝘼𝙙𝙫𝙖𝙣𝙩𝙖𝙜𝙚 #2: Standardize and Reduce Wiring
All devices use the same unshielded cables (more often than not, these are standard M12 cables). Replacement cables/parts, now only vary by length. This means no more wiring or pinout mistakes, more cost effective and readily available cabling and much faster installation times.
---
𝘼𝙙𝙫𝙖𝙣𝙩𝙖𝙜𝙚 #3: IO-Link Can Replace Analog
With IO-link you can avoid costs associated with shielded cables and analog input cards. By using the IO-link process data on the device as opposed to the analog output, you can avoid Avoiding Digital to Analog and Analog to Digital conversions and provide the highest quality measurement that is robust and immune to noise. By switching to IO-link you can reduce Analog costs by 15-25%.
---
𝘼𝙙𝙫𝙖𝙣𝙩𝙖𝙜𝙚 #4: What about if I want to connect non-IO-link devices? Not a problem!
It's possible to connect multiple IO-link hub blocks into the IO-Link master and each IO-Link hub can connect up to 16 discrete sensors, so up to 64 discrete sensors can be connected via a single network connection. Banner also has a broad portfolio of converters that can convert legacy signals such as 0-10V, 4-20ma, NPN, PNP and more over to IO-link.
---
---
𝘼𝙙𝙫𝙖𝙣𝙩𝙖𝙜𝙚 #5: Increased Data Availability
IO-link incorporates process, service and diagnostic data for continuous data monitoring and status diagnostics. Process Data In is the information sent from the IO-Link device to the IO-Link master repeatedly, automatically.
---
𝘼𝙙𝙫𝙖𝙣𝙩𝙖𝙜𝙚 #6: Read and change IO-link Device Configurations Remotely
Dynamically make changes from the control system. Complex IO-link device programming can be loaded onto a device quickly and easily. You can store configurations on the PLC and upload via IO-link based on what product being run (recipe control).
---
𝘼𝙙𝙫𝙖𝙣𝙩𝙖𝙜𝙚 #7: Advanced Diagnostics
You can establish maintenance tasks based on real time information. Alarms can be set to alert personnel to address a sensor before it stops working. This allows you to make decisions based on real time data and notify you if a lens is dirty or if a sensor might be overheating.
---
𝘼𝙙𝙫𝙖𝙣𝙩𝙖𝙜𝙚 #8: IO-link and IIOT
The availability of hugely valuable data combined with vendor independence and interoperability, make a IO-link an extremely useful tool for implementing IIOT.
---
Written by Sean R. Foley
Global Product Manager at Banner Engineering

Have a question? Join our community of pros to take part in the discussion! You'll also find all of our automation courses at TheAutomationSchool.com.
Sponsor and Advertise: Get your product or service in front of our 75K followers while also supporting independent automation journalism by sponsoring or advertising with us! Learn more in our Media Guide here, or contact us using this form.