---
Last week I walked through how to get a free copy of RSLogix Emulate 500, and in today's article I'll show you how to set it up.
The first step is to launch RSLogix Emulate 500 and open an RSLogix Micro or RSLogix 500 file using either the "File – Open" menu, or the open file toolbar icon as shown below:

In this example, I'm going to open program P14 from my PLC Basics course:

Once you select a file, the next step is to give it a virtual network address (aka Station #) on the emulated network, and press OK:

This last step in RS Emulate is optional –  you can put your emulated PLC into the run mode by clicking the "Run" button on the toolbar:

Now that we have an emulated PLC running, our next step is to open the "configure drivers" window in RSLinx Classic Lite.
You can open "Configure Drivers" by either selecting it from the "Communications" menu, or by clicking on the "Cable" icon on the toolbar:

When "Configure Drivers" is open, select the "SLC 500 (DH485) Emulator driver" from the "Available Driver Types" drop down list:

Then click on "Add New":

I recommend leaving the default name unchanged, and then clicking on OK:

Next, provide a network address (aka Station Number) on the emulated network for RSLinx. I typically leave it at the default of zero, and just click on OK:

With the Emulated driver added, we can now close the Configure Drivers window:

To check it's working, click the "plus sign" on the left side of the "EMU500-1 driver" in the RSWho window to expand it, and the select the"EMU500-1 driver" to insure it starts browsing: (if an RSWho window is not already open, use the menu, "Communications – RSWho," to open one):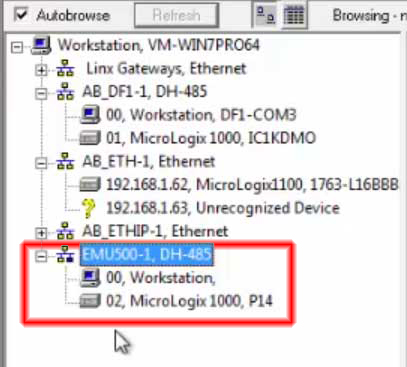 If you see your emulated PLC show up under the"EMU500-1 driver" as shown above in the red box, then your emulated PLC has been loaded and the RSLinx driver is communicating to it.
At this point you can use the free copy of RSLogix I showed you how to get last week, and the RSLogix tip from earlier this week to go online with your emulated PLC.
If you've found this article helpful and would like learn more about RSLogix, RSLinx, RS Emulate, and A-B PLCs, I recommend you check out my affordable PLC video training course at PLC Basics Second Edition.
And to see a video version of the above, check out the below episode of The Automation Minute:
Until next time, Peace ✌️ 
Shawn M Tierney
Technology Enthusiast & Content Creator
Have a question? Join my community of automation professionals and take part in the discussion! You'll also find my PLC, HMI, and SCADA courses at TheAutomationSchool.com.
Latest posts by Shawn Tierney
(see all)