---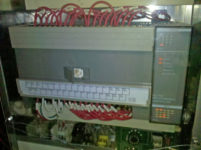 Recently, a client called asking what I thought would be the best replacement for a 1747-L40.
But to understand how to size a replacement for this PLC, we'll first need to understand what that part number represents. And in this article I'll review the models that make up the Fixed Style SLC-500 family of products.
Back in 1991 Rockwell Allen-Bradley released the SLC-500 family of small programmable logic controllers in two hardware styles: Fixed and Modular. The modular style became the most popular version, and is what most people are familiar with today. However, many small systems did use the fixed style which was the precursor to the MicroLogix line released in 1994.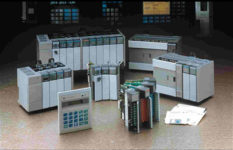 The Fixed SLC-500 came in three I/O counts represented by the corresponding part numbers L20, L30, and L40. Each is detailed below:
Fixed SLC-500 I/O Counts 
1747L20_: 20 total I/O (12 inputs and 8 outputs)
1747L30_: 30 total I/O (18 inputs and 12 outputs)
1747L40_: 40 total I/O (24 inputs and 16 outputs)
In addition to I/O count, these small PLC's also had different options for (1) line power, (2) input type, and (3) output type. Below is a chart which correlates the final letter in the catalog number with the power and I/O option it represents:
Fixed SLC-500 120/240VAC Line Power Versions
Part Number,  Inputs,  Outputs
1747-LxxA,  120VAC,  AC/DC Relay
1747-LxxB,  120VAC,  AC TRIAC
1747-LxxC,  24VDC Sink, AC/DC Relay
1747-LxxD,  24VDC Sink, AC TRIAC
1747-LxxE,  24VDC Sink, 24VDC Source
1747-LxxL,  24VDC Source, 24VDC Sink
1747-LxxR,  2400VAC,  AC/DC Relay
1747-LxxP,  2400VAC,  AC TRIAC
Fixed SLC-500 24VDC Line Power Versions
Part Number,  Inputs,  Outputs
1747-LxxF,  24VDC Sink, AC/DC Relay
1747-LxxG,  24VDC Sink, 24VDC Source
1747-LxxN,  24VDC Source, 24VDC Sink
The Fixed SLC-500 also came with a built-in communications port. Its a standard RJ-45 jack and is located behind a small door on the front of the unit. The protocol used is DH-485, which is an Allen-Bradley protocol communicated over a standard RS-485 network.
Many different devices could connect directly to the Fixed SLC-500's communications port, including:
1747-PIC Programming Cable – 25 or 9 pin D-Shell to DH-485 RJ45 port.
1747-HHT Hand Held Programming Terminal (used in place of PC, PIC, and Programming Software)
1747-DTAM Data Table Access Module (simplistic HMI)
1747-AIC Isolated Link Coupler for networking applications
2711 PanelView HMI products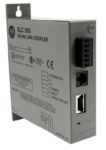 Some devices, like the 1747-PIC and 1747-AIC, need 24vdc power to operate, and the DH-485 port on the Fixed SLC-500 provides this power. This is a little known fact, and back in the 90's we'd often get calls from customers trying to use the 1747-PIC connected directly to a 2711 PanelView to download it's program, but without a PLC also connected there was no power for the PIC. For these instances Allen-Bradley actually sold a separate RJ-45 based power supply to power the PIC when a PLC wasn't available. In the case of the AIC, it had a terminal block on the bottom where external 24vdc power could be connected for those instances when no SLC was directly connected.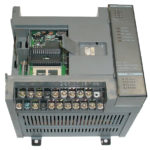 The Fixed SLC-500 also accepted an EEPROM for program backup in the event the onboard battery backed memory was lost. As with most PLC's, the EEPROM could be set to never load, load on every power cycle, or only load when the SLC's memory was invalid.
Note: For more details reference the Fixed SLC-500 user manual here.
Well that's it for my introduction to the Fixed SLC-500. Next time we'll discuss replacing one of these units with a more modern PLC. If you have any questions or comments on this article please feel free to leave them by using the "post a comment or question" link below.
Until next time, Peace ✌️ 
Shawn M Tierney
Technology Enthusiast & Content Creator
Have a question? Join my community of automation professionals and take part in the discussion! You'll also find my PLC, HMI, and SCADA courses at TheAutomationSchool.com.
Latest posts by Shawn Tierney
(see all)