Update: In March of 2015 Rockwell renamed "RSTechED" to "Rockwell Automation TechED." To find out more click HERE.
Rockwell Automation TechED:
What is it, How Much is it, When and Where is it, and What Should I Expect?
What is TechED?
Rockwell describes TechED as follows:
"Designed for end users, system integrators, distributors, partners, machine builders, TechED gives you the chance to work with the latest Rockwell Automation products and technology solutions in a classroom environment."
In my words, TechED is all about training as there is no trade show component like Automation Fair. When you register for TechED, you build your week's training schedule by choosing from over a hundred labs, presentations, and technical sessions. This ability to choose only sessions of interest makes it a good choice for electrical and controls engineers looking for training with multiple Rockwell products.
How Much is it and who attends?
Unlike Rockwell's other premier event, Automation Fair, TechED is not free.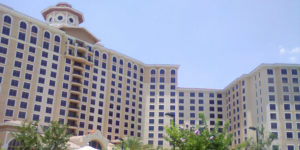 In homage to it's beginnings as a week long training session solely for Distributor Software Specialists, Rockwell continues to encourage it's authorized distributors to send their own technical people to the event.
However, over the last decade the focus of the event has expanded greatly. Initially, Rockwell opened registration to select OEM and SI partners. And they continue to encourage these partners to attend TechED by including either half or full price tuition in many of their partner Toolkits.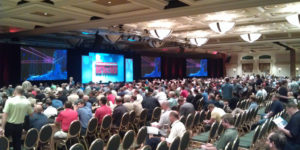 More recently, Rockwell has opened the event to all customers, with an "early bird" tuition cost of $1200. Once the "early bird" registration ends, typically a few weeks before the event, the tuition cost rises to $1500.
In addition to the tuition cost, you'll also need to cover your own lodging and travel expenses. Rockwell does secure a group rate at the event hotel, with a nice room usually running around $180 per night. Add in the cost of flights, transportation, and meals not covered by the tuition, and it's easy for the non-tuition costs of TechED to close in on the $2000 mark.
What does the tuition price include?
For the price of admission, attendees can participate in as many educational sessions as they can fit into their schedule over the four and a half day event.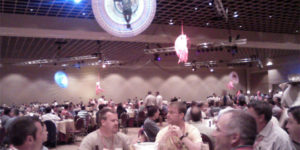 Attendees also receive admission to a Sunday Night reception with complimentary cocktails and appetizers, as well as the Tuesday Night EDFest which typically includes dinner, drinks, and some form of entertainment. These events are both heavily attended and are great times to network with other attendees.
Besides Sunday and Tuesday evening, attendees are also treating to a free buffet breakfast and lunch, both of which seem to get better each year. There is also a Tuesday morning "guest motivational speaker" general session you won't want to miss.
When and where is TechED held?
TechED is held in mid June each year. Rockwell alternates the event between the East and West with TechED 2013 being held in San Diego, while TechED 2014 is being held in Orlando from June 15th – 2oth
What should I expect?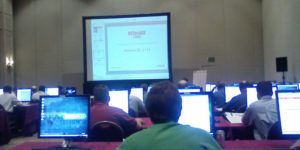 Rockwell's TechED is first and four-most about training. As such, I highly recommend signing up as early as you can so you can reserve your spot in the classes you most want to attend. In the years that I have signed up late, I've always missed out on the very popular "What's new and coming" sessions.
I also recommend getting in early enough to pick up your welcome pack Sunday Night prior to the reception. The welcome packet not only includes your event badge (which you need to get into the reception) but it also typically includes a program guide, a DVD or memory stick, a Polo Shirt, and a copy of your session schedule. Not having to scramble in the morning to pickup your badge and other items makes it much easier to enjoy the buffet breakfast and find a good seat for the opening general session.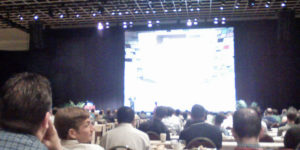 Once training begins, I recommend getting to any hands-on lab sessions as early as you can. While you can't typically get into a session more than ten minutes early, a line typically forms prior to that outside of the session room. In software sessions where everyone gets their own PC this not such a big issue. But, with some hardware intensive sessions you'll be pairing up, so the earlier you get in the more choice you'll have in choosing a lab station.
Finally, if you find yourself in a session which isn't quite what you expected, don't fret. Rockwell has session kiosks located near most session rooms so you can quickly duck out of one session and look up what other sessions are currently available during the same time period. This ability to edit your session schedule during the show is very handy and much appreciated.
For a complete listing of this this year's TechED sessions, click HERE.
Final thoughts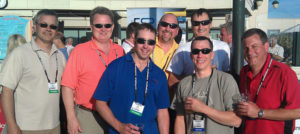 Rockwell's TechED annual week of training is one week I try never to miss. The ability to create my own training schedule from over 100 sessions insures I only sit through sessions which directly apply to me.
That, and the opportunity to network with peers and colleagues both old and new, makes TechED one of the most interesting weeks of the year.
To find out more about Rockwell Automation's TechED, or to visit the official site, click HERE.
I hope this TechED 101 was helpful. If you have any questions or comments please feel free to leave them here by using the "post a comment or question" link below.
Until next time, Peace ✌️ 
Shawn M Tierney
Technology Enthusiast & Content Creator
Have a question? Join my community of automation professionals and take part in the discussion! You'll also find my PLC, HMI, and SCADA courses at TheAutomationSchool.com.
If you found this content helpful, consider buying me a coffee here.
Latest posts by Shawn Tierney
(see all)