---
With last week's release of CCW 8.0, it has also come to my attention that Rockwell has also released it's PanelView 800 family of small component HMI's.
The 4″ and 7″ models are currently factory stock to two week lead time, and the 10″ model should begin shipping by this time next month.
Below are the details of each model: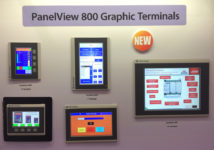 PanelView 800 4″ Touchscreen
Part Number: 2711R-T4T
Display Size: 4″
Resolution: 480 x 272 WQVGA
Memory (Flash/SDRam:) 128mb/128mb
Power Consumption (max:) 9 W
PanelView 800 7″ Touchscreen
Display Size: 7″
Resolution: 800 x 480 WVGA
Memory (Flash/SDRam:) 256mb/256mb
Power Consumption (max:) 11 W
PanelView 800 10″ Touchscreen
Part Number: 2711R-T10T
Display Size: 10″
Resolution: 800 x 600 SVGA
Memory (Flash/SDRam:) 256mb/256mb
Power Consumption (max:) 14 W
The PanelView 800 also sports many updates from it's predecessor, the PanelView Component, but has launched with the same list prices.
And with a processor that's four times as fast, double to quadruple the memory, and an average performance gain of over 100%, there seems no reason not to migrate from the PVc.
Below are some additional PanelView 800 specifications:
Display: Color TFT LCD
Color Depth: 65K
OS: MS Windows CE 6.0
CPU: 800 MHz
Ethernet Port: 1 x RJ45 10/100 MB
Serial Ports: Separate RS-232 and RS422/RS485 connectors (isolated)
USB port and micro-SD (Secure Digital) card slot
Operating Temperature: 0 – 50°C
Ratings: NEMA 12, 13, 4X, IP65
Power Supply: 24V DC
Class 1 Division 2 certified
Recipe Support: 50 recipe files
Landscape and portrait mode
Software Support: CCW 8.0 or later
Along with released of this new hardware, Rockwell has also made the following PanelView 800 documentation on their website:
---
Well that's everything we know so far about the PanelView 800. As we learn more in the coming weeks and months, we'll keep you posted.
And if you're one of the lucky few who gets to use one of these units in the near future, we'd love to hear what you think!
Sincerely,
Shawn Tierney
Automation Instructor and Blogger

Enjoy the benifits of membership! Insider news, rewards, & more: Patreon.com/automation
If you enjoyed my article, you may like my courses at TheAutomationSchool.com
Have a question on this topic? Click here to scroll down to the comment link
Have a news tip? Share it with us here
Shawn began sharing automation news and know-how online in 1996 when he launched his first BBS. Then in 1999 he moved to the internet launching ShawnMichael.com, which he later renamed ShawnMTierney.com. In 2013 he moved his automation efforts to a new website, TheAutomationBlog.com, which has since become the most popular independent industrial automation blog on the web.
Latest posts by Shawn Tierney (see all)
Click HERE to scroll down to view or leave comments