(Updated 11/06/2017)
On November 25th, 2013, Rockwell released a new YouTube video promoting it's "Micro800 Solution for Intermittent VFFS" (Vertical Form, Fill and Seal.)
For those of you who haven't seen it yet, I'll include it below:
Update: Rockwell has removed their video from YouTube, however the below links to the whitepapers and sample code are still valid.
While the video does a good job explaining the unique "touch probe" feature of the Micro850, it unfortunately leaves out the best part: pre-engineered resources Rockwell has made available free of charge.
---
White Paper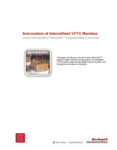 After watching this video, interested parties would most likely want to find out more about this application. While the video links to the Micro800 homepage, a better link would be the white paper specifically about this application which I'll list below:
For parties interested in a similar white paper which is not Micro850 based, see the below link:
---
Sample Code (and more)
The Micro850 VFFS white paper does mention the sample code and links to the Micro800 sample code directory, but a direct link to the Micro850 VFFS same code can be found below:
This Sample Code zip file contains the follow:
---
If you have a chance to review the above sample code we'd love to hear what you think. Just click on the "post a comment or question" link below to leave us your feedback.
Sincerely,
Shawn Tierney
Automation Instructor and Blogger

Enjoy the benifits of membership! Insider news, rewards, & more: Patreon.com/automation
If you enjoyed my article, you may like my courses at TheAutomationSchool.com
Have a question on this topic? Click here to scroll down to the comment link
Have a news tip? Share it with us here
Shawn began programming as a pre-teen in the early 80's, and later earned a degree in Electronics. He worked for 25 years as Automation Specialist, passionately sharing tech tips via his newsletter, then his BBS, before launching his first website in 1999. In 2013 he relaunched his website as TheAutomationBlog.com, and now teaches full time at TheAutomationSchool.com
Latest posts by Shawn Tierney (see all)
Click HERE to scroll down to view or leave comments
Forum Comments:
---
Update 11/06/2017: While the video is no longer on YouTube, the whitepapers and sample code are still available.