---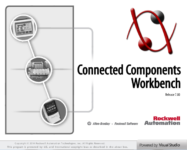 Last week while checking operating system compatibility of Connected Components Workbench (CCW) Version 7, I noticed Version 8 was also listed.
Curios to know if this was an indicator of it's release, I headed over to product downloads section of Rockwell's website and found that CCW version 8 was indeed available to download.
Choosing the free, standard package of CCW v8, I found it weighed in at a hefty 1.64gb.
Included in the download was RSLinx Classic Lite version 3.71, Adobe Acrobat 11.01, as well as several Microsoft patches and updates.
Rockwell recommends running CCW 8 on a PC with an Intel i5 and 8gb of RAM. While these are pretty steep specs for a programming package, they are unchanged from CCW version 7.
So what's new in CCW Version 8?
Below are some highlights of the new features of this release taken from the product release notes:
Import and export entire projects
You can now import and export an entire CCW project to or from a .CCWARC file by using the new import and export options in the "File" menu.
Node Commissioning Tool and DeviceNet Enhancements.
Now that the Micro 800 supports DeviceNet, CCW has been enhanced to include a DeviceNet node commissioning tool which can be found under the "Tools" menu.
The 2080-DNET20 module now also supports a new "revision two" mode that includes a communication diagnostics view, pass through browsing of DeviceNet from either USB or Ethernet using RSLinx, as well as use of the MSG_CIPGeneric instruction without the need for UDBF's.
SD Card Utility
Found under the "Tools" menu, the new SD card utility allows users to setup a Micro SD card to be used to flash a Micro820 to a new firmware revision.
Motion Feedback
Using the 2080-MOT-HSC with the Micro830 or Micro850, it can now be configured as a feedback axis without the need of using UDFB's.
When used in this way, configuration pages for FBaxis, General, Motor and Load, and Limits are created automatically in the configuration tree.
Run Mode Changes
CCW 8 now supports run mode changes to a Micro 800 program while connected and online, but only in the licensed (not free) developer version of the software.
This feature includes the ability to program, test, accept, and undo runtime program changes, and can be accessed through either new toolbar buttons or yonder the "Device" menu.
Learn about other releases:
Check out our coverage of other releases of CCW below:
Find out more:
That's it for our highlights of what's new in CCW 8. For a complete listing of new features and corrected, see the full release notes below:
And the link to download CCW is below:
If you upgrade to version 8, we'd love to hear what you think! Just fill in the "post a comment or question" link below.
Until next time, Peace ✌️ 
Shawn M Tierney
Technology Enthusiast & Content Creator
Have a question? Join my community of automation professionals and take part in the discussion! You'll also find my PLC, HMI, and SCADA courses at TheAutomationSchool.com.
Latest posts by Shawn Tierney
(see all)